World-first study shows running can strengthen the discs in the spine
Media release
20 April 2017
Victorian research published today in Scientific Reports is the first human study to show that any kind of physical activity is good for the discs in the spine.
Lead researcher Associate Professor Daniel Belavy from the Institute for Physical Activity and Nutrition at Deakin University, said the study "Running exercise strengthens the intervertebral disc" is an important change in mindset in the spine field.
"The common thinking has been that the intervertebral disc (IVD) metabolism in humans is too slow to respond to exercise within the human lifespan.
"These findings gives us hope that we may be able to prescribe physical activity, or advise the community on physical activity guidelines, to 'strengthen' the discs in the spine.
"This is something particularly important to consider in the younger teenage age bracket and also when people are in their 20s and 30s, with a view to reducing or preventing back problems through the lifespan," he said.
Associate Professor Belavy said that prior research in the last decade had shown that the IVD components are replaced extremely slowly.
"This has led to researchers thinking that it will take longer than the average human lifespan to have an impact on the disc with an intervention through exercise or drugs for example.
"From this study, we have been able to show that regular physical activity, such as jogging, can actually strengthen the IVD.
"It is also important to reduce the amount of time spent in static postures, such as sitting or even standing still. Even going for a walk during a break at work, or choosing to take the stairs rather than the elevator is good for the discs as well as overall back health."
Associate Professor Belavy also said walking exercise may give the same results as chronic running exercise on the discs.
"Our findings showed no difference between joggers and long-distance runners and in fact, our findings indicated that walking might be enough.
"This study really challenges the conventional wisdom as discs are considered a 'slow tissue' and are thought to take much longer to respond to exercise than muscle.
"We anticipate that our findings will be a starting point to better define exercise protocols and physical activity profiles for IVD strengthening in humans," said Associate Professor Belavy.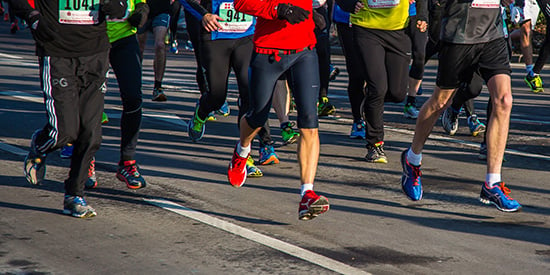 More like this
Media release
Faculty of Health, School of Exercise and Nutrition Sciences
Institute for Physical Activity and Nutrition (IPAN)