Celebrations for SEBE student excellence
Deakin news
12 July 2017
The achievements of students in Deakin University's Faculty of Science, Engineering and Built Environment (SEBE) were celebrated earlier this year at a series of award presentations.
'The SEBE Student Excellence Awards recognise outstanding achievement by our students,' Faculty Deputy Dean Professor Malcolm Campbell says.
'The awards are made across every school and campus to students who, as well as showing excellence, demonstrate high standards, dedication and commitment in their endeavours. Our award winners rightfully earn the title of our top students.'
A new award this year was the SecureWorx Cybersecurity Essay Challenge, with three students acknowledged for outstanding essays.
Sponsored by SecureWorx Pty Ltd, this award is a $10,000 annual prize pool which funds prizes for cyber security students. Applicants submit an essay tackling a current issue or challenge in the cyber security industry.
'SecureWorx has sponsored the essay challenge to encourage students to develop views on how to combat the future threats and cyber-attacks more effectively,' Philip Mulley, SecureWorx CEO says.
'Ultimately, as the students progress through their studies, the intent of the essay challenge is to encourage the development of new concepts that can be the foundation of the students' future career.'
Other major awards and scholarships included:
IGNITED Scholarship
The IGNITED Scholarship aims to ignite women's interest in engineering, information technology and construction management. Valued at $5,000 per year, the scholarship is open to female students entering an approved undergraduate course offered by SEBE. This year, seven IGNITED scholarships were presented: five to School of Architecture and Built Environment students and two to School of Engineering students.
The Goldschlager Award
The Goldschlager Award is a competitive award presented to an honours or PhD student conducting cutting edge environmental study in the Manningham Local Government area. The recipient receives $5,000 towards their project. The award is possible only due to a generous gift from The Dina and Ron Goldschlager Family Charitable Foundation (in memory of Miriam and Alfred Goldschlager) in partnership with Manningham City Council.
AusNet Services Women in Power Engineering Scholarship
The AusNet Services Women in Power Engineering Scholarship aims to support women to achieve tertiary qualifications in power engineering, preparing them for diverse and rewarding careers in the energy industry. Valued at $10,000 per year, two scholarships were presented this year.
Presentations were held in March and April at Warrnambool, Burwood and Geelong for awards to students in the School of Life and Environmental Sciences, School of Information Technology and School of Engineering. The School of Architecture and Built Environment hosted an awards night at the Geelong Waterfront Campus in May.
Congratulations to all our award and scholarship winners!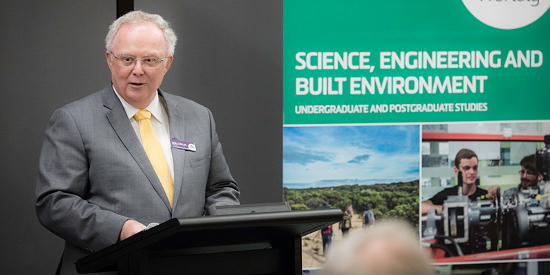 Key Fact
SEBE Faculty Deputy Dean Professor Malcolm Campbell at the Burwood awards.
---