Fellowship to support better understanding of built environment
Deakin news
06 November 2018
Deakin University PhD student Isabella Bower is the recipient of the inaugural John Paul Eberhard Fellowship from the Academy of Neuroscience for Architecture (ANFA), competing on an international stage with researchers from master's through to postdoctoral level.
The announcement was made in September at ANFA's 2018 conference at the Salk Institute for Biological Studies in San Diego.
ANFA says its mission is to 'promote and advance knowledge that links neuroscience research to the growing understanding of human response to the built environment'.
Judged by a panel of neuroscientists and architects, the John Paul Eberhard Fellowship is intended to encourage master's, PhD or postdoctoral researchers to contribute new knowledge to the intersection of neuroscience and architecture.
Ms Bower was awarded the fellowship for her PhD project titled Architecture with Feeling.
The project is investigating how the design of the built environment affects human emotion. In particular, how does the scale of interiors impact on our emotion. It aims to bring light to the 'invisible' – understanding the role architecture plays on our psychological well-being.
'I am delighted to be supported by ANFA,' Ms Bower says.
'To be tackling the relationship between the mind, body, and environment as technology and our understanding of the brain evolves could not be more thrilling an adventure.
'I look forward to spreading my enthusiasm for the research possibilities that come from questioning how our environment affects us.'
Ms Bower says she became interested in pursuing this area of research after seeing a gap in how we evaluate the success of our built environment.
'I was lucky enough to spend three years working with the Office of the Victorian Government Architect who are advocates for good design,' Ms Bower explains.
'Good design encompasses more than just meeting physical safety requirements and building performance – the spaces we inhabit for working, living, learning and healing should enhance wellbeing. But how can we objectively understand whether they do? That's what I'm passionate about discovering.'
Ms Bower is undertaking the research under the joint supervision of Associate Professor Richard Tucker, Associate Head of School (Research) in Deakin's School of Architecture and Built Environment and Professor Peter Enticott, Associate Head of School (Research and Research Training) in Deakin's School of Psychology.
'With the support of ANFA, between now and 2020 my published research will be open access and freely available to the public before I present the findings from my work at ANFA's 2020 conference.
'I'm thrilled to be honoured with this fellowship and look forward to the challenges and findings ahead!'
Ms Bower will be part of a panel speaking about her research in this area at the MPavilion event 'Architecture is good for you' organised by New Architects Melbourne on 17 January next year.
Read more about Ms Bower's PhD project on the Architecture with Feeling blog.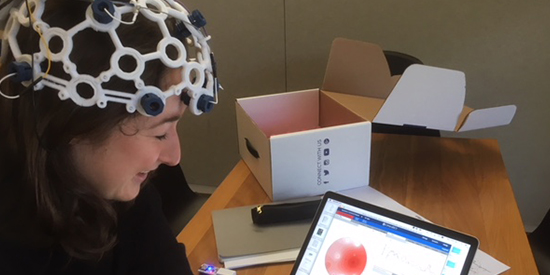 Key Fact
Ms Bower wearing a 3D printed 8 channel dry electrode electroencephalogram (EEG for short) to measure electrical activity in the brain.
---