Industry collaboration fosters new ideas and concrete results
Deakin news
15 April 2019
Working with a company that is open to new ideas is one of the things Deakin University's Dr Estela Oliari Garcez enjoyed about a recent industry collaboration.
Dr Garcez has been leading a project with Geelong-based company Aus Pits. A civil engineering lecturer at Deakin's School of Engineering, Dr Garcez has a key role in a research group at Deakin testing and analysing the behaviour of newly developed composites and structures to improve their mechanical performance and durability.
Aus Pits is an experienced pre-cast manufacturing company specialising in the supply of custom designed products to all facets of the construction industry, from small subdivisions to major road and infrastructure projects nationwide. The company had a fibre-reinforced concrete mix which could be used for their smaller pre-cast pits, but they wanted to expand its use for larger pits and that is where the collaboration with Deakin began.
'Normally in the pre-cast concrete industry steel reinforced concrete is used,' Dr Garcez explains.
'As in any other reinforced concrete structure, the rebar – steel reinforcement – has to be put in the moulds before pouring the concrete, which is a time consuming activity prior to casting.'
Dr Garcez says this was the main factor that led Aus Pits to develop their first concrete reinforced with polymer fibres.
'We have been working with Aus Pits since 2016 to expand the range of products they can produce with fibre-reinforced concrete, eliminating the need for the rebar in larger pits,' Dr Garcez says.
'These polymer fibres have the potential to eliminate the need of rebar in certain applications, helping to reduce labour hours and placement time as well as improving occupational health and safety.'
Patrick Moulton, Aus Pits Chief Executive Officer, says that in addition to the efficiency gains in the manufacturing process, the elimination of the steel reinforcement provided a more durable product and therefore a better asset for their end users.
The first round of the project had two stages – one to test the limits of the current mix design and the other to develop a new mix design. Dr Garcez and her colleagues Dr Kazem Ghabraie, from the School of Engineering, and Dr Alastair MacLeod, from Deakin's Institute of Frontier Materials, helped Aus Pits successfully develop a new mix using a hybrid combination of polymer fibres, which has improved material properties when compared to the first mix design.

'We achieved really good results for the new mix design, so the company decided to go for a second round to test pits produced with the new hybrid concrete,' Dr Garcez says.
'We have now finalised testing and it is with Aus Pits to take it to the next stage.'
During their collaboration, the willingness of Aus Pits to embrace new ideas impressed Dr Garcez.
'It's been a great experience to work with Aus Pits,' she says.

'They are so open to new ideas and what can be done to further to improve their products, and they have this vision for the future, of what the industry is going to be like and they want to be there.'
Mr Moulton says the collaboration has also been a positive one for Aus Pits.
'It has been great to work with Deakin on this project. The technical knowledge and understanding of the commercial realities of business that Dr Garcez and her team brought to the project means we have achieved positive outcomes.'
Share this story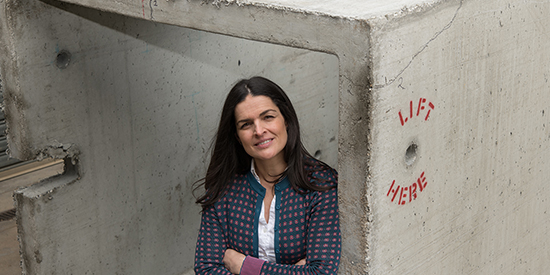 More like this
Deakin news
Faculty of Science Engineering and Built Environment, School of Engineering