Key events for 2019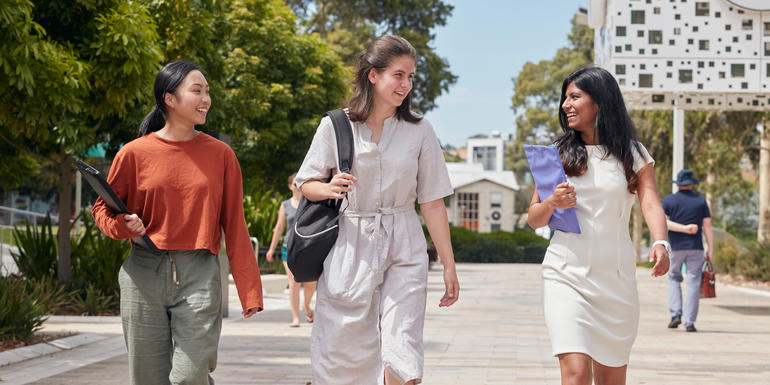 Open Day
Experience what it's like to study at the university ranked #1 in Victoria for skills development.*

Step on Campus
Enjoy a 45-minute tour of your chosen campus accompanied by an expert tour guide – a current Deakin student!

DeakInspire
A one-day event that aims to inspire and empower students to achieve their future goals and ambitions at Deakin.
Upcoming events
From course information sessions to school holiday programs, we have lots planned for 2019.
| | Event | Description | Date and time | Location |
| --- | --- | --- | --- | --- |
| | Career Practitioners Seminar | Professional development event for career practitioners. | 21 February, 8.30am–3pm | Burwood |
| | Deakin Accelerate Orientation | A welcome and introduction to studying at Deakin for the 2019 Deakin Accelerate students. | 23 February, 10.30am–2pm | Burwood |
| | Deakin Accelerate Orientation | A welcome and introduction to studying at Deakin for the 2019 Deakin Accelerate students. | 26 February, 4pm–7pm | Warrnambool |
| | Western District TIS | Hosted at Deakin's Warrnambool Campus. | 26–28 March, 9am–3pm | Warrnambool |
| | Science and Engineering Challenge Geelong | Science and engineering activities for competing secondary schools. | 3–4 April, 9am–3pm | Waurn Ponds |
| | Step on Campus | Students can find out more about university life, study areas and gain a feel for the campus from your tour guide, a current Deakin student. | 10 April, 10am and 12pm | Burwood |
| | Medicine Information Night | Medicine Information Night | 10 April, 6–7.30pm | Waurn Ponds |
| | Step on Campus | Students can find out more about university life, study areas and gain a feel for the campus from your tour guide, a current Deakin student. | 11 April, 10am and 12pm | Waurn Ponds |
| | Step on Campus | Students can find out more about university life, study areas and gain a feel for the campus from your tour guide, a current Deakin student. | 16 April, 11am and 1pm | Waterfront |
| | Step on Campus | Students can find out more about university life, study areas and gain a feel for the campus from your tour guide, a current Deakin student. | 16 April, 11am and 1pm | Warrnambool |
| | Step on Campus | Students can find out more about university life, study areas and gain a feel for the campus from your tour guide, a current Deakin student. | 17 April, 10am and 1pm | Burwood |
| | Step on Campus | Students can find out more about university life, study areas and gain a feel for the campus from your tour guide, a current Deakin student | 18 April, 10am and 1pm | Waurn Ponds |
| | VCE and Careers Expo | Visit Deakin at the VCE and Careers Expo | 2–5 May, 9am–3pm | Caufield Racecourse |
| | Criminology Information Evening | An information session that focuses on studying criminology at Deakin. Also gain further understanding into why people commit crimes and the certain behaviours identified as criminal. | 12 June, 6pm–6.30pm | Waterfront |
| | Arts Course and Career Information Evening | Gain an insight into our Bachelor of Arts degree and how it prepares students for a wide range of careers, equipping them with job‐ready skills. | 12 June, 5.30pm–6pm | Waterfront |
| | Arts Course and Career Information Evening | Gain an insight into our Bachelor of Arts degree and how it prepares students for a wide range of careers, equipping them with job‐ready skills. | 13 June, 6pm–6.30pm | Burwood |
| | Criminology Information Evening | An information session that focuses on studying criminology at Deakin. Also gain further understanding into why people commit crimes and the certain behaviours identified as criminal. | 13 June, 5.30pm–6pm | Burwood |
| | Communication and Creative Arts Work Experience Program | A hands-on work experience program for high-performing Year 10 students interested in a career in the creative industries. The week-long program is centred around a series of interactive workshops within our state-of-the-art facilities. | 17–21 June, 9am–4pm | Burwood |
| | Eastern TIS | Hosted at Deakin's Burwood Campus. | 19 June, 9am–3pm | Burwood |
| | Great South Coast Science and Engineering Challenge | | 21 June, 9.30am–2.30pm | Warrnambool |
| | STEM Work Experience Program for Young Women | This week-long program provides an introduction to STEM at a tertiary level, and allows participants to experience possible STEM career pathways in a fun and nurturing environment. Attendees spend a day within each area of the faculty (Life and Environmental Sciences, Engineering, Architecture and Built Environment and Information Technology) experiencing a range of workshops and hands-on activities. | 24–28 June, 9am–4pm | Waurn Ponds |
| | DeakInspire | A one-day conference style event that aims to inspire and empower students to achieve their future goals and ambitions at Deakin. A mix of course exploration and personal development. | 2 July, 9am–3pm | Waurn Ponds |
| | DeakInspire | A one-day conference style event that aims to inspire and empower students to achieve their future goals and ambitions at Deakin. A mix of course exploration and personal development. | 4 July, 9am–3pm | Burwood |
| | Teaching Information Sessions | An information evening held to inform prospective students about our teaching specialisations and an opportunity to engage with current students and teaching staff. Hear about our outstanding professional experience program and why our teaching graduates are so highly sought after. | 9 July, 5.30pm–6.30pm | Waurn Ponds |
| | Teaching Information Sessions | An information evening held to inform prospective students about our teaching specialisations and an opportunity to engage with current students and teaching staff. Hear about our outstanding professional experience program and why our teaching graduates are so highly sought after. | 10 July, 4pm–5pm | Warrnambool |
| | Teaching Information Sessions | An information evening held to inform prospective students about our teaching specialisations and an opportunity to engage with current students and teaching staff. Hear about our outstanding professional experience program and why our teaching graduates are so highly sought after. | 10 July, 5.30–6.30pm | Burwood |
| | Nutrition and Dietetics Information Session | Faculty of Health undergraduate course information session | 23 July, 6–7.30pm | Burwood |
| | Occupational Therapy Information Session | Faculty of Health undergraduate course information session | 23 July, 6–7.30pm | Waterfront |
| | Psychology Information Session | Faculty of Health undergraduate course information session | 23 July, 6–7.30pm | Burwood |
| | Psychology Information Session | Faculty of Health undergraduate course information session | 23 July, 6–7.30pm | Waterfront |
| | Exercise and Sport Science Information Session | Faculty of Health undergraduate course information session | 24 July, 6–7.30pm | Burwood |
| | Nursing and Midwifery Information Session | Faculty of Health undergraduate course information session | 25 July, 6–8pm | Burwood |
| | Nursing and Midwifery Information Session | Faculty of Health undergraduate course information session | 25 July, 6–8pm | Waterfront |
| | Geelong TIS | Hosted at Deakin's Geelong Waterfront Campus. | 26 July, 9am–3pm | Waterfront |
| | Melbourne Careers Expo | Visit Deakin at the Melbourne Careers Expo. | 26–28 July, 9am–3pm | Melbourne Exhibition and Convention Centre |
| | Exercise and Sport Science Information Session | Faculty of Health undergraduate course information session | 27 July, 2.30–4pm | Waurn Ponds |
| | Nursing and Midwifery Information Session | Faculty of Health undergraduate course information session | 27 July, 2.30–4.30pm | Burwood |
| | Nursing and Midwifery Information Session | Faculty of Health undergraduate course information session | 27 July, 2.30–4.30pm | Waterfront |
| | Health Sciences Information Session | Faculty of Health undergraduate course information session | 30 July, 6–7.30pm | Burwood |
| | Optometry and Medical Imaging Information Session | Faculty of Health undergraduate course information session | 30 July, 6–8pm | Waurn Ponds |
| | Health Sciences Information Session | Faculty of Health undergraduate course information session | 31 July, 6–7.30pm | Waterfront |
| | Open Day | Experience what it's like to study at the university ranked #1 in Victoria for skills development.* | 4 August, 10am–2pm | Warrnambool |
| | Nursing and Midwifery Information Session | Faculty of Health undergraduate course information session | 7 August, 6–7.30pm | Warrnambool |
| | Open Day | Experience what it's like to study at the university ranked #1 in Victoria for skills development.* | 18 August, 9am–3pm | Waterfront and Waurn Ponds |
| | Open Day | Experience what it's like to study at the university ranked #1 in Victoria for skills development.* | 25 August, 9am–3pm | Burwood |
| | Teaching Information Sessions | An information evening held to inform prospective students about our teaching specialisations and an opportunity to engage with current students and teaching staff. Hear about our outstanding professional experience program and why our teaching graduates are so highly sought after. | 17 September, 5.30–6.30pm | Burwood |
| | Creative Arts and Design Information Evening | An information evening tailored to students interested in studying design or creative arts. This is also an opportunity to see the facilities at the Waterfront campus and gain further understanding of the course entry requirements. | 17 September, 5.30–7pm | Waterfront |
| | Teaching Information Sessions | An information evening held to inform prospective students about our teaching specialisations and an opportunity to engage with current students and teaching staff. Hear about our outstanding professional experience program and why our teaching graduates are so highly sought after. | 18 September, 5.30pm–6.30pm | Waurn Ponds |
| | Teaching Information Sessions | An information evening held to inform prospective students about our teaching specialisations and an opportunity to engage with current students and teaching staff. Hear about our outstanding professional experience program and why our teaching graduates are so highly sought after. | 18 September, 4pm–5pm | Warrnambool |
| | Creative Arts and Design Information Evening | An information evening tailored to students interested in studying design or creative arts. This is also an opportunity to see the facilities at the Burwood campus and gain further understanding of the course entry requirements. | 19 September, 5.30–7pm | Burwood |
| | Step on Campus | Students can find out more about university life, study areas and gain a feel for the campus from your tour guide, a current Deakin student. | 24 September, 10am and 12pm | Waterfront |
| | Step on Campus | Students can find out more about university life, study areas and gain a feel for the campus from your tour guide, a current Deakin student. | 24 September, 10am and 12pm | Warrnambool |
| | Step on Campus | Students can find out more about university life, study areas and gain a feel for the campus from your tour guide, a current Deakin student. | 25 September, 10am and 12pm | Burwood |
| | Step on Campus | Students can find out more about university life, study areas and gain a feel for the campus from your tour guide, a current Deakin student | 26 September, 10am and 12pm | Waurn Ponds |
| | Communication and Creative Arts Work Experience Program | A hands-on work experience program for high-performing Year 10 students interested in a career in the creative industries. The week-long program is centred around a series of interactive workshops within our state-of-the-art facilities. | 30 September–4 October | Burwood |
| | Postgraduate Teaching Information Evening | An event tailored to career changers, and professional educators looking to further their careers. | 10 October, 5.30–7pm | Waurn Ponds |
| | Deakin Accelerate Information Evening | An opportunity to learn more about the Deakin Accelerate program and its benefits. | 15 October, 6–7.30pm | Burwood |
| | Architecture and construction management course information evening | Find out where a career in architecture and construction management can take you. | 16 October, 5.45–7.45pm | Waterfront |
| | Deakin Accelerate Information Evening | An opportunity to learn more about the Deakin Accelerate program and its benefits. | 17 October, 6–7.30pm | Waurn Ponds |
| | Deakin Accelerate Information Evening | An opportunity to learn more about the Deakin Accelerate program and its benefits. | 21 October, 6–7pm | Warrnambool |
| | DeakInspire | A one-day conference style event that aims to inspire and empower students to achieve their future goals and ambitions at Deakin. A mix of course exploration and personal development. | 22 October, 9am–3pm | Warrnambool |
| | STEM course information evening | Hear from our experts about our engineering, information technology and science course offerings. | 22 October, 5.45–8pm | Waurn Ponds |
| | Deakin Accelerate Webinar | An opportunity to learn more about the Deakin Accelerate program and its benefits. | 12 November, 6–7pm | Online |
*2018 Student Experience Survey (QILT)