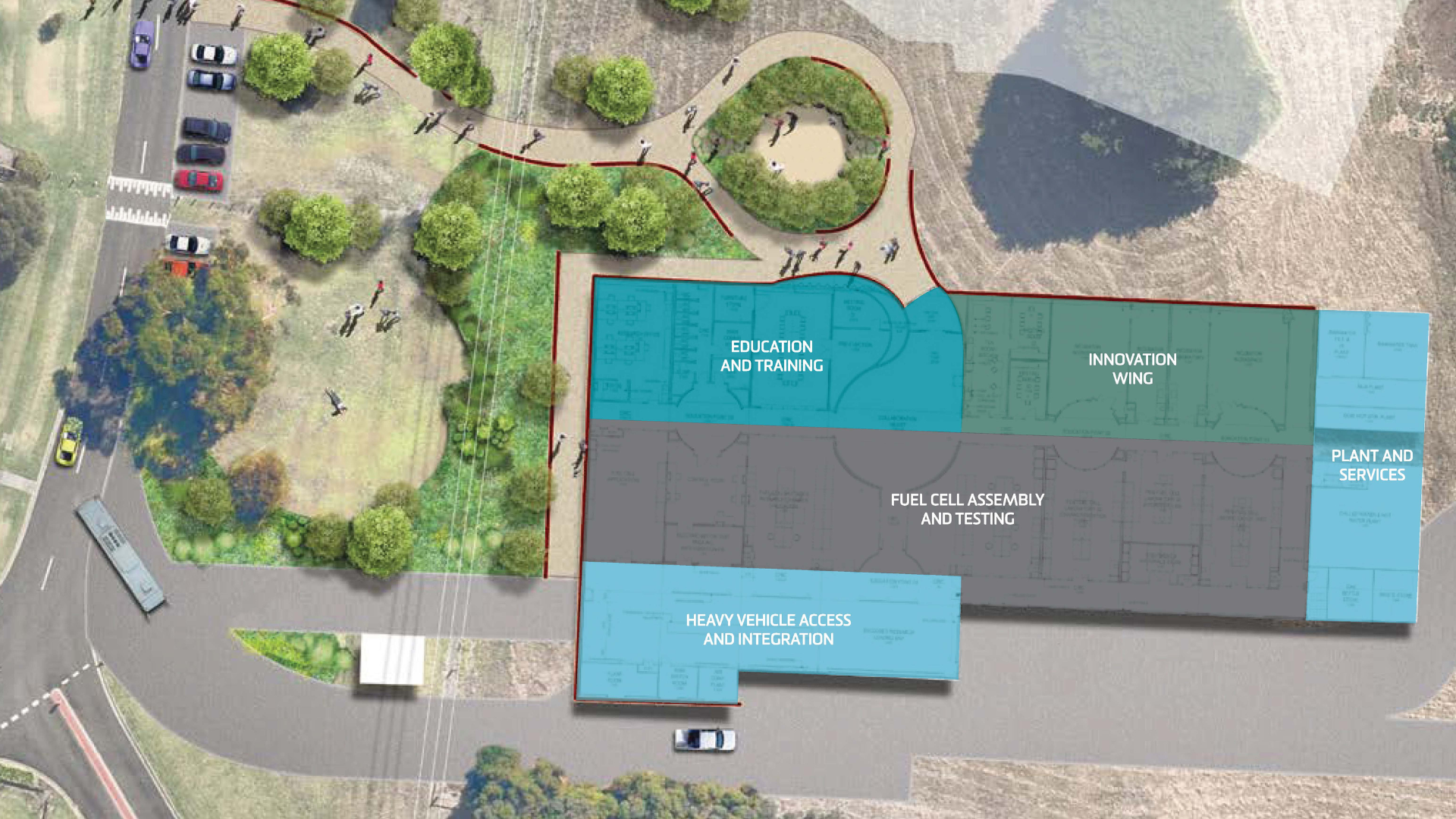 Fuel Cell Research, Testing and Manufacturing wing
Features:
First-in-Australia hydrogen fuel cell assembly, testing, manufacturing and research facility.
Specialist fuel cell equipment to assemble and test fuel cells.
Application testing for prototype and commercially available fuel cells.
Specialised controlled indoor and outdoor spaces to safely meet standards of storing, supplying, managing and utilising pressurised gases.
Impact:
Supports the development of new technologies to produce next generation high-power fuel cells (first for heavy vehicles, then for other mobile and stationary ap-plications).
First Australian opportunity for training and professional development of the fuel cell workforce of the future.
Outputs contribute to development of regulations and safety standards in the new fuel cell sector.
Innovation wing
Features:
Light-duty laboratory and prototyping facilities.
Collaborative workspace that links industry and research and offers direct access to Hydrogen Testbeds research and manufacturing spaces.
Based on the Deakin Waurn Ponds campus ManuFutures precinct.
Impact:
Fosters and fast-tracks new hydrogen thinking.
Incubator for hydrogen technology start-ups.
Multi-use space for industry and academic events, projects and other discreet initiatives that generate or foster hydrogen expertise and/or entrepreneurialism.
Education and Training wing
Features:
Science on display activities to support community education and awareness.
Seminar and training spaces to support informal and formal education and training activities.
Collaborative design for all occupants and visitors.
Impact:
One of Australia's first training facilities that will ready Australians for the hydrogen jobs of the future.
Engaging communities to build awareness and acceptance of hydrogen as a future fuel.
Provides opportunities to demonstrate and demystify hydrogen technology and usage.
Hycel future location