How to accept your offer
Accepting your offer to study at Deakin is easy. Deakin's international admissions team is always ready to quickly process your acceptance and assist with any questions you may have. Before accepting your offer, it is important that you understand the acceptance process, as well as the necessary information and documents you need to provide.
Deakin offers a wide range of degrees and types of study, some of which have different acceptance processes. If the information on this page does not relate to your Deakin offer, your Letter of Offer should contain helpful information about how to accept.
You can also book an appointment with our team of Future Student Advisors, who can help to guide you through this process.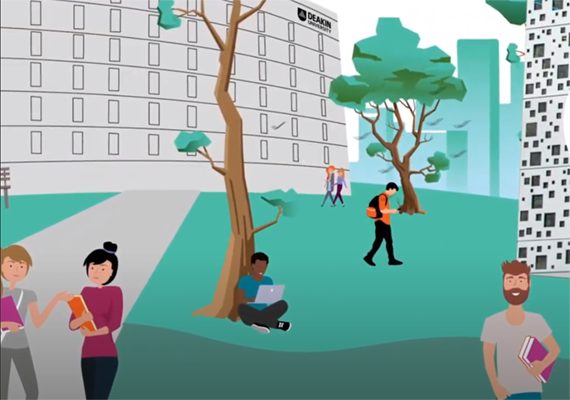 How to accept your offer video guide
In this video, Deakin students Tatyana and Kaweesha will guide you through the next steps and processes in accepting your offer.
Select the category that applies to you
Depending on your situation, the process of accepting your offer can be slightly different – so find the category below that applies to you and use our step-by-step guide to find out what happens next. Be sure to refer to your Letter of Offer to find out if there are any conditions you need to meet before you accept your offer.
If you have applied through one of Deakin's authorised agents, we encourage you to get in touch with them to accept your offer. They can assist you with each step and ensure you have everything ready to start your studies with us.
Students with an agent
Students without an agent
Students with an agent who do not require a student visa
Students without an agent who do not require a student visa
Online students
Are you under 18 years of age?
International students under 18 years of age must demonstrate that they have adequate welfare arrangements in place before they can be granted a student visa. Please see our Students under 18 page for more details on meeting these requirements.
Deferring your offer
If you are unable to start at Deakin on the date in your offer letter, you can defer your enrolment. You can defer your Deakin offer for up to twelve months. This means you still have the opportunity to begin your Deakin studies at a date that is more convenient without applying again.
Find out which intakes are available for your degree on the course page.
If you have an education agent, please contact them and let them know that you would like to arrange a deferral to a later trimester. Your agent can help answer your questions and arrange your deferral with Deakin International Admissions.
If you do not have an agent, please contact Deakin International Admissions. Our admissions team can answer your questions and arrange a new date for you to start your studies.
Get help or contact Deakin
Our friendly advisers are available to speak to you one-on-one about your study options, support services for international students and how we can help you study at Deakin in Australia.
Phone: +61 3 9918 9188