Cyber ninjas teach metaverse safety to build cyber-safe kids
Research news
07 November 2022
Deakin University experts will work to protect young people as we enter the age of the metaverse, thanks to new funding from the Australian Government's Online Safety Grants Program.
People aged 15-17 years spend the most time online in Australia, averaging 18 hours spent surfing the web each week.
It's expected the metaverse – a fully immersive 3D online world with highly sensory experiences – will bring about new era of digital connectivity. But it also has the potential to exacerbate cyber harm among children, including unwanted sexual advances and online grooming.
A new project by Deakin's Centre for Cyber Security and Innovation (CSRI) researchers will help promote cyber safe behaviours.
'It's a first-of-its-kind project that will deliver eSafety education to help protect young users in the metaverse,' said lead researcher Professor Robin Doss.
'We will use AI, interactive storytelling and immersive technologies to help empower children in the digital world.'
The one-and-a-half-year project is one of nine initiatives to share in $2.25 million in funding. It will support the delivery of online safety education to children, young people and their communities.
eSafety Commissioner Julie Inman Grant said she is excited to welcome nine new partners in online safety who share her passion for helping Australians to have positive and safe experiences online.
'We need to keep developing fresh ways to reach and educate Australians if we're to keep pace with technology.
'Working with partners means more voices, more insights and more ways to inspire a generation of young people to scroll with safety online,' Ms Inman Grant said.
Traditional approaches to eSafety education fail to account for the unique dynamics of the metaverse and there is limited understanding of the dangers to children.
This project seeks to understand the attitudes and perceptions towards cyber harm on the metaverse prevalent in children and their communities.
It will develop educational content informed by prevalent attitudes and perceptions to improve understanding of the risks and promote safe behaviours, etiquette, and habit in children.
Importantly it will also increase understanding of referral pathways and supports available for victims.
Prof. Doss said this research will contribute to positive habit formation in children ensuring they thrive and have safe interactions in a rapidly changing digital world.
'As digital communities grow and spend more of our lives online, it's crucial that our younger users are safe and protected in cyberspace,' said Prof. Doss.
'It's a privilege to play a role in creating a culture of safe online behaviours that will enable young people to thrive in the digital world for years to come.'
Learn more:
Centre for Cyber Security Research and Innovation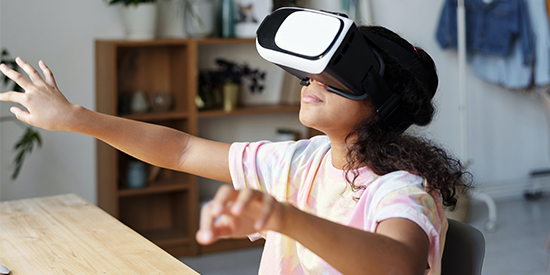 Key Fact
Deakin cyber experts to drive online safety education thanks to $423,765 in the eSafety Commissioners' program funding.