Researchers to push high-tech materials boundaries, thanks to ARC Linkage grants
Research news
30 July 2021
The foundations are being set for ground-breaking applications in clean hydrogen and nuclear energy storage, and a new range of biomedical materials, thanks to two new Australian Research Council (ARC) Linkage grants to Deakin's Institute for Frontier Materials.
The safe energy storage potential of boron nitride nanosheets, and the unique biomedical properties of silk will be drawn on by the two Institute for Frontier Materials (IFM) teams and their industry collaborators, whose three-year projects were announced on 29 July.
The Linkage Projects scheme encourages collaboration between researchers, industries and communities to find solutions to real, everyday challenges and issues.
Professor Ying (Ian) Chen will lead a project with HB11 Energy Holdings P/L to develop novel fuel materials for a radiation-free, proton-boron fusion power source, with enormous potential for achieving efficient, clean hydrogen and nuclear energy in the future ($568,976 ARC funding).
Alternative renewable energy (eg: hydrogen, wind and solar energy) and nuclear power are some of the most effective tools available in the fight against the current climate emergency. The ground-breaking proton-boron 11 (HB11) fusion reaction was predicted by Australian academics and is now being developed by Australian company HB11 Energy.
The fusion reaction between hydrogen and boron nuclei could provide a highly efficient, radioactivity-free form of nuclear energy, with practically unlimited fuel reserves, when compared to traditional nuclear energy generation.
This project will be a cornerstone in a larger effort to prove HB11's viability by achieving fusion net-energy-gain. Anticipated outcomes include a brand new H11B nanomaterial with considerably high hydrogen storage capacity, a new method for the synthesis of BN nanosheets with controlled hydrogen content and a deep understanding of the mechanism of hydrogen storage in 2D materials, and applications in the proton-boron fusion reaction.
The expected new hydrogen storage technologies and novel hydrogen storage materials resulting from this research will also contribute to the growing hydrogen energy economy, with possible applications in hydrogen fuel cells, in alignment with research undertaken at Deakin's Hycel project.
IFM's Dr Srikanth Mateti and Dr Qiran Cai, and Dr Warren McKenzie (HB11 Energy Holdings) are the other team members in the project.
In the second Linkage project, Associate Professor Rangam Rajkhowa will develop elastic and biodegradable sponges from silk nanofibres, with colleagues from IFM, Deakin's Faculty of Science, Engineering and the Built Environment (SEBE) and the Ear Science Institute Australia for ear and a range of healthcare, thermal and sound insulation applications ($356,280 ARC funding).
Associate Professor Rajkhowa and his IFM team have a well-established relationship with ESIA and worked on the successful development of artificial silk eardrums, which will make a significant difference in treating perforated eardrums in Australia and overseas.
Outcomes will include new knowledge on controlling porous structures and tailoring properties to targeted applications. By laying the groundwork for a new generation of bio-based materials, this project will benefit the Australian advanced manufacturing sector and enhance Australia's standing in materials science and engineering.
IFM's Dr Benjamin Allardyce and Associate Professor Jingliang Li, Professor David Morton (SEBE); and ESIA's Dr Filippo Valente and Professor Marcus Atlas are the project team.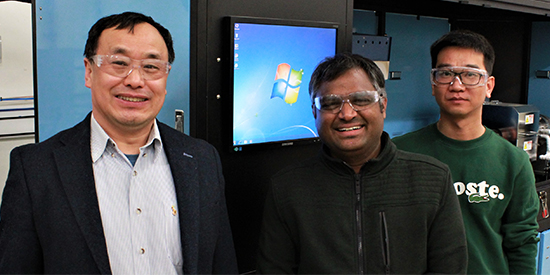 From left to right: Prof Ian Chen, Dr Srikanth Mateti, Dr Qiran Cai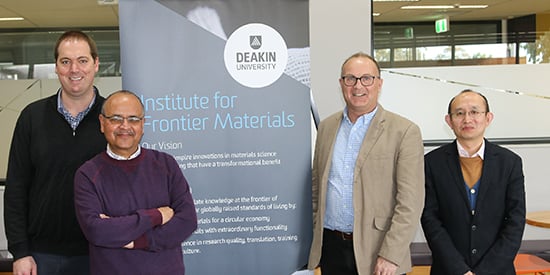 From left to right: Dr Ben Allardyce, A/Prof Rangam Rajkhowa, Prof David Morton and A/Prof Jingliang Li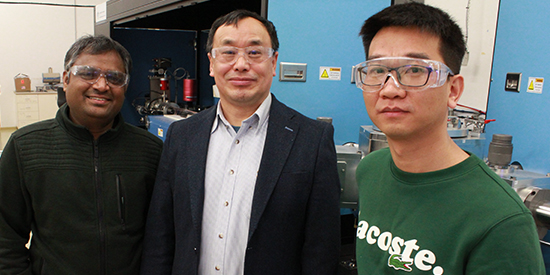 Key Fact
From left to right: Dr Srikanth Mateti, Prof Ian Chen, Dr Qiran Cai