Cyber security startups set to accelerate with CyRise
Research news
12 October 2021
CyRise, a partnership between Deakin University and a global IT company, is the only accelerator in the Southern Hemisphere enabling cyber security startups to soar.
The unique accelerator is designed to invest in – and build – an ecosystem for a number of increasingly significant startups. Responding to a global demand for the creation of a pipeline between cyber security professionals and specialist companies, CyRise is pivotal in building Australia's capacity and talent pool in this field.
The partnership brings together Deakin's expertise in cyber security research, education and commercialisation with global IT company NTT Ltd Australia's international reputation in cyber security innovation and solutions.
Deakin Vice-Chancellor Professor Iain Martin said the partnership is an innovative opportunity to boost cyber security start-ups with the support of leading Deakin experts .

"The Deakin-CyRise partnership is responding to increasing digital and cyber security challenges. We're accelerating the potential of local cyber security start-ups and making a significant impact on a global scale." Professor Martin said.
CyRise offers a 14-week highly selective program exposing startups to international best practice, industry mentors and potential investors and customers. Twenty-seven companies have now graduated from the program since its inception in 2017.
"Deakin's depth of capability in cyber security research and its knowledge of the market has been a huge asset as we try to help our portfolio of companies grow globally. Whether as mentors, connectors, funders or co-innovators, Deakin has been there for us from day one," CyRise CEO Scott Handsaker said.
Sixty-three percent of startups raise additional capital on graduating from CyRise, meeting world class standard. The program is graduating high-quality companies with global potential and the market is deeming them worthy of investment.
The spin outs of CyRise have been increasingly successful in leading cyber security innovation with one of the most significant being SecureStack, named as one of 20 cyber security startups to watch by Forbes Magazine.
Supporting developers and security teams, SecureStack analyses source code, cloud stacks and attack surface to find security gaps. Its CI/CD integration provides insights to keep companies safer on a global scale.
Other successful company spin outs include badook, the world's first test automation solution designed to maintain data integrity, as well as Devicie, which received $1.3 million to support human-centric device management.
"Deakin is researching in the cyber security space in innovative ways, providing skills to the industry as well as building a pipeline of terrific talent for the future,' Director of Cybersecurity at NTT, John Karabin said.
The need for cyber security is self-evident, but it's also vital for the economy and jobs growth, noted Scott Handsaker.
"Investing in Australian cyber security capacity can play a part in creating high-value jobs in Australia. Long term, it's a critical space to have expertise in – there are a lot of sectors that might disappear in the future, but cyber security is unlikely to be one of them."
More information: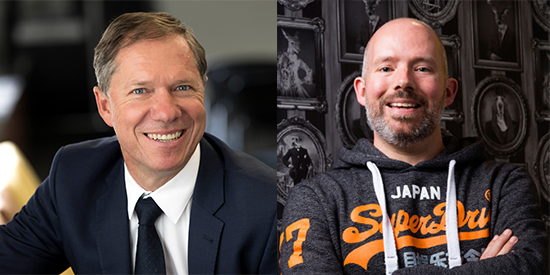 Key Fact
CyRise is pivotal in building Australia's capacity and talent pool in this field (pictured CyRise CEO Scott Handsaker and Director of Cybersecurity at NNT John Karabin, right to left).