Deakin PhD candidate wins international 3MT Final
Research news
19 October 2023
Summary
Deakin PhD researcher Agnes Mukurumbira has won the international 3MT® 2023 Asia-Pacific Final.
She also took out People's Choice Award for her engaging three-minute presentation about her work developing a prototype for antimicrobial food packaging using native Australian essential oils.
Deakin University PhD candidate Agnes Mukurumbira has taken out top prize in the international 3MT® competition 2023 Asia-Pacific Final.
After winning the Deakin University 3MT® Competition earlier this year, Agnes went on to compete against in a field of 56 in the Asia-Pacific Semi-Final before being selected by the judges as one of the eight finalists to compete in the virtual final.
She is Deakin's first ever winner of an international 3MT® Competition.
In an impressive feat, Agnes also claimed People's Choice Award, getting a huge 35% of the audience vote for her engaging presentation on her work developing a prototype for antimicrobial food packaging using native Australian essential oils.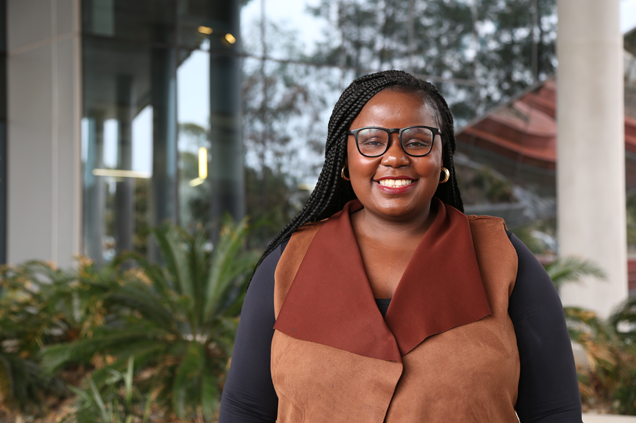 Watch Agnes' winning 3MT® presentation.
Agnes, from the Deakin CASS Food Research Centre, is investigating the use of plant-based antimicrobials to help kill the bacteria and fungi that grow on foods and are responsible for over 1.3 billion tonnes in food waste and 600 million cases of foodborne illnesses annually.
Acting Deputy Vice Chancellor Research, Alfred Deakin Professor Matthew Clarke says Agnes' incredible achievement has been celebrated across the Deakin community.
'It is so important that new and innovative research can be explained to a wide audience,' Professor Clarke says.
'The research Agnes is undertaking in her PhD has the potential to have global impact. Being able to share her work with others will only increase the likelihood of this impact.
'We are incredibly proud of Agnes and look forward to seeing her research change the world.'
3MT® competitions are held all over the world, on six out of seven continents. In Australia, 3MT® competitions are held annually in every state and territory. Winners then progress to the Asia-Pacific competition which includes institutions from Australia and New Zealand, Oceania, North-East Asia and South-East Asia.
Deakin's PhD candidates are offered a Research Communications Skills Program including workshops and individual coaching sessions, participation in 3MT heats and finals across the University, to develop skills and confidence in presenting and communicating their research.
Before joining Deakin for her PhD, Agnes completed her masters degree in food science and technology at the Durban University of Technology in South Africa. Her research there explored the use of starch nanocrystals to improve the physicochemical properties of biodegradable food packaging, such as strength and durability and water and oxygen permeability.
Agnes, who is supported by a PhD supervisory team including Dr Snehal Jadhav, Professor Russell Keast, Associate Professor Robert Shellie and Swinburne University's Associate Professor Enzo Palombo, picked up $6000 in research grant funding from her win and People's Choice award.
The judges praised Agnes' entertaining 3MT® presentation and the commercial potential of her work.
She says she will use the prize money to travel to Italy in 2024 for a scientific conference to disseminate her research findings to the international research community.
'I am ecstatic to be the Asia-Pacific champion and this award is not just a testament to my passion and handwork, but also a reflection of the immense support I get from my supervisors, the CASS Food Research Centre team, the School of Exercise and Nutrition Sciences and Deakin University at large,' Agnes says.
'Deakin University certainly provides an environment where our passions are nurtured and potential unleashed!'
The text of this article is licensed under the Creative Commons Attribution (CC BY) 4.0 International license. We'd love for you to share it, so feel free! Please note that images, videos, graphics and logos are not covered by the CC BY license and may not be used without permission from Deakin University or their respective copyright holder. If you have any questions please contact researchcomms@deakin.edu.au.
Thanks for reading! You can find more stories like this at www.deakin.edu.au/research/research-news-and-publications. We ask that Deakin University and individuals are appropriately credited and that you include links back to this website. Quotes in this article can be extracted for other articles provided individuals are appropriately credited and you include a link back to the article URL.
Share this story
Key Fact
3MT competitors must explain their research in three minutes, in a language appropriate to a non-specialist audience.
More like this
Research news
Faculty of Health
Creating smarter technologies