Deakin research leads to RAPID start-up
Research news
06 February 2017
A promising start-up has been created in Geelong, thanks to a breakthrough in alloy design.
Deakin University research is in the process of establishing a start-up company specialising in a new type of alloy design, for use by industries like aerospace, automotive and mining. The start-up will utilise a new methodology for rapid experimentation known as Adaptive Experimental Design developed by Deakin's researchers in artificial intelligence
A multidisciplinary team of Deakin researchers in artificial intelligence, metallurgy and materials has created cutting-edge software that accelerates alloy design and optimises alloy processes, compared to traditional "trial and error" techniques.
Alloys are metals made by mixing more than one type of metal together and are widely used in engineering structures or components where light weight or corrosion resistance are required.
The potential of the software to accelerate the development and processing of new, purpose-specific alloys has been demonstrated over the past year, and a spin-off company, RAPID, is being established in partnership with Michigan Tech University in the US, with seed funding from Deakin to commercialise the technology.
To be based at Deakin's Institute for Frontier Materials (IFM) on the Waurn Ponds Campus, RAPID is currently employing four staff with metallurgy, materials and computational analysis expertise and has the potential to recruit an additional 20 staff with these types of skills over the next two years.
RAPID, or Rapid Alloy Process, Innovation and Design, has already proven it can reduce production time and costs in alloy manufacturing, while improving properties such as light weight and strength.
"Traditional alloys are complex systems of up to 15 different elements and the processing route can include up to ten different thermo-mechanical stages" said Dr Thomas Dorin, Associate Research Fellow at IFM.
"This results in an extremely complex system and the best solution is unlikely to be found with traditional trial and error (iterative) methods."
The software, based on an algorithm developed by Drs Sunil Gupta and Santu Rana from Deakin's Centre for Pattern Recognition and Data Analytics (PRaDA), allows for limitless parameters in the alloy development process.
"RAPID's software uses Adaptive Experimental Design to efficiently navigate these complex systems and attain the best solution in a significantly shorter time, creating a competitive advantage for industry," Dr Rana explained.
Dr Dorin added that creating a nickel super alloy using traditional trial and error methods would take around two-and-a-half years. In contrast, by using the new software an alloy was achieved with a 13 per cent improvement in properties within six weeks.
RAPID has worked with US company Universal Alloy Corporation (UAC) to improve heat treatment and optimise time in creating alloys. It is also working with clients such as Western Australian company Callidus Group to develop a new titanium alloy for use as agitator blades within nickel processing plants – a high temperature, abrasive environment that requires an alloy with increased corrosion and wear resistance.
Another project is developing the next generation of the 6XXX series automotive aluminium alloys, as a means of reducing the weight of vehicles and meeting emissions requirements.
"Lighter vehicles use less fuel, and for electric vehicles, lighter weight means going further without using as much battery power. For both, it means being able to carry heavier loads or more people, because the actual vehicle is lighter," Dr Dorin said.
For more information, contact Deakin's Industry Engagement and Commercial Manager, Mr Andrew Rau.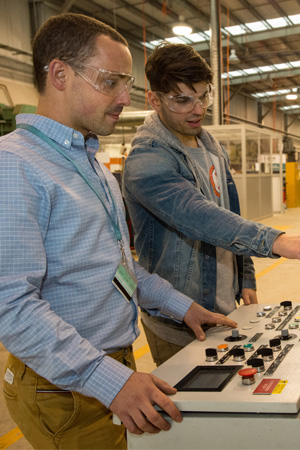 Key Fact
Dr Thomas Dorin (left) and PhD student Steven Babaniaris.
---