Deakin researchers named in top one per cent globally
Research news
15 November 2022
Thirteen Deakin University academics have been named among the world's most influential researchers in their fields following the release of 2022 Clarivate™ Highly Cited Researchers™ list.
The list, produced by the Web of Science Group, identifies researchers who have made the most significant contributions to global research in the past decade and includes those who are ranked in the top 1% of research paper citations.
Of 337 Australian researchers featured on the list, 13 are from Deakin – the highest number of our researchers on the list since its inception. A duo of Deakin researchers have appeared on the list eight consecutive times including this year – Professors Jo Salmon and Alison Yung.
Deakin also ranked ninth among 45 Australian institutions featured on the list, with notable year on year growth.
Congratulations to all our 2022 Highly Cited Researchers:
Professor Charles Abraham, Cross-Field
Working as a public health psychologist, Prof. Abraham believes in helping people change their lifestyles to prevent common illnesses. He spent many years designing and evaluating behaviour change interventions overseas and now he's continuing his work to improve Australia's health.
Take me to Prof. Abraham's profile.
Professor Michel Armand, Cross-Field
French scientist Prof. Armand is known for helping with the invention of lithium batteries. He has worked closely with Deakin as a visiting academic to enable safer, stable and better performing lithium batteries, which he was awarded an honorary Deakin doctorate for.
Take me to Prof. Armand's story.
Alfred Deakin Professor Michael Berk, Psychiatry and Psychology
As one of the world's most influential scientific minds, Prof. Berk is alleviating mental health distress for millions of people. One of his current projects involves repurposing blood pressure medication, to investigate if it's the key to helping Australian's living with depression or bipolar disorder.
Take me to Prof. Berk's researcher story.
Alfred Deakin Professor David Boud, Social Sciences
Education expert Prof. Boud has been a pioneer in learning-centred approaches to assessment, particularly through student self-assessment and building skills for long-term learning. His research has helped influence innovative approaches to teaching, learning and assessment in universities globally.
Take me to Prof. Boud's profile.
Dr Andre Carvalho, Psychiatry and Psychology
Dr Carvalho is an expert in evidence-based mental health, reproducibility in neuroscience, consultation-liaison psychiatry and mood and psychotic disorders. He is a psychiatrist working as an honorary researcher at the University.
Take me to Prof. Carvalho's Research Gate.
Professor Ying (Ian) Chen, Cross-Field
Making a breakthrough in gas separation and storage is one of many recent achievements for Prof. Chen. This ground-breaking research could help address one of the biggest barriers preventing the widespread adoption of hydrogen energy.
Take me to the green hydrogen breakthrough.
Associate Professor Olivia Dean, Cross-Field
In the thick of clinical trials, Assoc. Prof. Dean is focussing on novel interventions and the underlying biology of psychiatric disorders. She is committed to providing better treatment outcomes by developing new treatments and directly translating research into clinical practice.
Take me to Assoc. Prof. Dean's clinical trials.
Professor David Dunstan, Cross-Field
Through his public health research, Prof. Dunstan is understanding why too much sitting and too little exercise is bad for overall health. He has developed effective strategies to reduce up sitting time in adults with or at risk of developing chronic disease to better support their health outcomes.
Take me to Prof. Dunstan's profile.
Alfred Deakin Professor Felice Jacka OAM, Cross-Field
Recognised as the founder of nutritional psychiatry, Prof. Jacka is creating health eating strategies to help minimise impacts of mental health issues like depression. Her work is rewriting the story of nutrition and health, which she was honoured with a Medal of the Order of Australia (OAM) for in 2021.
Take me to Prof. Jacka's researcher story.
Alfred Deakin Professor Alexander Newman, Cross-Field
Prof. Newman is working to break down the barrier between refugees and employers, with multiple awards recognising his team's innovative community engagement. His research helps people from a refugee background re-build their careers and gain meaningful employment after leaving their home countries.
Take me to CREATE's impact story.
Alfred Deakin Professor Jo Salmon, Social Sciences
Leading Australia's only education initiative that integrates movement into the existing curriculum, Prof. Salmon is revolutionising student's learning through moving. Her and her team's research has reached more than 502 schools that all believe in active learning that's designed by experts and tested by teachers.
Alfred Deakin Professor Anna Timperio, Social Sciences
How can your neighbourhood and built environment shape your active lifestyle? Prof. Timperio hopes to find the answer. Her work aims to inform local government about how best to design neighbourhoods to improve dietary and sedentary behaviours. She also works with Prof. Salmon to get children moving in the classroom.
Take me to Prof. Timperio's profile.
Professor Alison Yung, Psychiatry and Psychology
Prof. Yung is transforming delivery for people with early psychosis and she was awarded the Founders' Medal by the Society of Mental Health Research to recognise her career achievements. She created a crucial instrument to assess risk for psychosis, called the Comprehensive Assessment of At Risk Mental States (CAARMS), which continues to be used throughout the world, both for clinical and research purposes.
To find out more, explore the full list.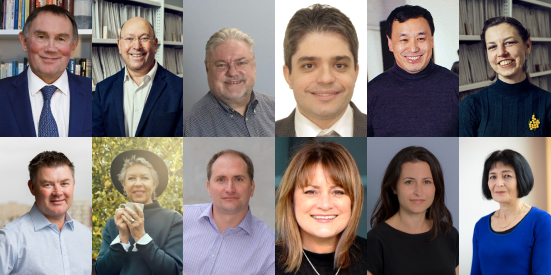 Key Fact
Thirteen of 337 Australian researchers featured on the list are from Deakin – the highest number of our researchers on the list since its inception.
More like this
Research news
Faculty of Science Engineering and Built Environment, Faculty of Arts and Education, Faculty of Health
Institute for Physical Activity and Nutrition (IPAN), Research for Educational Impact (REDI), Innovation in Mental Physical and Clinical Treatment (IMPACT)
Creating smarter technologies, Improving health and wellbeing, Advancing society, culture and the economy