Deakin signs significant partnership to drive roadwork safety
Research news
08 September 2022
Deakin University has partnered with Transport for New South Wales (TfNSW) and iMOVE to help improve roadwork safety across the NSW road network.
Roadworks pose significant risks to roadworkers and motorists alike. However, they are important to keep Australian roads in good condition and expand the existing road network.
To make travel safer, transport departments and agencies are undertaking various activities to mitigate the risks roadworks pose to roadworkers and motorists. This partnership will play a crucial role in identifying and trialling new safety initiatives.
Led by Associate Professor Ashim Debnath, the Director of the Safe Future Mobility Research Lab at Deakin's School of Engineering, a dynamic research team is undertaking cutting-edge research to help make Australian roadwork sites safer and more efficient.
'The vast road network of Australia requires regular maintenance and upgrade activities, which make roadworks a common part of our everyday travel,' Assoc. Prof. Debnath says.
'We're going through an infrastructure boom as the Federal and State Governments invest hundreds of billions of dollars' in transport infrastructure projects. During this decade, this is likely to increase roadwork and maintenance activities even more.
'As such, there is a strong need for researchers and the transport industry to come together to make roadwork sites safe for both roadworkers and drivers, as well as to increase efficiency to make travel smoother and quicker.'
Through the partnership, two research projects have commenced to support of road safety and traffic management. The projects will help:
reduce the frequency and/or occurrence and severity of injuries to people involved in end of queue crashes at roadwork sites. It will also increase overall safety for staff and public within these worksites. Through rigorous field trials, this project will identify and test a range of traffic control measures to reduce the risks associated with the end of queue crashes.
identify opportunities for innovative use of existing technologies and ways of working in the areas of structural and roadside inspections and temporary traffic control devices. The project also aims to uncover different ways of conducting temporary roadworks and maintenance on the M1 between Sydney and Newcastle. Outcomes of this project will include a set of recommendations on technologies and practices for future trials.
Assoc. Prof. Debnath said Deakin's Safe Future Mobility Lab was proud to partner with TfNSW and iMOVE to not only make roads better, but safer too. 'At the Lab, we are passionate about making Australian roads safer for all road users, including drivers, pedestrians, cyclists and motorcyclists, through investigating safety issues for the current and future transport systems.'
'We're excited to work with TfNSW and iMOVE, who have already done so much to make our roads safer, to reduce risk around roadwork and protect both our roadworkers and drivers.'
Interested in joining or collaborating with the Safe Future Mobility Research Lab'? Contact Assoc. Prof. Debnath at ashim.debnath@deakin.edu.au
Assoc. Prof. Ashim Debnath is recognised nationally and internationally for his contributions to roadwork safety and traffic management research. He is an invited member of the prestigious US Transportation Research Board (TRB) Standing Committee on Traffic Control Devices and an Associate Editor of the TRB journal Transportation Research Record. He is the Head of Discipline of Civil and Environmental Engineering at Deakin and leads a multidisciplinary group of researchers with expertise on road safety, roadwork traffic management, and advanced modelling of transport systems and data.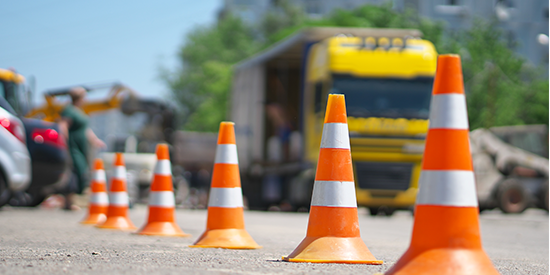 Key Fact
'We're excited to work with TfNSW and iMOVE, who have already done so much to make our roads safer, to reduce risk around roadwork and protect both our roadworkers and drivers.'