Deakin VYT winner uncovers potential of natural killer cells to keep us safe and sound
Research news
15 August 2023
Summary:
Natural killer cells have an incredible ability to kill cancerous or virus-infected cells, but there's still much to discover about how they work.
Deakin PhD researcher Kaushalya Perera is using zebrafish to find out more about the potential of these valuable cells.
Zebrafish have an immune defence system that's similar to humans
You can watch all our VYT finalists' presentations on Deakin Research YouTube
Inside our bodies there's a continuous battle between our immune systems and the disease-causing pathogens that try to invade. Deakin's 2023 Visualise Your Thesis (VYT) winner is finding out more about natural killer (NK) cells – the fast and powerful defenders of our immune systems.
Kaushalya Perera, a PhD researcher in Deakin University's School of Medicine, is using zebrafish , whose immune defence system is similar to humans, to find out more about these valuable cells.
By placing fluorescent trackers on zebrafish NK cells to help study their every movement, Kaushalya and her supervisors Professor Alister Ward and Dr Clifford Liongue hope to develop a transgenic zebrafish model uniquely labelling NK cells to uncover the cells' potential to protect us against disease.
'I've always been interested in understanding our defence mechanism against foreign pathogens, infected host cells and transformed cells,' says Kaushalya, who obtained a masters degree in biotechnology and bioinformatics at Deakin before undertaking her PhD research in immunology.
'As an undergraduate, my focus was initially on infectious diseases and trying to understand how our immune system reacts to invading pathogens. During my masters, I learned about the use of zebrafish to understand vertebrate immunity and had a chance to look more closely at the zebrafish immune system to trace several aspects that we still don't know much about, including NK cells. So for my PhD, I chose to investigate the incredible ability of these cells to kill cancerous or virus-infected cells, which can be an additional alternative to cell-based immunotherapies.'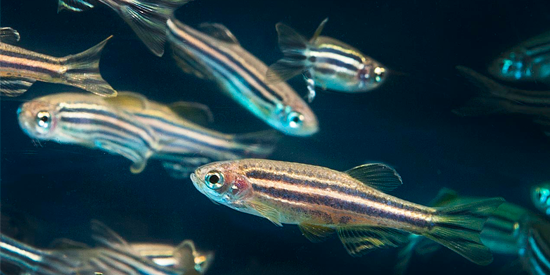 Zebrafish (Wikimedia Commons)
The annual VYT competition challenges participants to distil their research project into a one-minute video presentation that helps non-specialist audiences understand its value and impact.
In her animated presentation, 'Spotlight on NK cells: super immune warriors', Kaushalya explains that our immune defence system is made up of two main 'battalions'. The first army – our innate immune cells – are fast but can't beat all the intruders, while our second army – or adaptive immune cells - while more powerful is usually late. NK cells, however, are both fast and powerful but there is still much to discover about how they work.
'Uncovering the potential of NK cells will help us to understand how they help keep us safe and sound,' Kaushalya says.
Her winning VYT presentation is now through to the next round of the competition.
'I think presenting my research within one minute in a way that non-scientific people can understand it was challenging but is really valuable. I can explain it to my parents and family, and it also gives me confidence that when someone comes up to me at a conference and asks what my research is about I can quickly summarise it and the impact it will have.'
The text of this article is licensed under the Creative Commons Attribution (CC BY) 4.0 International license. We'd love for you to share it, so feel free! Please note that images, videos, graphics and logos are not covered by the CC BY license and may not be used without permission from Deakin University or their respective copyright holder. If you have any questions please contact researchcomms@deakin.edu.au.
Thanks for reading! You can find more stories like this at https://www.deakin.edu.au/research/research-news-and-publications. We ask that Deakin University and individuals are appropriately credited and that you include links back to this website. Quotes in this article can be extracted for other articles provided individuals are appropriately credited and you include a link back to the article URL.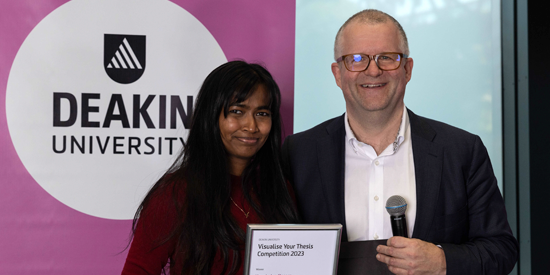 Key Fact
PhD researcher Kaushalya Perera took out Deakin's Visualise Your Thesis (VYT) final with her research into the potential of natural killer cells to protect us against disease.