'Miracle protein' biosensor set to transform early cancer detection
Research news
16 June 2021
A commercialisation agreement for a high-tech biosensor is paving the way to improved diagnosis, monitoring and treatment for cancer patients around the globe.
A world-first, point-of-care cancer sensor should be on the market within five years, thanks to ground-breaking science led by Deakin University researcher Dr Wren Greene.
Dr Greene and his colleagues have unlocked the potential of lubricin, a non-sticking "miracle protein" found in human joints, to reliably detect cancer – with outstanding potential for earlier treatment, better monitoring and improved long-term outcomes for cancer patients.
Dr Greene, Deakin's new Senior Universal Biosensors Fellow within the Institute for Frontier Materials, has worked with Professor Simon Moulton and Dr Saimon Silva of the School of Software and Electrical Engineering at Swinburne University, and colleagues at the University of Wollongong over the past five years to develop proof-of-concept research on detecting Tn Antigen. This is an O-glycan (chemical compound) rarely detected in healthy human tissue and expressed in about 80-90 per cent of cancers.
In fact, Tn Antigen is linked to the first mutation process of a healthy human cell as it becomes a cancer cell, making it an ideal indication of early cancer.
Deakin industry partner Universal Biosensors (UBI) formalised in April an exclusive license and supply agreement with US company Lubris BioPharma LLC, which synthetically produces lubricin at industrial scale, to develop the technology for market. UBI expects to invest up to $10 million to achieve commercialisation over the next five years.
UBI is a world leader in biosensing technology, having produced the most successful biosensor platform ever developed – a point-of-care electrochemical blood glucose test strip, now used in medical centres and healthcare clinics globally. John Sharman, UBI CEO, said the next step to developing a commercial cancer biosensor is to ensure the Tn biosensor can be reproduced on UBI's manufacturing line and measure reliably, using patients' whole blood.
"To be able to identify and measure, then monitor the rate of a healthy human cell becoming a cancer cell from a handheld, point-of-care biosensor device is an exciting prospect for UBI," Mr Sharman said.
"Putting aside the possibility for early screening and then staging of cancer from a handheld device, the blood testing market for the monitoring of cancer remission patients annually is estimated at $17 billion. It would be wonderful if the initiative could improve the lives of many of the 131 million cancer remission patients around the world."
The sensor will detect antigens/cancer cells and then measure cancer progression and metastatic potential – analysing a finger prick volume of blood in just seconds, like the blood glucose test. It will combine electrode technology with coatings of lubricin, which provides a firm coating on virtually any surface.
Found in healthy joints, lubricin naturally coats the cartilage surface, providing lubrication and preventing cell and protein adhesion. The ability of the lubricin coating to prevent unwanted adhesion of blood proteins to the electrode surface, which interferes with the electrochemical detection of analytes like Tn, is the secret to this new biosensor platform.
"Unlike other biochemical anti-adhesive coatings, lubricin has virtually no impact on electrical processes, enabling unprecedented sensitivities in raw, unprocessed bodily fluid samples," Dr Greene said.
"The sensor will be incredibly sensitive and will give people peace of mind. Current cancer tests are expensive and often only able to be conducted once or twice a year. This biosensor will allow more frequent testing, enabling much earlier diagnosis and, consequently, better prognosis for patients whose cancer has recurred. Ultimately, we expect it will also be used as a point-of-care diagnostic tool for first-time cancer diagnosis."
"This is very exciting. When lubricin is applied to an electrode in an electrochemical sensor, scientists get the same performance out of the electrode in blood as we would in clean water. Tn represents just the first analyte that we will apply to our lubricin biosensor platform, but the versatility of this sensor means that it can easily be applied to the diagnosis or monitoring of other medical conditions in the future."
UBI's John Sharman said that whilst the research and feasibility work has been successfully completed (which means UBI's time to market is significantly reduced) "UBI still must develop a commercial Tn Antigen biosensor on our hand-held platform ready for partnering or clinical trials".
The research represents the culmination of more than seven years of Australian Research Council (ARC)-supported innovation, through Dr Greene's and Professor Moulton's ARC Discovery project and Dr Greene's ARC DECRA Fellowship.
Dr Greene and team are also exploring other potential lubricin sensor applications, including for testing water quality, PFAS fire retardant detection and use in the food and beverage industry.
Find out more about the Institute for Frontier Materials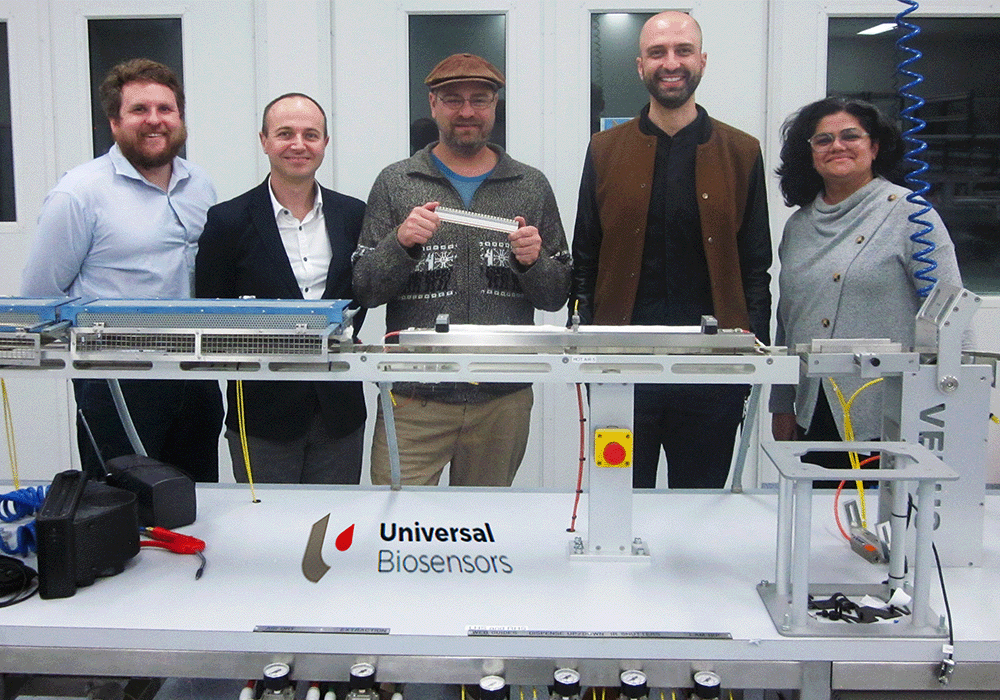 From left: Daniel Langley, UBI; Luke Cossins, UBI; Dr Wren Greene, Deakin IFM; Dr Saimon Silva, Swinburne (co-inventor); and Anushka Samudra, UBI.