National program to minimise diabetes-related blindness
Research news
18 December 2018
A new health initiative has the potential to lower the risk of vision loss for 1.1 million Australians living with type 2 diabetes.
A Deakin University researcher's initiative is set to substantially reduce the risk of blindness for people with diabetes across Australia. As part of her PhD research program, Dr Amelia J Lake used best-practice processes to develop an urgently-needed health behaviour intervention for young adults with type 2 diabetes.
The intervention will promote retinal screening for people with diabetes who are at risk of blindness and loss of vision from diabetic retinopathy (DR).
"Vision loss from DR is a common, diabetes-related complication and the leading cause of blindness for working-age adults worldwide," said Dr Lake, a Research Fellow with The Australian Centre for Behavioural Research in Diabetes (ACBRD).*
"Young adults aged 18-39 years, with type 2 diabetes, are a growing demographic who are particularly at risk of DR due to long diabetes duration and a range of other factors. As such, they are the priority group for the targeted intervention, which was funded by Vision 2020 Australia."
Dr Lake's research showed that, until now, retinal screening in Australia has not been adequately promoted to this group.
"The majority of vision loss from DR is preventable. The risk of vision loss can be significantly reduced if the condition is detected early and appropriate treatment is administered promptly. Early DR has no symptoms and retinal screening is the proven clinical pathway to DR detection," Dr Lake said.
All people living with diabetes are at risk of DR, yet one in five adults over 50 years of age are not getting regular eye examinations. This increases to one in two for young adults with type 2 diabetes, she explained.
Dr Lake's project has been recognised internationally. In September, it was one of just 17 case studies featured in "Integrated care for diabetes and eye health: A global compendium of good practice," a publication endorsed by the World Health Organisation.
Dr Lake has recently accepted an invitation to present her research at the Royal Society of Medicine in London in April 2019. The United Kingdom has had a national DR screening program since 2003 and, as a result, DR is no longer the leading cause of blindness and vision loss for working age adults in the UK. However, UK experts recognise that uptake of the program can still be improved and are now looking to behavioural scientists like Dr Lake for the answers.
There is strong interest in prevention of vision loss from DR. Diabetes Australia and Vision 2020 are receiving Federal Government funding to support what will become Australia's first nationally-co-ordinated DR screening program. The Australian Government has pledged $1 million for the first year, with Specsavers pledging $1 million each year for five years.
Diabetes Australia is partnering with Vision 2020 Australia, Oculo and Specsavers – and other leading eye health and diabetes organisations across Australia – to introduce the initiative. Participants will be invited to attend Medicare-funded eye checks at existing optometry services. Specialised healthcare professionals will then be able to keep track of patient checks and ensure that they receive reminders for regular eye screening.
*The Australian Centre for Behavioural Research in Diabetes (ACBRD) was established in 2010 as a partnership for better health between Diabetes Victoria and Deakin University.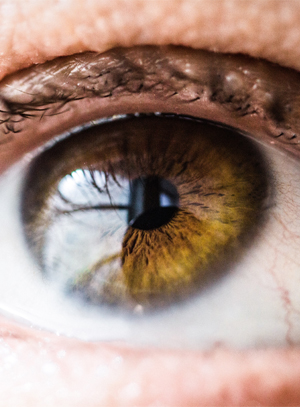 Key Fact
(from left) Dr Jiangting Wang, Professor Ying (Ian) Chen and Dr Srikanth Mateti
---