Native essential oils key ingredient in safer, more sustainable food packaging, says Deakin 3MT winner
Research news
11 August 2023
Summary:
Food microbes are responsible for over 1.3 billion tonnes in food waste and 600 million cases of foodborne illnesses annually.
Deakin PhD researcher Agnes Mukurumbira is developing a prototype for antimicrobial food packaging using native Australian essential oils.
The packaging could help extend product life and reduce food wastage and illness.
Deakin University's winning Three Minute Thesis (3MT®) presenter is developing a prototype for a sustainable antimicrobial food packaging that could help extend product life and reduce food wastage and illness.
Watch Agnes' winning 3MT® presentation on Deakin Research YouTube.
Agnes Mukurumbira, from the Deakin CASS Food Research Centre, is investigating the use of plant-based antimicrobials to help kill the bacteria and fungi that grow on foods and are responsible for over 1.3 billion tonnes in food waste and 600 million cases of foodborne illnesses annually.
Before joining Deakin for her PhD, Agnes completed her masters degree in food science and technology at the Durban University of Technology in South Africa. Her research there explored the use of starch nanocrystals to improve the physicochemical properties of biodegradable food packaging such as strength and durability and water and oxygen permeability.
Agnes says the first ingredient in developing antimicrobial food packaging is, of course, finding the right antimicrobial.
'In my study, we're using the native Australian essential oils Tasmanian mountain pepper and lemon myrtle for sustainability reasons and due to the growing demand for natural products.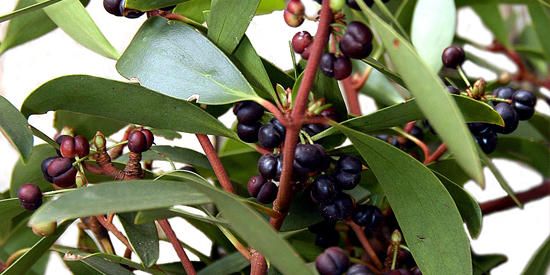 Leaves and berries of the Mountain Pepper Tasmannia lanceolata (CSIRO ScienceImage 3982 Wikimedia Commons)
'From the findings of my first study we now know that these essential oils are potent antimicrobials against common food spoilage and pathogenic bacteria and fungi. It turns out their activity is better than tea tree oil, which has historically been used extensively as an antimicrobial. We also stumbled upon the fact that not only are these oils antimicrobial in the liquid phase, but their volatiles, or gases they release , are equally as effective.'
Once the oils' antimicrobial activity was confirmed, Agnes and her team, including her PhD supervisors Dr Snehal Jadhav, Professor Russell Keast, Associate Professor Robert Shellie and Swinburne University's Associate Professor Enzo Palombo, went on to address the problems of the oils' chemical and physical instability and strong odour using a technique called encapsulation.
'Encapsulation is essentially trapping the oil in some sort of wall material,' Agnes explains.
'Think of a chocolate truffle with a gooey centre, but in nanometre size. We successfully encapsulated the oils giving them stability and allowing for controlled release.'
In another welcome surprise, the team also discovered that encapsulation actually enhanced the oils' antimicrobial activity.
The next step is to integrate the encapsulated essential oils into biodegradable plastic formulations to produce packaging that will release the essential oils, killing or inhibiting the bacteria and fungi growing on food and extending product shelf life.
After taking out Deakin's 3MT® final last week, Agnes now moves onto the next stage of the international 3MT® competition – the 2023 Asia-Pacific 3MT® Semi-Final Showcase on 25 September.
'Winning was the culmination of over three years of hard work, long days and weekends in the lab and just pouring my heart into my research,' she says.
'I took part in the competition because I realised that public perception and ultimate acceptance of science depends on our ability to articulate or interpret the heavily scientific work that we do. So this was an opportunity to put to use my science communication skills and be able to translate my work into a language that everyone can understand.'
The text of this article is licensed under the Creative Commons Attribution (CC BY) 4.0 International license. We'd love for you to share it, so feel free! Please note that images, videos, graphics and logos are not covered by the CC BY license and may not be used without permission from Deakin University or their respective copyright holder. If you have any questions please contact researchcomms@deakin.edu.au.
Thanks for reading! You can find more stories like this at https://www.deakin.edu.au/research/research-news-and-publications. We ask that Deakin University and individuals are appropriately credited and that you include links back to this website. Quotes in this article can be extracted for other articles provided individuals are appropriately credited and you include a link back to the article URL.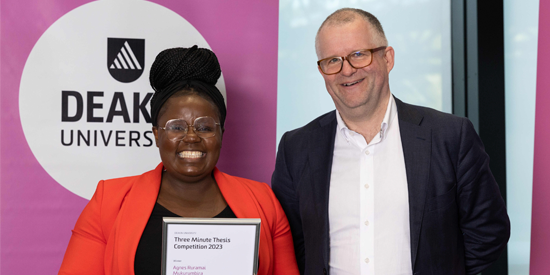 Key Fact
PhD researcher Agnes Mukurumbira took out Deakin's 3MT® final with her research into antimicrobial food packaging using native essential oils.