Personalised daily parenting app to help improve children's mental health
Research news
15 December 2022
Deakin University researchers will develop an app to support children's mental health by giving their parents the tools to tackle challenging daily moments.
Mental disorders affect almost half of Australian adults over their lifetime – and an even higher proportion of Indigenous Australians.
The Daily Growth app radically reimagines mental health prevention. It will offer evidence-based parenting support that is targeted to specific situations parents of children aged two to four have recently encountered.
Daily Growth will personalise support, offering a combination of three types of parenting advice to cater for different parents including First Nations perspectives of earth connection and reciprocity developed by Wayapa Wuurrk. Wayapa Wuurrk is an earth connection program developed by Jamie Thomas, a GunaiKurnai man and Maara descendant.
'Wayapa Wuurrk is based on Indigenous, First Nations and Ancient wisdom and supports wellbeing practices that build stronger connections to culture and Country, and bridge gaps in mental health between Indigenous and non-Indigenous children,' Mr Thomas says.
But how does a parenting app improve mental health? Mental illness typically begins in childhood. Emotion regulation – our ability to understand and manage our emotions – is a critical pathway to mental illness.
'It's really the building block of social and emotional skills,' says lead researcher child psychologist Associate Professor Elizabeth Westrupp.
'Relationships, education, career – all of those things require emotion regulation skills.'
When children are young, they rely on their parents to teach them how to recognise and manage their emotions through co-regulation. But Assoc. Prof. Westrupp says parents aren't getting enough support to do this well.
'Most families with kids aged two to four don't receive any evidence-based parenting support at the moment,' Assoc. Prof. Westrupp says.
The Daily Growth app will make this support readily available on a smartphone.
The app will also adapt to a parent's individual characteristics. Daily Growth offers a personalised combination of in-the-moment support from three approaches:
Emotion coaching: to support parents in teaching their child about emotions
Wayapa Wuurrk: an earth connection practice based on Indigenous wisdom of taking care of the environment to create earth mind body spirit wellbeing by combining mindfulness, storytelling, embodied movement and reciprocity.
Active play: play-based physical activities that can improve child and parent emotion regulation and mental health.
How will it work in practice?
'Let's say a father of three gets a notification to complete a 1 minute survey on Daily Growth,' Assoc. Prof. Westrupp says.
'He chooses a recent situation where his three-year-old child grabbed a toy from their sibling. Daily Growth then directs him to a three-minute video on Active Play, which provides ideas for games to help everyone manage the situation: "Everyone's upset. Let's take a break. Imagine our bodies are big angry exploding volcanoes!"'
The Daily Growth project is the first to apply a combination of micro-interventions and machine learning to parenting support.
The Centre for Social and Early Emotional Development (SEED) has been awarded nearly $1.4 million in funding through the National Health and Medical Research Council (NHMRC) Ideas grant to develop the Daily Growth app in partnership with Wayapa Wuurrk, Barwon Child, Youth & Family, and the University of Melbourne.
Testing of the app is expected to commence in 2024.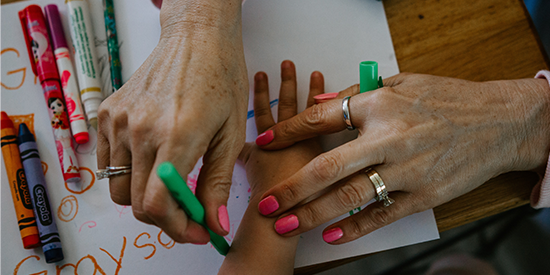 Key Fact
Daily Growth will give parents personalised tools to help their children aged two to four understand and manage their emotions.