Swapping business shoes for gumboots: Blue Carbon Lab brings executives into Australia's wetlands
Research news
26 February 2021
Deakin University's Blue Carbon Lab has received a Premier's Sustainability Award for its HSBC Blue Carbon Citizen Science Program in 2020, in the Education category.
The HSBC Blue Carbon Citizen Program, funded by HSBC, Deakin University and Earthwatch, educates Australia's corporate executives in climate change knowledge, giving them the tools to build a sustainable future and value Australia's coastal ecosystems.
By swapping business shoes for gumboots and providing an immersive experience into coastal wetland research, the Blue Carbon Army connects executives with nature, leading to scientifically-documented sustainable behaviours. The engagement of the participants in coastal research builds scientific trust to support nature-based climate solutions in Victoria.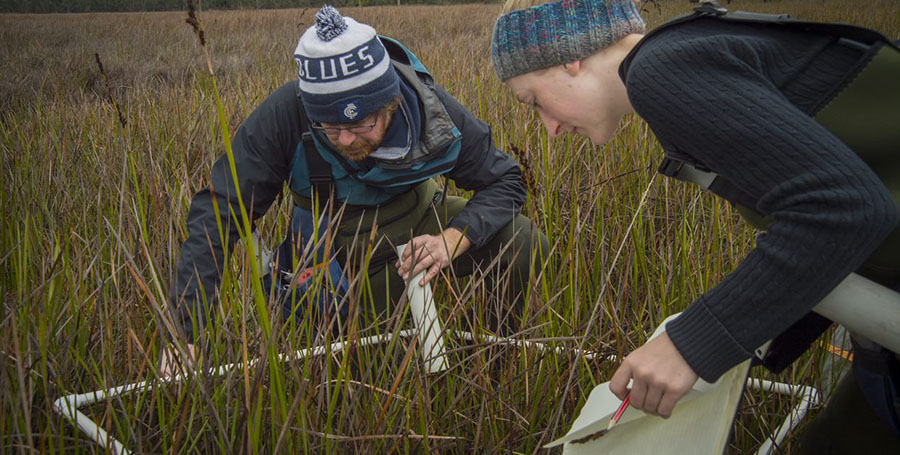 Professor Peter Macreadie – head of the Blue Carbon Lab – said that the challenges posed by climate change can leave many people feeling helpless; how can they enact positive change if they don't have the tools to do so?
"The Blue Carbon Army was formed to get people involved in research about one of the most powerful ecosystems on the planet and to improve their climate literacy. We introduced participants to concepts around natural capital, which looks at how natural ecosystems support our economy and our human wellbeing."
The program was designed as a full-day, immersive experience and combines educational talks and discussions with research activities on local wetlands. Dr Maria Palacios – Lead Scientist and Project Manager of the Blue Carbon Army – said that they've since educated over 300 corporate executives from HSBC and other industry partners on climate change science and research.
"We teach them about sustainability, climate change and local wetlands. Then we take them into the field where they help us collect data. They get to see how much carbon the wetlands are capturing, and how much carbon is helping us offset climate change emissions."
The program encourages sustainable changes within organisations and financial decisions that lead to a greener future.
"We've seen an 80 per cent increase in participants' knowledge about climate change and natural capital," Professor Macreadie said. "This gives them practical things that they can do in their everyday lives and sets them up for the future."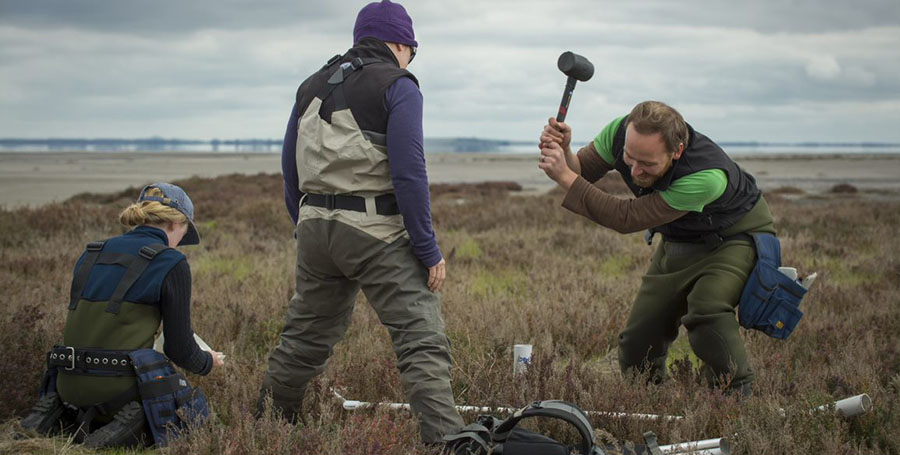 The Education category recognises excellence and innovation in the delivery of educational programs that contribute to a more sustainable Victoria.
Sustainability Victoria CEO Claire Ferres Miles congratulated the Blue Carbon Lab on their achievement and said the project demonstrates an innovative approach to driving a more sustainable future.
"The continued year-on-year growth of the Awards reflects optimism and momentum to achieve Victoria's commitment to transition to a circular and zero net emissions economy to reduce, re-use and recycle," Ferres Miles said.
With 2021 marking the beginning of their 19th year, the Premier's Sustainability Awards are Victoria's most highly recognised annual sustainability awards program, comprising 10 categories.
Premier Daniel Andrews personally selected the winners of the overall awards, the Premier's Recognition Award and Premier's Regional Recognition Award, from the list of finalists.