Turning Australia's food waste mountain into new clean and green products
Research news
01 August 2022
A new BioFactory at Deakin University's Waurn Ponds campus will deliver ground-breaking ideas and solutions to tackle Australia's mountain of food waste from households, businesses and supermarkets.
Every year, each Australian household throws away an average of 585 kilograms of food, while businesses generate 2.5million tones of organic waste, and supermarkets discard 200-400 kilograms per day of vegetable trimmings and expired food products.
Now, a Deakin research team envisages a future where organic waste is turned into new 'clean and green' products such as fish food, nutritional supplements, medical biomaterials, textile additives, organic fertilisers and organic cosmetic ingredients.
The BioFactory is part of the Circular Economy Accelerator – Organics project that brings together researchers and facilities from Deakin, Monash University and RMIT University, and matches them with external partners looking for new ideas, solutions and multiple ways to use organic waste including food waste, agricultural waste and marine by-products.
The BioFactory plays a key role in Deakin's aspirations to establish a multi-billion-dollar bioeconomy in Victoria, focused on clean energy, recycling and green supply chains over the next decade.
According to lead researcher and bioprocessing expert Alfred Deakin Professor Colin Barrow, some Victorian councils are struggling to cope with food organics and garden organics (FOGO) collections, with waste processing facilities at capacity and not enough people wanting to buy the resulting compost.
'We would love to work with local councils, supermarkets and food manufacturers and find ways to extend capacity to transform the tonnes of discarded food waste into a more diverse product range than just compost,' Prof. Barrow says.
'The BioFactory will give us the future capability to limit organic waste going to landfill and to create a range of new products such as protein-rich feed for fish farms, nutritional ingredients for human consumption, fertiliser for farming, cosmetic ingredients and a range of biomaterials.
'We are talking to many companies so that we can take organic waste and turn it into something really useful, rather than just discarding it.'
For instance, a current project, co-funded by Sustainability Victoria and Mantzaris Fisheries, is taking squid gut waste from calamari production and converting it into a high-value nutritional oil and fertiliser.
In another project, the team is using by-products from seaweed fertiliser production and converting them into biomaterials for improved textiles and biomedical devices.
'We're very excited by the possibilities that the establishment of the BioFactory presents us with and are determined to continue building long-term partnerships with agriculture, food, water and other marine industries to transform industries and supply chains in Victoria and Australia,' Prof. Barrow says.
The $16.4 million Deakin BioFactory is expected to be operational in early 2023. It includes a $10 million contribution from the Victorian Higher Education State Investment Fund.
If you are a food manufacturer, supermarket or local council and would like to know more about the Deakin BioFactory project, please contact Professor Colin Barrow at colin.barrow@deakin.edu.au
Learn more about Prof. Barrow's work:
Strengthening Australia's circular economy future
Share this story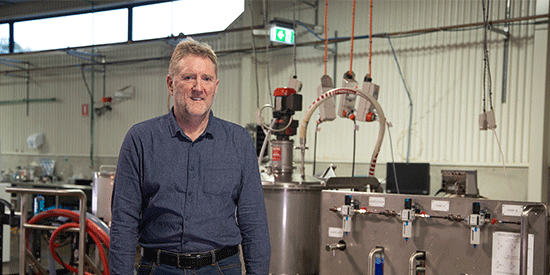 Key Fact
The Deakin BioFactory, led by Alfred Deakin Professor Colin Barrow (pictured), plays a key role in Deakin's aspirations to establish a multi-billion-dollar bioeconomy in Victoria.
More like this
Research news
Enabling a sustainable world
Engineering, Environment