Credit for prior learning
Deakin recognises your previous studies and work experience and can provide generous credits towards your chosen Deakin course. This can save you time and money, increase your educational choices and ensure you do not repeat what you have already studied.
How much credit can I get?
To find out what credit you may be eligible for, search our Credit for Prior Learning Database. This database currently shows details for courses and institutions with which Deakin has formal arrangements for CPL. If you can't find your previous institution or course in the database, you may still be eligible for credit. You can also apply for CPL if you have significant work experience in your chosen area of study.
How do I apply?
Apply by submitting a credit for prior learning (CPL) application or contact us to enquire. You will need to provide certified copies of academic transcripts with your CPL application and may also have to provide a resume or personal statement.
You can apply for credit for prior learning at any time through your faculty course adviser, but we recommend you submit your CPL application at the same time as your course application.
Applications for CPL must be submitted with the following documents:
academic transcripts for the course for which you are seeking credit
a key to results
entry requirements for the course for which you are seeking credit
an extract from the handbook of the previous institution showing details of the course structure, credit point or equivalent weighting, unit syllabuses for any units for which credit is sought, showing assessment requirements for those units and details of text books and references.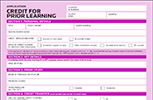 Credit for prior learning application form
PDF
88 KB
How is CPL assessed?
All applications for credit for prior learning are reviewed by a committee of the faculty in which enrolment is sought. Faculties will generally consider qualifications completed within the last 10 years. Applicants whose qualifications are older than 10 years may still submit an application for evaluation if they have maintained involvement in the area and can provide evidence of this. Faculties may impose a shorter time limit for some courses to ensure currency of knowledge and skills.
A complete assessment can be made only when full documentation has been provided. Applicants should not send original documents as they will not able to be returned.
How will this affect me?
Note the following conditions for students receiving CPL:
Students are required to complete at least one-third of their chosen course at Deakin. In the case of certificates, including graduate certificates, a minimum of half the course must be completed at Deakin.
International students must fulfill the requirements of their student visa, even if CPL is granted by Deakin .
Centrelink benefits can be affected if your study load reduces from full time. Speak to a faculty course adviser to discuss options to maintain a full-time load.
Recognition by some professional associations or bodies may be affected by receiving CPL. For example, some professional bodies may require you to complete all of your studies in Australia. Please check with the relevant organisation for clarification.
More information