Get work-ready
You'll undertake a minimum of 1000 hours of practicum placements when studying occupational therapy at Deakin, starting in year one. Placements are conducted in a range of settings, including schools, hospitals, clinics, community health organisations and industry. Occupational therapy has experienced one of the strongest growth rates in the health industry over the past 10 years. You'll graduate ready to change the world with this globally-accredited degree.
Undergraduate
Undergraduate (your first degree)
An undergraduate degree is generally completed between two to four years, depending on the pattern of study and any recognition of prior learning you may have. Associate degrees, bachelor and bachelor with honours are all undergraduate degrees.
Postgraduate
Postgraduate (further study)
A postgraduate qualification can be undertaken by students who have already completed an undergraduate degree or possess significant, demonstrable work experience. Postgraduate courses include graduate certificates, graduate diplomas, masters and PhDs, as well as specialist programs for industry professionals.
Research
Higher Degrees by Research (supervised research)
Research degrees are research based master's or PhD programs that focus on a single area of expertise. They provide students the opportunity to carry out highly specialised research under expert supervision.
Career opportunities
Roles exist in areas as diverse as acute, psychiatric or rehabilitation hospitals, schools, community health, mental health programs, workplace rehabilitation, government, private practice and also research. Our graduates have found employment with the following organisations:
Alfred Health
Barwon Health
Bellarine Community Health
Department of Education
Karingal
private occupational therapy practice
special schools
Western District Health.
Regional and Remote Entry Scheme
Do you want to boost your chances of getting into your dream degree? To help address workforce shortages in regional and remote areas, we offer an alternative entry pathway into the Bachelor of Occupational Therapy.
The occupational wellness and lifestyle program has been my favourite subject, it gave me the opportunity to practise and apply skills in the community.
Sophie Schultz
Bachelor of Occupational Therapy
Choose an occupational therapy degree that will get you work ready
Discover how our globally accredited occupational therapy degree will prepare you to improve the quality of life of people living with a range of health limitations.
Get unparalleled experience
You'll have a number of work placements throughout your course, which start in your first year. Work in the field and gain valuable skills under the supervision of qualified practitioners.
Occupational therapy simulations for learning
With Deakin's award-winning simulated learning resource, develop a wide array of discipline specific skills with over 30 authentic and carefully designed work-integrated learning challenges.
Overseas placement opportunities
In your third year, you'll have the opportunity to apply and undertake a placement overseas. Selected students can gain international experience in either India or Denmark.
Occupational therapy at Deakin
Inside the Geelong Cats Sensory Zone
Ever wondered what a Sensory Inclusive stadium looks like? See how our Occupational Therapy alumna helped facilitate this amazing space
Caitlin and Alex's stories
Hear from two of Deakin's graduates about what a career as an occupational therapist in rehabilitation and mental health looks like. Learn how Deakin prepares you for employment in different settings as an OT by providing a variety of work placements from your first year onwards.
Tim's story
Get an insight into studying occupational therapy at Deakin and some of the career pathways available. Learn about Tim's journey to becoming an occupational therapist in a hospital setting, and how Deakin helped to prepare him for his work and research.
Deakin OT students in action
Hear from Deakin occupational therapy students and the course director about how Deakin prepares you for a rewarding career in health. You'll be taught by industry experts and gain 1000+ hours of practical experience, ensuring you graduate ready to work as a confident and competent occupational therapist.
Accreditations
Our course is accredited by the Occupational Therapy Council of Australia and the World Federation of Occupational Therapists, allowing graduates to practice professionally in Australia and overseas.
Research with us
Our researchers in occupational therapy have broad experience in topics such as design for inclusion, carer support, childhood intervention and development, speech therapy and self-determination.
We're here to help
If you're dreaming of an exciting and rewarding career in occupational therapy, we'll help get you there.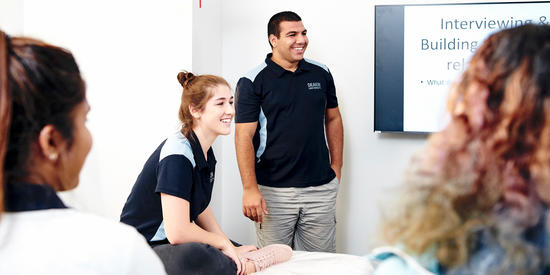 Jobs that help people: exploring occupational therapy
Discover how occupational therapists can help people in need in all aspects of everyday life and how you can become an occupational therapist at Deakin.
Browse other disciplines within health and community services
Choose an area that you're interested in and learn how Deakin's extensive range of study options and experiences can help turn your dreams into reality.