Barwon Health and Deakin celebrate long-standing partnership
Media release
29 August 2023
The research and clinical partnership between Barwon Health and Deakin University is marking more than two decades of achievement with the announcement of a new Clinician Scientist Pathway and funding for ten new PhD candidates.
The move will create Australia's most innovative Clinician Scientist Pathway with Barwon Health and Deakin co-investing $1.34million over the next four years to fund ten clinician PhDs across medicine, nursing and allied health.
Barwon Health Chief Executive Adjunct Professor Frances Diver said the candidates would generate original research and drive the uptake of evidence-based practice, new technologies and improved models of care.
"Clinician PhDs play a vital role in bridging the translation gap, which in turn improves health service efficiency and patient outcomes," Ms Diver said.
"They are also integral to a culture of innovation and excellence which will ensure we are building the healthcare workforce of the future."
Deakin Vice-Chancellor Professor Iain Martin said the long-standing partnership between Barwon Health and Deakin was built on shared commitment to improve health and wellbeing outcomes in Geelong and across the south-west region.
"Our partnership is committed to a vibrant culture of education, training and research that leverages Barwon Health's clinical and healthcare expertise and Deakin's research excellence and innovative education," Professor Martin said.
The partnership has delivered globally significant research outcomes across all health disciplines, most notably through the internationally recognised Barwon Infant Study and the Geelong Osteoporosis Study and through the discovery and implementation of novel therapies through the Institute for Innovation in Mental and Physical Health and Clinical Translation (IMPACT).
More recently the partnership has established the Change to Improve Mental Health (CHIME) Translational Research Partnership, with early funding support from the Barwon Health Foundation, driving research and innovation and enhancing evidence-based practice for mental health and alcohol and other drugs (AOD) services in the Barwon region.
In 2022, the Centre for Innovation in Infectious Disease and Immunology Research (CIIDIR) was launched, focused on the prevention, control and treatment of infectious diseases (such as malaria, COVID-19 and Buruli ulcer) and immune mediated diseases (such as food allergies, asthma and childhood onset diabetes).
Barwon Health and Deakin University collaborate on significant clinical trials across the region. The trials play a critically important part in supporting better health outcomes and embedding research excellence into every aspect of clinical care.
Over the past four years, more than 100 research projects have been jointly undertaken, including co-authorship of almost 800 publications.
Importantly, the partnership continues to build the healthcare workforce for the south-west region and beyond.
Since the establishment of the Geelong Clinical School in 2010, more than 800 Deakin students have undertaken their medical training at Barwon Health before successfully graduating as doctors.
The partnership has also resulted in more than 11,000 clinical placements for Deakin's nursing and midwifery students over the past decade and nearly 1500 student placements for occupational therapy students since 2014. Additionally, 150 social work placements have been provided to Deakin Bachelor of Social Work and Master of Social Work students since 2013.
The Clinician Scientist Pathway will be open to medical, nursing, midwifery and allied health clinicians. For further information please contact: research@barwonhealth.org.au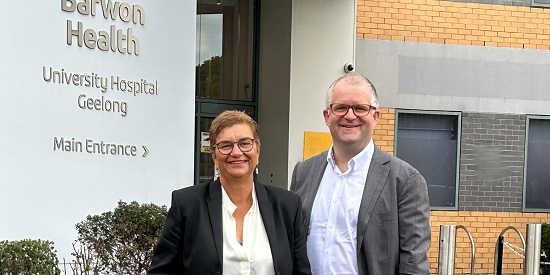 More like this
Media release
Faculty of Health, School of Medicine, School of Nursing and Midwifery, School of Health and Social Development, School of Psychology, School of Exercise and Nutrition Sciences