Deakin's research named among Australia's best
Research news
09 November 2022
Deakin University and its researchers have been recognised for their world-leading work in a new list celebrating Australia's research impact and capability.
The Australian's 2023 Research Magazine acknowledged Deakin as a leader in a number of fields across social sciences, health and medical sciences, humanities, and engineering and computer sciences.
As well as acknowledging the University's excellence in these fields, four individuals were named among Australia's top researchers in their respective fields.
Each year, The Australian's Research Magazine highlights Australia's research leaders, and the institutes at the forefront of knowledge, based off citations and research output.
This year, The Australian editors also acknowledged Deakin's research capacity and recent research achievements in cybersecurity, and disability and rehabilitation research.
The editors specifically acknowledged Deakin researcher Associate Professor Mark Stokes as a leading autism researcher for his work that aims to find out how to best assist those with autism to successfully transition to adulthood.
They also highlighted Deakin's Centre for Internet of Things ECOsystems Research and Experimentation, for its innovative research into security and privacy.
This was part of a new category for 2023 listing the top five universities and research institutions which are best equipped to tackle Australia's top ten research challenges.
The accolades recognise the crucial role research plays in bettering Australian lives.
Deakin's 2022 The Australian Research Magazine top research fields
Deakin was named Australia's leading institute in 11 fields of research across four disciplines.
Social Sciences
Academic & Psychological Testing
Education
Ethics
Higher Education
Human Migration
Military Studies
Health & Medical Sciences
Nutrition Science
Public Health
Humanities, Literature & Arts
Middle Eastern & Islamic Studies
Ethnic & Cultural Studies
Engineering & Computer Science
Deakin's 2022 The Australian Research Magazine recognised researchers
Each year, The Australian names the top Australian researchers in 250 fields of research over eight disciplines, with the aim of highlighting the excellence and relevance of Australia's research effort. The selection is made objectively based on the number of citations researchers have received for their publications over the past five years in top academic journals.
Social Sciences (Academic and Psychological Testing, Education, Higher Education)
Named a leader in three fields of research, Alfred Deakin Professor David Boud is the Director of Deakin's Centre for Research in Assessment and Digital Learning (CRADLE). He has been involved in research and teaching development in adult, higher and professional education for over 30 years and has contributed extensively to the literature.
Social Sciences (Ethics), Business Economics and Management (Human Resources and Organisations)
Professor Alex Newman has been named a leader in two fields of research. He is the Head of the Department of Management at Deakin Business School and conducts research in the areas of organisational behaviour, leadership and entrepreneurship. Professor Newman is also director of the Centre for Refugee Employment, Advocacy, Training and Education (CREATE).
Humanities, Literature and Arts (Middle Eastern and Islamic Studies)
Professor of International Politics Benjamin Iskhan is globally recognised for his research on Middle East politics and heritage destruction across the region. He is Founding Director of POLIS, a research network for political science and international relations scholars in the Alfred Deakin Institute.
Humanities, Literature and Arts (Feminism and Women's Studies)
Associate Professor Kim Toffoletti is a leading figure and internationally recognised researcher in the study of women, sport and physical activity. Her research has advanced novel theoretical and conceptual frameworks for addressing new challenges arising from the increased attention on women's sport and leisure activities.
Share this story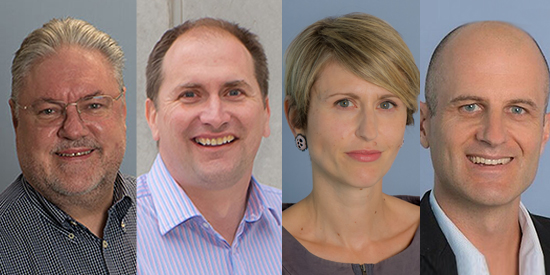 More like this
Research news
Deakin Business School, Faculty of Arts and Education, Faculty of Business and Law, Faculty of Health, Faculty of Science Engineering and Built Environment, School of Information Technology
Alfred Deakin Institute for Citizenship and Globalisation (ADI), Centre for Cyber Security Research and Innovation (CSRI), Centre for Research in Assessment and Digital Learning (CRADLE), Centre for Sports Research (CSR)