MAA727 - Financial Planning Development
Year:

2020 unit information

Enrolment modes:
Trimester 1: Cloud (online)
Trimester 2: Burwood (Melbourne), Cloud (online)
Credit point(s):
1
Previously coded as:
MAF709
EFTSL value:
0.125
Prerequisite:

MAA719 or MAF708 and MAA745 or MAF765

For M559, M659 and M759 students - Nil

Corequisite:
Nil
Incompatible with:

MAF709

Study commitment

Students will on average spend 150 hours over the teaching period undertaking the teaching, learning and assessment activities for this unit.

Scheduled learning activities - campus

1 x 3 hour seminar per week

Scheduled learning activities - cloud (online)

Online independent and collaborative learning including 3 scheduled online workshops of 3 hours duration
Content
This unit introduces students to the financial planning process and the development of a financial plan. The unit considers issues relating to risk management, estate planning, and salary packaging. In addition it revisits investment and retirement planning covered in earlier units and incorporates all of these areas into a comprehensive financial plan.
Hurdle requirement
Hurdle requirement: achieve an overall pass mark of 50% for Assessment 2.
Unit Fee Information
Click on the fee link below which describes you:
How to apply
You can apply online for this single unit via the Deakin Applicant Portal. Enter the unit code above and follow the steps to submit your application online. Once submitted, we'll be in contact via email to confirm your place.
You can apply for multiple units in one trimester in a single application or to study multiple units over subsequent trimesters, you'll need to submit a separate application for each study period.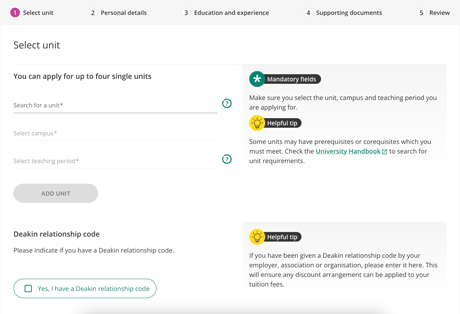 Talk to a Deakin adviser about studying at Deakin today