3MT/VYT competition celebrates Deakin's rising research stars
Research news
25 August 2022
The diversity of research at Deakin University was on show at this year's annual Three Minute Thesis (3MT) and Visual Your Thesis (VYT) Grand Final event.
Held live for the first time in two years, and with comedian Nazeem Hussain as master of ceremonies, the event showcased the breadth of innovative projects undertaken by research graduates across Deakin, as well as their skills in communicating the impact of their work.
Twenty-four contestants took to the stage or screen to explain their research project in three minutes (3MT) or in a one-minute digital presentation (VYT).
Pro Vice-Chancellor, Researcher Development and Alfred Deakin Professor Matthew Clarke says the quality of the projects presented by the contestants showed the future of research at Deakin is in good hands.
'This event was a wonderful celebration of graduate research at Deakin and a fantastic experience for our students,' he says.
'For each and every one of them, the skills they learned and practiced as part of their participation will have a lasting and positive impact on their research careers, as well as the lives of those who benefit from their research.'
3MT winner: Sumudu Mallawaarachchi, 'Time's up! Moving beyond time towards understanding the context of mobile screen use in early childhood'
'Genuine curiosity' led to Sumudu Mallawaarachchi's research into understanding the how and why of young children's use of devices like smartphones and tablets.
'For my generation, smart phones and tablets appeared somewhere in the middle of us growing up. I always wondered what it's like for little kids in this generation having such easy access from a very young age,' she says.
Ms Mallawaarachchi, who holds an Honours degree in Psychology, has previously worked in youth mental health, but has always been fascinated by early childhood development and the dynamic physical, cognitive, social and emotional growth involved.
Her initial analysis of existing studies into young children's use of mobile screens revealed a focus on the length of screen time, rather than why and how young children use mobile devices.
'What I was interested in was how the behaviour, self-regulation, thinking and reasoning, and sleep aspects of child development are affected by using devices. The existing studies were largely inconclusive, which gave me the basis for my PhD,' she explains.
'I really wanted to know what the impact of the merging between early child development and human-computer interaction would be over the longer term.'
The research has so far involved an online survey of more than 530 parents about their children's screen use, in-person interviews with 45 families and personally testing more than 90 of the 132 apps reviewed as part of the study. This 'interesting' experience turned up some apps so addictive Ms Mallawaarachchi had to delete them from her phone.
The survey asked parents to estimate how much time their children spent on screens during a typical day and weekend. However, it also included questions about how much of that time might be spent in watching a movie, engaging in educational apps and gaming apps or communicating with friends and family.
'Screen use on mobile devices is so different to watching TV,' Ms Mallawaarachchi says. 'Mobile devices are portable and interactive, they're connected to the internet, there is curated content and targeted advertising. It's a whole new ball game.
'So first we want to better understand how children use mobile devices and why, and then see what the longer-term impacts on child development are, if any.'
Watch Sumudu Mallawaarachchi's 3MT presentation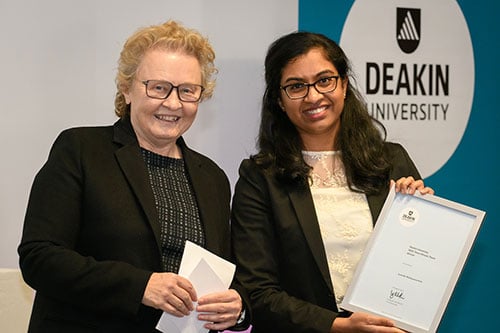 Sumudu Mallawaarachchi receives her award from Deakin's Deputy Vice-Chancellor Research Alfred Deakin Professor Julie Owens
VYT winner: Hima Whitley: 'How do children construct their experience of moving around the neighbourhood, and what does this mean for what they think they can or can't do?'
Hima Whitley's research combines a long-standing passion for creating environments that encourage walking, cycling and public transport with a new interest in how children experience urban spaces.
A former transport planning consultant, Mrs Whitley is a PhD candidate with Deakin's Institute for Physical Activity and Nutrition (IPAN). She says her literature review switched her initial focus from how to promote and support children walking and cycling in their neighbourhoods to asking how kids themselves see their neighbourhoods as places for active transport.
'I think it's important to understand children's experience of urban spaces and what social understandings shape what they think they can and can't do in that space,' Mrs Whitley explains.
'Through my literature review I realised there wasn't very much research from that perspective. Most of the studies are about factors that influence kids walking and cycling, rather than how they experience it and how their understanding shapes their experience.'
As Mrs Whitley says in her winning VYT presentation, there is a lot of research into how to encourage children to walk and cycle in their neighbourhoods and we've learnt a lot by asking parents what factors make it easier to do this. But Mrs Whitley's research asks a different question: how do children themselves construct their experience of moving around their neighbourhoods?
'We've asked the children in the study to draw, take photos of and write about their experiences and show us their neighbourhoods,' she says.
'Through that we've learnt that how they move around may form part of their broader identities, whether that's an active and health conscious one, or a mindful one that takes the time to connect with people and nature.'
Mrs Whitley hopes her research findings will have an impact on public health research, but also encourage urban and transport planners to critically think about how they might design public spaces.
'I think it's about putting questions in their minds, as opposed to giving specific recommendations,' she says. 'It's valuable to challenge some of our ideas and think differently about what we can do to support children in this space.'
Watch Hima Whitley's VYT presentation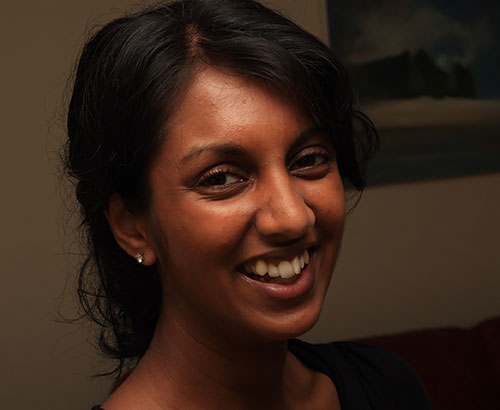 VYT winner Hima Whitley
3MT runner-up and People's Choice Award winner: Dr Jessica Costa-Pinto, 'Reducing hospital admissions among preschool-aged children with recurrent wheezing illness'
Wheeze is the most common reason for preschool aged children hospital admissions in Australia. This places strain on our healthcare system and costs more than $130M every year. Unfortunately, current treatments aren't effective at keeping preschool aged children out of hospital.
That's the problem that paediatrician and PhD student Dr Jessica Costa-Pinto is aiming to solve with her research into whether a medication called OM-85 could reduce hospital admissions in preschool aged children with wheeze when compared to placebo.
'OM-85 is an oral medication that contains broken down bacteria to promote a healthy immune system. It helps kids fight the viruses that trigger wheezing episodes and reduces inflammation in the airways,' Dr Costa-Pinto says.
Dr Costa-Pinto is coordinating a large NHMRC-funded trial called 'Assessing the Reduction of Recurrent admissions using OM-85 for the treatment of preschool Wheeze' (ARROW). The trial of nearly 2300 children referred from over 40 hospital sites across Australia and New Zealand is being conducted through the Children's Inpatient Research Collaboration of Australia and New Zealand (CIRCAN).
'Every day at work I see kids with preschool wheeze – they're one of the most common presentations on our wards,' Dr Costa-Pinto says. 'When I made the decision to do a PhD, I wanted it to be a clinical project that would improve the care of my patients, something that I felt passionate about in my work but that I could potentially make a difference to through my PhD.
'This research has the potential to completely change the way we treat preschool wheeze, not just in Australia but throughout the world.'
Watch Dr Costa-Pinto's presentation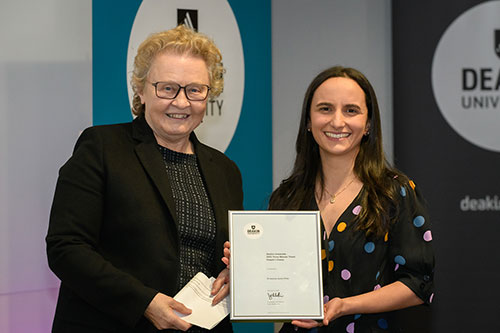 Dr Jessica Costa Pinto receives her award from Deakin's Deputy Vice-Chancellor Research Alfred Deakin Professor Julie Owens
VYT runners-up
Claire Samanna, 'Can exercise improve disc health?'
Claire Samanna is an accredited Exercise Physiologist in private practice with an interest in back pain and using exercise to alleviate it.
As part of her PhD research, she's conducting a 12-week trial to gather evidence for running as a low-cost and effective treatment for lower back pain.
'We want to see if discs can get stronger with exercise, just like bones and muscles do. We know runners have healthier discs than non-runners, so the trial will involve participants undertaking a running program, with MRIs used to measure changes to the disc,' Ms Samanna explains.
'People often come into the clinic with disc degeneration and feel like it will be a problem for life because it's degenerative. But there's room for that story to change. We want to find the evidence to prove that exercise can have a positive effect on back pain.'
Watch Claire Samanna's VYT presentation
Davita Coronel, 'Skypuppies: batcare in Melbourne'
Davita Coronel's research at the Alfred Deakin Institute for Citizenship and Globalisation (ADI) is focused on how we can better care for Melbourne's population of grey-headed flying foxes, or 'skypuppies', which is suffering from habitat loss and climate change.
'I study bats as a social scientist, because our relationships with other animals are socially learned' Ms Coronel says. 'Western cultures, especially, have assumed dominance over other animals, with devastating impacts. We have much to unlearn. I hope to learn more from First Nations' ethics of care.'
Watch Davita Coronel's VYT presentation
VYT People's Choice Award winner: Jack Parry, 'The Object of Life'
Jack Parry is an animator undertaking a practice-led PhD in animation and philosophy. His research questions and answers are articulated through the visual language of animated film and the creative focal work for his PhD, an animated film entitled 'The Object of Life', has won a series of international awards.
In his PhD journey, Mr Parry has explored the nature of extreme experiences by painting watercolours in the midwinter of Norway's Artic Circle, interrogated the ideas of Greek philosophers in virtual reality and made a phenomenological account of his own experience of blindness after a recent stroke.
Mr Parry's exploration of our thinking about what makes an object an object has implications for many fields of inquiry, from animation theory to the humanities, sciences, and medicine.
'One of the outcomes of my research is that changing the way we think about, and experience objects, gives a different approach to dealing with some of the "hard" questions we face in the world today,' he says.
Watch Jack Parry's VYT presentation
Watch all the 2022 3MT presentations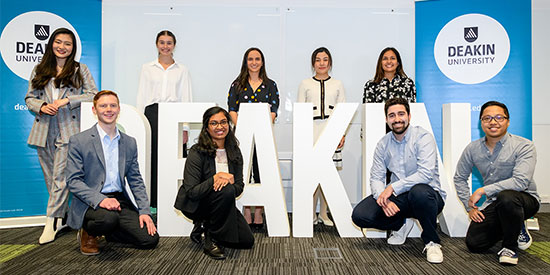 Key Fact
2022 3MT Finalists: Front L-R: Asher Charles Winter, Sumudu Mallawaarachchi, Henrique Bastos, Adrian Urbano Back L-R: Hao Zheng, Mikayla Milanovic, Jessica Costa-Pinto, Li Pei, Azra Sourjah
More like this
Research news
Faculty of Arts and Education, Faculty of Business and Law, Faculty of Health, Faculty of Science Engineering and Built Environment
Institute for Frontier Materials (IFM), Applied Artificial Intelligence Institute, Institute for Intelligent Systems Research and Innovation (IISRI), Alfred Deakin Institute for Citizenship and Globalisation (ADI), Centre for Cyber Security Research and Innovation (CSRI), Centre for Social and Early Emotional Development (SEED)
Enabling a sustainable world, Advancing society, culture and the economy, Building safe and secure communities, Improving health and wellbeing, Creating smarter technologies