Deakin marine science expert makes a splash as superstar of STEM
Research news
18 November 2022
Deakin University marine expert and author Dr Prue Francis has been named a 'Superstar of STEM' in a prestigious national program promoting the achievements of women in science and technology.
Dr Francis, a researcher, lecturer and course director for Deakin's Bachelor of Marine Science degree, will today be welcomed into Science and Technology Australia's 2023-2024 Superstars of STEM Program by the Minister for Industry and Science, Ed Husic MP.
Capitalising on the growing seaweed industry in Australia, Dr Francis' current work is utilising the state-of-the-art flow-through seawater aquarium systems recently installed at Deakin's Queenscliff Marine Science Centre to explore optimisation of cultivation techniques for local seaweed species for farming and restoration purposes.
Dr Francis' research on ocean literacy is being taught in schools across Australia and with her team of dedicated scientists and PhD candidates, she continues to explore innovative methods to promote ocean literacy through research, education and engagement. She actively promotes ocean literacy through regular appearances on radio and has published a children's book called The Great Southern Reef alongside co-author, Deakin Senior Writing and Literature Lecturer Dr Paul Venzo and illustrator Cate James.
Dr Francis said she was thrilled to have been chosen from a highly-competitive national field.
"I am so excited to meet and collaborate with a 59 brilliant scientists, technologists, engineers and mathematicians in the program – together we can smash society's gender assumptions about scientists and increase the public visibility of women and non-binary people in STEM."
Through the program participants are equipped with advanced communication skills and then provided with opportunities to use these skills - in the media, on the stage and in speaking with decision makers.
Deakin University Deputy Vice-Chancellor Research, Alfred Deakin Professor Julie Owens said Dr Francis was a worthy participant in the prestigious program.
"Prue joins a group of remarkable Deakin researchers who have taken part in this program. She is a passionate advocate for Australia's Great Southern Reef and for ensuring the next generation understand the importance of protecting our vulnerable marine ecosystems," she said
"As one of the nation's foremost experts in ocean literacy, and a trusted media voice in marine sciences more broadly, Prue will no doubt do Deakin proud as one of the Superstars of STEM."
Minister Husic congratulated the newest Superstars of STEM on stepping into the public arena to help inspire the next generations of diverse young Australians into STEM.
"The need to boost diversity in our science, technology, engineering and mathematics sector is urgent," he said.
"There are huge skills shortages that can be addressed if we put our minds and collective effort to it – which means we have to draw deeply on our nation's expertise from all corners of the community."
Science & Technology Australia Chief Executive Officer Misha Schubert said the program gave women and non-binary talent in STEM crucial skills and confidence to step into expert commentary roles in the media.
"We know it's really hard to be what you can't see," she said. "That's why this game-changing program is helping to smash stereotypes of what a scientist, technologist, engineer or mathematician looks like."
"By becoming highly visible role models in the media, these Superstars of STEM are showing our diverse next generations of young people - especially our girls and non-binary kids - that STEM is for them."
Share this story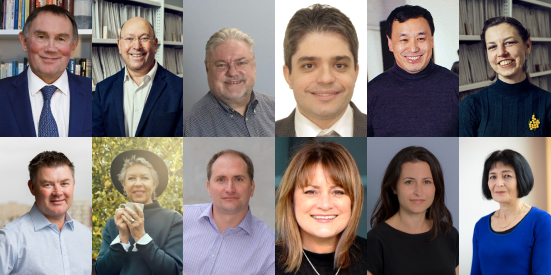 Key Fact
Deakin's Centre for Marine Science's Queenscliff Marine Science Centre is Victoria's most advanced marine laboratory and a key centre for temperate water marine research.
More like this
Research news
Faculty of Science Engineering and Built Environment
Enabling a sustainable world