Deakin researchers help tackle pandemic slowdown of vote count
Research news
14 June 2022
Advanced computational infrastructure and immersive simulation environments developed by Deakin University researchers have helped the Australian Electoral Commission (AEC) get federal election results through as quickly and safely as possible while juggling pandemic precautions.
A team from Deakin's Institute for Intelligent Systems Research and Innovation (IISRI) worked with the AEC, studying vote issuing and counting processes to optimise logistics and staffing for the 151 electoral divisions across Australia.
IISRI has been working with the AEC to improve election process efficiencies since 2017. The team's input in the 2019 federal election contributed to voters' satisfaction with wait times increasing from 78% to 91%.
The work has also informed changes to the Commonwealth Electoral Act. This year, sorting of ordinary pre-poll votes started at 4pm, instead of 6pm, to get results in earlier. Staff were also allowed to start working on postal votes earlier to get these counted more quickly.
The IISRI project team – Associate Professor Michael Johnstone, Professor Doug Creighton, Professor Saeid Nahavandi, Dr Anwar Hosen, Dr Burhan Khan, Dr Vu Le, Dr James Zhang and Jo Cho – travelled to Canberra over the election period to observe these new processes.
'The buzz around the count centre as hundreds of people arrived to start unfolding and counting ballots to determine the election outcome was exciting,' Assoc. Prof. Johnstone said.
This election was the first time the team implemented a new data-driven staff schedule system for the AEC, which helped divisions better plan staff resources and predict when post-election processes would be finished.
'This makes running each division – particularly those where the results are close – a bit easier because it takes some of the guesswork out of when that vote counting will be completed,' Assoc. Prof. Johnstone said.
'It helped determine the number of staff required for each electorate to get tasks done on time, while allowing for the fact that COVID would be slowing things down.'
The team also collected fresh data on vote issuing times and count times to inform an even smoother experience in future elections.
'For the next federal election, we're working towards a real-time tool that will give a better indication of how each division should be tracking through the vote count process,' Prof. Creighton said.
'This will enable the AEC to more quickly and efficiently reallocate staff to areas that are falling behind.'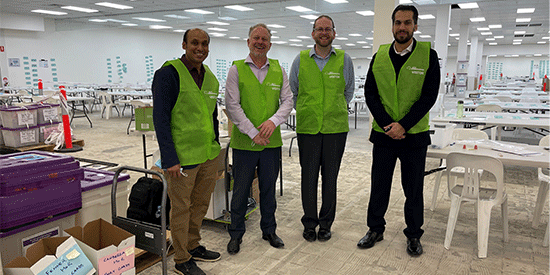 Key Fact
L-R: Dr Anwar Hosen, Professor Doug Creighton, Associate Professor Michael Johnstone and Dr Burhan Khan