Electrifying idea takes all-female team to Global Climate Launchpad
Research news
01 October 2020
A 'green' idea to electrify motor scooters with sodium batteries is set to help reduce Indonesia's carbon dioxide emissions and has propelled four Deakin University researchers to the international Grand Final of Climate Launchpad 2020 – the world's largest green business ideas competition.
Called 'ElevenStore' (from sodium's atomic number), the team consists of PhD student Karolina Biernacka and early career researchers Dr Faezeh Makhlooghi Azad, Dr Jenny Sun and Dr Vahide Ghanooni Ahmadabadi – all from the electromaterials group at Deakin's Institute for Frontier Materials (IFM).
Their idea draws on using cutting-edge sodium batteries for mobility applications, initially motor scooters, but also buses and auto-rickshaws, in Indonesia, with a focus on clean, cheap, affordable transportation.
The team has won state, national and South East Asian Climate Launchpad finals to qualify for the Global Final, which is being held September 30-October 2. They will compete against entrepreneurs from 56 countries, with an audience that includes investors, media and industry leaders.
ElevenStore's success has already gained them a position in the Climate-KIC Climate Launchpad Accelerator, which will help them turn their idea into a reality.
"We are confident that our sodium batteries, with their safer and cheaper features, can open up a new market for light electric vehicles in Indonesia and Southeast Asia more broadly," Ms Biernacka said.
"The indications are that this technology will be in use within three years in Indonesia. We are planning to save up to 66 per cent of overall CO2 emissions in Indonesia, which has the third largest scooter market in the world. The Indonesian Government has set a goal of replacing 20 per cent of its current energy sources with renewable energy by 2025. We have spoken already with Indonesian businesses keen to get this off the ground."
The researchers were encouraged by the Director of Deakin's BatTRI-Hub, Professor Maria Forsyth, to participate in the project as a means of gaining the skills, expertise and contacts to achieve translation of the world-leading research.
"Professor Forsyth and our other mentors at Deakin have been very supportive," said Ms Biernacka. "The battery technology we're using has been designed and created at Deakin. We are all passionate about clean energy and want to have a positive impact on the environment.
"Participating in the Launchpad has been empowering. It's helped us to translate technology from the lab into reality and show other young researchers they can step out of the lab."
Ms Biernacka explained that sodium technology has reached a level of maturity where it can replace lithium-ion batteries (LIBs). It can be manufactured with current manufacturing infrastructure that is used for LIBs, but with a smaller environmental footprint due to elimination of cobalt in the cathode material and through replacing copper with aluminium, which improves both cost and weight.
"Our technology out-performs commercial rechargeable batteries in terms of safety, cost and exceptional thermal stability," she said. "The electrodes are sustainably-fabricated from waste biomass, adding to the cost savings. Moreover, it contributes to a circular economy. Recycling has been factored in, but before that, batteries that can no longer serve for scooters (below 80% of original capacity) can firstly be re-used for home battery storage in remote areas where electricity access is limited.
"Our goal is not only to spin out a technology that has the ability to change many lives, while also substantially reducing greenhouse gas emissions, but also to inspire and empower other young women to actively pursue their dreams. As the project progresses, we will continue to mentor and train other university students to turn their green ideas into successful outcomes."
The Climate Launchpad competition aims to help aspiring entrepreneurs grow their clean-tech ideas into global businesses. It has a mission of unlocking the world's cleantech potential that addresses climate change, seeking the most ''nascent, breakthrough 'green' business ideas.'' The competition is an initiative of EIT Climate-KIC, a European knowledge and innovation community.
More information: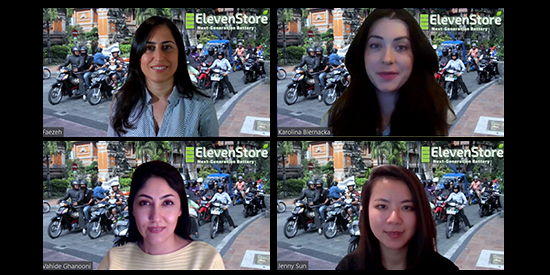 Key Fact
The 'ElevenStore' team (clockwise from top left) – Faezeh, Karolina, Jenny and Vahide.
---