IISRI Director scoops 2021 Australian Defence Innovator of the Year Award for translational research in defence technologies
Research news
20 December 2021
One of Australia's leading artificial intelligence and robotics researchers, Pro-Vice Chancellor (Defence Technologies), Alfred Deakin Professor Saeid Nahavandi has been named Innovator of the Year.
Founding Director of Deakin University's Institute for Intelligent Systems Research and Innovation (IISRI), Prof. Nahavandi received the award at the 2021 Defence Connect Australian Defence Industry Awards that celebrates the excellence of the defence sector's most successful professionals.
Since joining Deakin in 1998, Prof. Nahavandi has continued his work at the pinnacle of AI, robotic and haptic research, pushing the boundaries of what can be achieved in areas such as autonomous robots and vehicles, and brain-computer interface technology.
Prof. Nahavandi said he was thrilled to continue to boost Australia's defence industry.
'I am delighted to contribute to Australia's sovereign capabilities and honoured to receive this award from Defence Connect,' Prof. Nahavandi said.
Among his recent research achievements, Prof. Nahavandi is particularly proud of his research innovation on AI-powered leader-follower convoy of autonomous vehicles with optimal path planning and obstacle avoidance capabilities. This project builds on Deakin's enduring partnership with the Australian Defence Force that first began in 2006.
Specifically, Prof. Nahavandi and his colleagues have designed, developed, and implemented a platform-agnostic autonomous leader-follower capability with obstacle avoidance using the in-service HX40M military vehicles.

Through a co-design process with stakeholders in the Australian Army, IISRI has realised an autonomous 'bolt-on-pack' technology. This autonomy pack technology is a 'vehicle agnostic' solution comprising AI-based robotic controllers and smart sensing systems that can be retroactively fitted to a range of existing heavy vehicles, including trucks, transporters, tanks, or bulldozers, turning them into autonomous vehicles.
The research solution is also applicable to non-defence sectors, such as transportation and logistics, mining and agriculture, bringing immense potential value to the Australian economy.
The team also won a 2021 Essington Lewis Awards presented by the Australian Defence Magazine for this research.
'For a convoy of autonomous vehicles to traverse unstructured, rough terrain, such as river beds and creeks, is far more challenging than cruising around on a highway or in urban areas. Our innovation overcomes these challenges giving enormous capability and capacity for autonomous vehicles to operate in remote and contested environments,' Prof. Nahavandi said.
In a career spanning over 30 years as an academic, researcher, and engineer, this latest honour follows multiple successes in 2021 for Prof. Nahavandi, being named both Australian Space Researcher of the Year by Space Connect and Victorian Professional Engineer of the Year by Engineers Australia.
The Australian Defence Industry Awards were created to reflect the comprehensive role of the defence industry as a fundamental input to Australia's capability.
More information: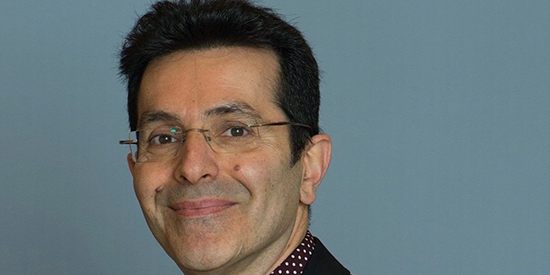 Key Fact
Professor Saeid Nahavandi was recently named Innovator of the Year at the 2021 Defence Connect Australian Defence Industry Awards.