Explore your study options
Understand the social, economic and environmental determinants of health in areas such as environmental sustainability, climate change and local and global environments. Be ready for the evolving health challenges of the future and develop the skills to work in roles across environmental research and monitoring, community education, and program and policy development.
Undergraduate
Undergraduate (your first degree)
An undergraduate degree is generally completed between two to four years, depending on the pattern of study and any recognition of prior learning you may have. Associate degrees, bachelor and bachelor with honours are all undergraduate degrees.
Postgraduate
Postgraduate (further study)
A postgraduate qualification can be undertaken by students who have already completed an undergraduate degree or possess significant, demonstrable work experience. Postgraduate courses include graduate certificates, graduate diplomas, masters and PhDs, as well as specialist programs for industry professionals.
Research
Higher Degrees by Research (supervised research)
Research degrees are research based master's or PhD programs that focus on a single area of expertise. They provide students the opportunity to carry out highly specialised research under expert supervision.
Choose a degree that will get you work ready
Our environmental health and sustainability courses are developed in consultation with industry and designed to ensure you gain the skills employers want.
A multidisciplinary approach
Tailor the Bachelor of Health Sciences to your interests and study up to three majors. Specialise in environmental health, as well as health, nature and sustainability. Graduate with a well-rounded knowledge of health and its systems, while building specialty expertise.
Gain real-world experience
Graduate work ready with extensive placement opportunities. As part of the Bachelor of Health Sciences, you can choose to complete 120 hours of work experience in a health-related organisation. Gain valuable skills and experience under the supervision of qualified practitioners.
Professional recognition
Studying a Deakin environmental health and sustainability course can open the door to professional recognition and accreditation. The health promotion major of the Bachelor of Health Sciences is fully accredited by the International Union for Health Promotion and Education (IUHPE). When you complete this major, you can register with the IUHPE as a registered health promotion practitioner, securing you global recognition.
Top 1% worldwide for public health
Study with the best at Deakin. We are ranked in the top 1% globally for public health. This rating highlights our world-class facilities, academic reputation, employer reputation and research impact.
When I discovered health sciences at Deakin, a whole new world opened up to me. With 13 different health majors to choose from, I have been able to experience so much.
Shala Smith
Bachelor of Health Sciences
Join the fastest-growing industry in Australia
The healthcare and social assistance sector is Australia's largest, employing 2.15 million people or around 8% of the population. There is strong projected growth of 15.9% – or 4500 new jobs – for occupational and environmental health professionals by November 2026.* Pursue a career in a range of areas, including:
community education and campaigns
disaster relief and control
environmental protection and research
food safety
health and sustainability programs
occupational health
policy development
water and air quality monitoring.
World-class teaching experiences
By studying environmental health and sustainability at Deakin you'll be immersed in world-leading research and gain access to unrivalled facilities.
Leading research
If you're passionate about environmental health and sustainability, you can complete a higher degree by research. Research can be undertaken through our research groups, such as the Health, Nature and Sustainability Research Group which sits within Deakin's Institute for Health Transformation.
Sustainable Health Network
Through research, education and partnerships with community and industry groups, the Sustainable Health Network acts on Deakin's Toward 2030 Strategic Plan commitments to carbon neutrality and sustainability. We strive to improve how we address human health while not impacting the environment.
Want to explore more?
If you're dreaming of an exciting and rewarding career in environmental health and sustainability, we'll help get you there.
Moving towards eco-friendly healthcare
Our healthcare systems save lives but are large polluters. This article explores how hospitals can transform by reducing their carbon emissions and work towards a sustainable future.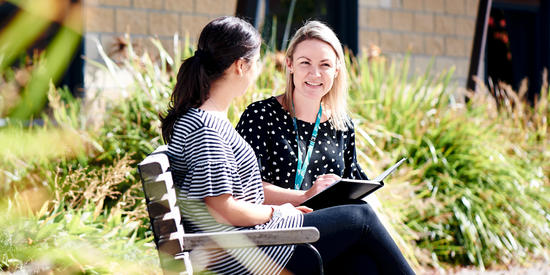 How placement sets you up for a successful health sciences career
Discover how completing a placement as part of your health sciences degree will prepare you with the real-world skills for a successful career.
Footnotes
* National Skills Commission employment projections 2021
Deakin references data from a range of government, higher education and reputable media sources. For more information, visit our list of sources
Got a question about our environmental health and sustainability courses? Our expert advisers are available to speak to you about your study options and how we can help you further your career.
Browse other disciplines within health and community services
Choose an area that you're interested in and learn how Deakin's extensive range of study options and experiences can help turn your dreams into reality.