Engineering to the power of three
Deakin news
16 September 2019
In what may be some sort of record, Deakin University's School of Engineering has been the choice of not one, not two, but three sisters for their engineering education.
As well as being sisters, Ana, Antonia, and Paulina Erceg share a passion for engineering. Ana, the eldest, graduated from Deakin from a combined course in electrical and electronics engineering and science in 2015. Antonia is in her final year of her civil engineering course, and youngest sister Paulina is in her second year of electrical and electronics engineering.
Talk to the sisters about the games they played as children, and it's not hard to see where their paths to studying engineering began.
'When we were little we would open the couch and pretend we were fixing it underneath, with them passing me the tools,' Ana says, laughing and gesturing to her sisters.
'And those little model kits with the little motors – they were only allowed to paint, because they were so much younger and I was putting them together!'
Although talking about their childhood games make them laugh now, they do see a link to their later study and career choices.
'When that's the kind of fun you're having as a child, it makes it feel like when you study that and when you work in that it will be fun because you associate it with that time,' Ana says.
With a strength in maths and science studies at secondary school, Ana was already thinking of engineering as a career when there was a school visit by a mining engineer.
'He came and spoke to us about what engineering is and showed us a video of a project … ever since I saw that I knew my science plus maths would equal engineering and I knew that that was what I wanted to get in to.'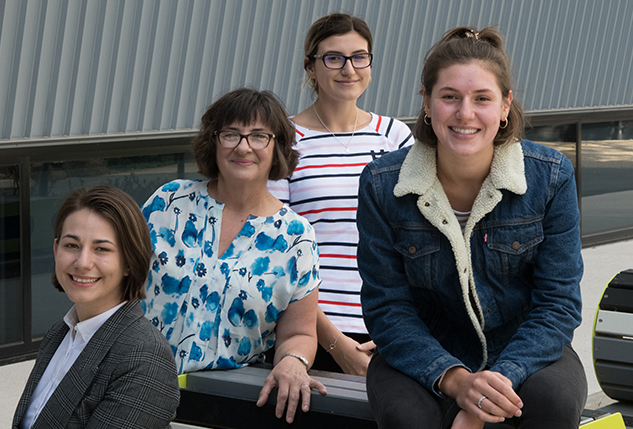 (l-r) Ana, mum Ruzica, Antonia and Paulina at the launch of the Ladies in Engineering at Deakin group earlier this year.
Ana's ambitions have come to fruition. She's now a networks planning engineer with AusNet Services, and last year travelled to Berlin, Paris and Rome on a work trip to meet with utility companies and other industry representatives.
While Ana and Paulina chose electrical and electronics engineering, Antonia was attracted to civil engineering.
'I wanted to see myself working in a role where I could visualise my work and see how my work actually translates to a real-life project or something that will benefit the community or something that has an impact for a company,' Antonia says. 'I wanted to work hard and then see the output and I thought that would be really rewarding.'
An achievement the sisters share is each being awarded a Deakin IGNITED Scholarship. The IGNITED Scholarship aims to ignite women's interest in industry areas traditionally dominated by men, including engineering, information technology and construction management. The scholarship provides up to $5000 a year to recipients for the standard duration of their course plus an academic mentor.
Antonia says she saw the availability of the IGNITED Scholarship as an example of the encouragement and support at Deakin for women wanting to study engineering. She says the financial support the sisters received from their scholarships was extremely important, allowing them to focus on their studies and achieving the best possible marks.
The IGNITED scholarships are not the only awards the sisters have received. A scholarship from Barwon Water gave Antonia the opportunity for work placements in addition to financial support, while Paulina has an AusNet Services Women in Engineering Scholarship.
While she was studying at Deakin, Ana worked on a number of summer research projects. She thinks the networking opportunities these placements and projects provide are perhaps just as important as the financial support.
'That's how opportunities open up – "would you like to do a PhD, would you like to do a research project, would you like to come work for us?". Those are the kind of things you get out of scholarships … those contacts and the networking you get from the scholarship is, I'd say, more valuable than the actual financial help.'
While acknowledging there are still low numbers of women studying engineering, Paulina says her advice for other prospective female students is that it's not something to be afraid of.
'It's probably only the first day maybe, that you go to your lectures or your studios or your pracs and you see, "oh, I'm basically the only girl here", or there might be three girls in a whole lecture theatre, but that shouldn't stop you from pursuing something that you want to do,' Paulina says.
'I haven't thought about it since like the first day at uni; it really doesn't affect me – I go to my lectures; I do the work.'
Not surprisingly, their shared passion for engineering has given Ana, Antonia and Paulina a special personal network of their own – providing each other with encouragement, support and the occasional handed-down textbook. Antonia says having two engineering sisters also gives her the perfect comeback when people express surprise at her career choice.
'If someone says "oh why are you doing engineering, that's for boys", it's nice I can say, no, girls do it too, my two sisters do'.
---