If you're like 70% of future university students, you worry a degree will be too much hard work.* Maybe you have bad memories of high school, or nightmares about university assignments, managing a heavy workload and late nights studying.
At Deakin, we want all students to feel supported to succeed, so we offer a range of support services to make studying achievable and promote a culture of student wellbeing. Here are three simple steps to help you manage uni.
1. Learn to study effectively
Everyone has to learn how to study, and the best approach is as unique as you are. In your first year at uni, you might try a variety of techniques before you find what works best for you.
Learn about better study habits
There are so many resources out there, from YouTubers to online articles and IRL study groups, with tips for improving your study habits. Research and get involved in study support seminars, workshops and library sessions, so you know how best to use the tools at your disposal.
Use your life experiences
Juggling work, family, friends, finances and so on puts you in great stead for a busy university schedule. You'll be surprised how many time-management skills you already have.
Make the most of your study time
Be organised at home, start assessment tasks early, attend lectures (on campus or online), and make sure you have all the information you need by asking questions in class.
Keep sight of the bigger picture
Prioritising university study may mean sacrificing family or social time some weeks. Being prepared to make these changes in order to reach a long-term goal shows willingness to succeed.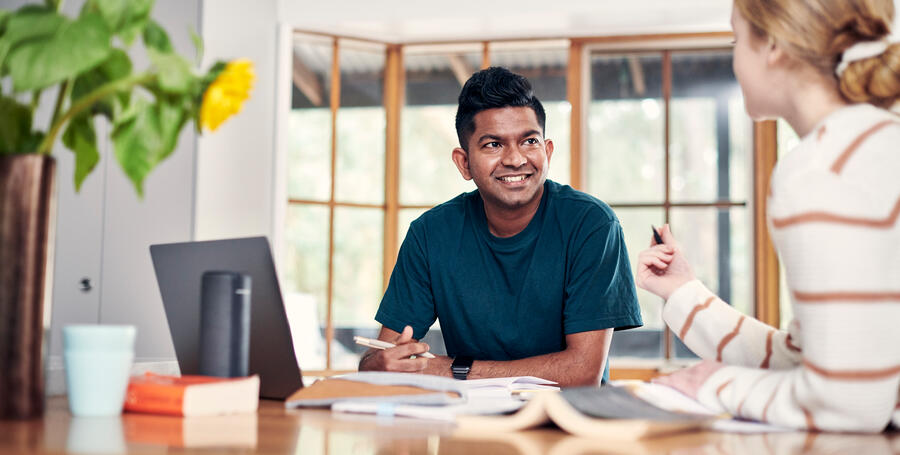 2. Access the support you need
Studying and managing your workload can be challenging, especially around major assessment and exam times. As a Deakin student, you will have access to a range of services designed to help you thrive in a university environment.
Study support
Deakin has a dedicated support team to help with every aspect of study. You can talk to someone face-to-face or online about writing assessments, researching, finding resources, planning your trimester and more. They will help you identify pressure points in your calendar and give you tips on managing the busiest times.
Choose a study method that suits your needs. For example, if you're having difficulties getting to your campus, see if other relevant units are offered online. Or, speak to your faculty support staff about the best credit load for you.
If you need an extension, ask your tutor or unit chair ahead of your due date. If an unexpected setback crops up, you may be eligible to apply for special consideration.
If you need more support for your health or disability, you can work with Deakin's Disability Resource Centre to create a Learning Access Plan, to minimise the impact on your study.
Peer mentors
Book a mentor meet-up and hear how a fellow student finds time to study, get their advice on study skills or fitting in to uni. You can even have a study session led by a student who has successfully completed your unit.
Online resources
Deakin's website has tonnes of valuable resources from assignment planners to referencing guides. Have a good look through Study Support for an essential overview and helpful study advice.
There are no limits on education, no barriers if you believe it so.
Otha Akoch
Bachelor of Arts graduate
3. Stay positive and motivated
The best thing you can do to support your own study is to have a good attitude. That doesn't mean every day on campus will be perfect, but there are steps you can take to create your own positive experience.
Embrace learning
Don't let the past hold you back. Just because you found high school hard, university is different, because you've chosen the course and subjects. Rather than being hard work, you might find the intellectual challenge stimulating and fulfilling.
Set achievable, actionable goals
Goals are a great way to stay motivated and work efficiently. Be specific when goal setting. Decide what study you will do and how long you'll work each time you sit down. You don't even have to achieve the entire goal to feel a sense of achievement — just taking steps towards it will help.
Take care of your wellbeing
To support yourself while studying, make good choices in other areas of your life. Eating well, exercising regularly and taking time out to be social will all help you feel more positive when it comes to hitting the library.
Know you're not alone
Most students go through periods of finding study stressful or challenging. Look around: your community is right beside you. Talk to your friends and family, ask questions of your teachers, reach out to others in your classes about studying together, or just to debrief on assignments. Don't ignore difficulties or wait until the last minute to seek support. Dr Vittoria Grossi from Deakin's Student Academic Support Services says, 'If something's not clear, speak to someone as early as possible.'
Footnotes
*Deakin University Barriers, Drivers & University Performance Research (Global Engagement) 2017