Navy firefighters to benefit from investment in improved technologies
Research news
27 April 2022
A new $5.13 million investment awarded to Deakin University's Institute for Intelligent Systems Research and Innovation (IISRI) will help to boost augmented and virtual firefighting systems research.
The investment provided by the Royal Australian Navy (RAN) and Defence Innovation Hub (DIH) is set to further develop Deakin's cutting-edge smarter technologies for the Australian Defence Force, in partnership with companies including Kellogg Brown & Root and Geelong-based FLAIM Systems, to benefit navy firefighters around Australia.
Researchers will now work towards advancing the immersive haptically-enabled firefighting training system that combines augmented/virtual reality (AR/VR) and artificial intelligence (AI).
The existing AR/VR simulator can accurately represent heat, jet reaction and step-up forces, along with sound and visuals, to immerse a trainee in a 'real' firefighting environment. It offers a low-cost, portable, safe and more effective training option for firefighters.
This project is set to further develop an AI-powered prototype that is easily deployable and configurable to meet firefighting requirements of the RAN. In a ship environment, firefighting is a crucial skill that every naval officer must have, which poses a great challenge in terms of training in a safe and effective manner.
IISRI Director and project leader Professor Saeid Nahavandi said his team is thrilled to continue their research and development endeavours with the Royal Australian Navy (RAN).
'At Deakin we have been working on the use of AR/VR and haptic interfaces to bring advanced simulation-based training technologies to firefighters for nearly 10 years,' Prof. Nahavandi said.
'Four years ago, we established FLAIM Systems as a commercial entity to productise the initial training platform while we continued to work on various aspects of fundamental research pertaining to the haptically-enabled AR/VR system.
'This new contract from the Defence Innovation Hub for the HotFire Trainer is a unique opportunity for a tri-partite collaboration, with Deakin building on FLAIM's commercial system and KBRs training expertise to bring a world leading AI-powered firefighting training platform to the Royal Australian Navy,' Prof. Nahavandi said.
Simon Miller, Chief Executive Officer at FLAIM Systems noted that this project is a key opportunity to synergise with Deakin and has great significance for FLAIM more globally.
'FLAIM originated from Deakin research, so this is an excellent example of how commercialisation of unique technology can continue to benefit, through accelerated development, by maintaining ongoing collaboration between University and business,' CEO Simon Miller said.
The technology is set to drive defence innovation and provide a more diverse and realistic range of naval firefighting and training options that could significantly improve learning outcomes and safety.
The overall project aims to leapfrog the RAN with the capability to train firefighters for situations and scenarios that are inherently unsafe and difficult to reproduce, which may not be possible due to environmental constraints, and which incur significant training cost in time, people and assets.
More information:
Share this story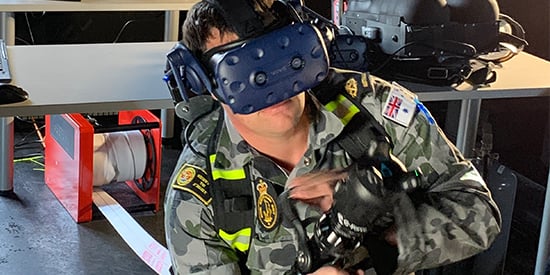 Key Fact
This project is set to further develop an AI-powered prototype that is easily deployable and configurable to meet firefighting requirements of the Royal Australian Navy (RAN).
More like this
Research news
Institute for Intelligent Systems Research and Innovation (IISRI)
Building safe and secure communities, Creating smarter technologies