Sovereign capability on the agenda at Deakin's Defence and Security Symposium
Research news
16 December 2020
From keeping ahead of sophisticated cyber threats, to Australia's defence capability in a post-COVID world, some of the most challenging issues concerning Australian defence were discussed at Deakin University's third Defence and Security Symposium, held on December 8.
Attended by over 350 delegates from defence, academia, industry and security sectors, the virtual symposium explored the theme "Sovereign capability and threats in a dynamically-changing world."
Nineteen thought leaders shared their views and discussed policies, strategies, and technologies to meet near, medium, and long-term challenges facing Australia.
Sessions explored strategic and operational issues related to Government-identified priorities, such as industrial complexity and sovereign defence research and security capabilities in the land, sea, air, space and cyber domains.
In her welcome address, Deakin's Deputy Vice-Chancellor Research, Alfred Deakin Professor Julie Owens, said Deakin was striving for world-class excellence in both research and education, prioritising the global and local challenges that matter most to Deakin communities.
"We've captured this in our new University strategy through five impact themes, which include 'Building Safer and Secure Communities' and 'Creating Smarter Technologies,' where cyber security will play a major role," Professor Owens said.
"Defence and security research and its translation into real innovation and solutions has been a hallmark of Deakin's rapidly-growing research enterprise over the past decade. This will continue and our research collaborations with government, defence, industry and our colleagues in other universities will also continue to grow to meet the country's needs."
With rapid advances in smart technologies, the emerging and disruptive cyber-physical threats towards the established sovereign capabilities stand as one of the critical problems to be addressed and were an important priority at the conference.
Deakin's Pro Vice-Chancellor Defence, Alfred Deakin Professor Saeid Nahavandi, said the need for close collaboration between Defence, industry and academia was vital to Australia's security, as identified by the Defence White Paper (2016), and was crucial for fostering game-changing innovation and commercialisation opportunities.
"The symposium provided opportunities to explore ways to collaboratively address challenging defence and security issues," Professor Nahavandi said.
The opening presentation was delivered by Colonel Robin Smith OBE, SO1 Robotic and Autonomous Systems (RAS), Future Land Warfare Branch, Army Headquarters (Australia). This address included an overview of a research collaboration between Deakin and the Army concerning the development of leader-follower autonomous vehicle technology.
Other speakers included: Brigadier General (retired) Gregory Touhill, former Chief Information Security Officer (CISO) of the Whitehouse (Obama Administration); Dr David Kershaw, Chief Science Engagement and Impact Division, Defence Science & Technology; Dr Andrew Lucas, Founder, Agent Orientated Software; Berin Lautenbach, Global Head of Information Security, Toll Group; Karl Hanmore, First Assistant Director-General Cyber Security Services, Australian Cyber Security Centre, Australian Signals Directorate; Narelle Devine, Chief Information Security Officer for Asia Pacific, Telstra; Julie Inman Grant, eSafety Commissioner, Australian Government; and Dr Dennis Medlow, Innovation and R &D Manager, SAAB Australia.
More information: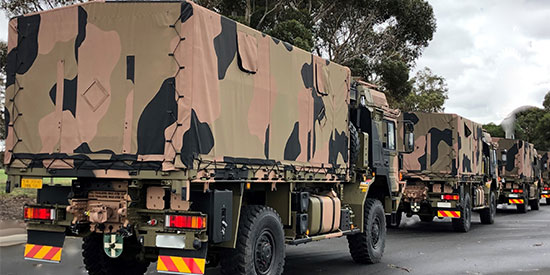 Key Fact
Deakin's Defence and Security Symposium explored ways to address challenging defence and security issues.