What is ManuFutures?
ManuFutures is Australia's unique advanced manufacturing innovation hub, located within the heart of Deakin's Future Economy Precinct, that helps businesses to accelerate success through its unique facilities, programs and services.
ManuFutures has been a significant and growing part of Deakin's success since its establishment in 2018, helping create over $1 Billion in company value, hosting over 500 student placements and creating over 120 direct new jobs.
Thanks to a $20 million contribution from the Victorian Government, under the Victorian Higher Education Investment Fund, the already successful hub will now double in size with expansion due for completion in Q3 2022.
The expansion will deliver a new, fully equipped and staffed Product Engineering Development Laboratory, six adjustable sized expansion bays and associated offices. It will also boast a dedicated community and multifunctional space for events, training, industry collaboration and networking.
The cutting edge facility will provide access to Deakin's advanced equipment, as well as multidisciplinary business, law and technology expertise. ManuFutures' proven business incubation programs expands into regional Victoria to help start-ups and mature companies on a journey from idea to proof-of-concept, to commercial production to new ventures.
Through its expanded facilities and unique programs and services mentioned below, ManuFutures will help create the manufacturing jobs of the future and build on Australia's advanced manufacturing capability.
I don't think I would have had the confidence to take this path without ManuFutures. I wouldn't have dreamed of the things I've been exposed to here. It has changed my perspective. Issues can become irrelevant quickly because other people have been through them and are happy to share what they've learned. The set-up allows you to speed up the process of taking an idea, turning it into reality and planning for the future.
Nigel Petrie
Engineered to Slide
ManuFutures programs
Our programs are specific to those who are future entrepreneurs, have a business idea or want to innovate their established business.
To learn more about our dedicated programs or to
ManuFutures Connect - at the ManuFutures Geelong Innovation Centre
A unique product engineering service designed to help small to medium-sized manufacturers maximise their competitiveness and create new global market opportunities. ManuFutures Connect provides a doorway to Deakin's advanced equipment, and includes bespoke mentoring programs connecting multidisciplinary business, law and technology expertise.
The program also offers access to external industry experts and tenancies in the ManuFutures facility working beside leading advanced manufacturers with access to research, business mentors, university students and graduates.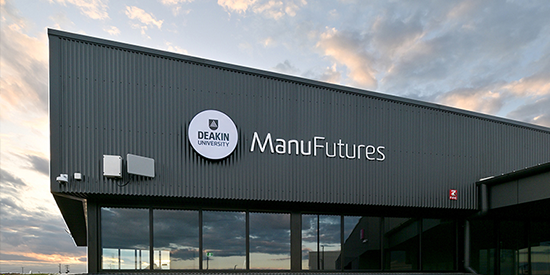 Case studies
Paintback: Repurposing unwanted paint into materials for roads and construction
National unwanted paint collection scheme Paintback has chosen Deakin's advanced manufacturing innovation hub ManuFutures as the location for a pilot plant to repurpose unwanted paint into materials for roads and construction.
Paintback aims to develop alternative uses for unwanted paint and packaging through a new pilot blending plant at the Waurn Ponds site. Research, development, and trials with industry partners will test how materials can be extracted from unwanted paint and repurposed into useful materials for use in roads and construction.
Paintback is Australia's first national, industry-backed paint product stewardship scheme and has collected more than 45 million kilograms of water and oil-based paint since its inception in 2016. An estimated 95% of architectural and decorative paint purchased in Australia is used for renovating and refurbishing, generating large quantities of leftover paint and empty paint containers.
Paintback collaborates with local councils to collect unwanted paint and packaging from 167 collection sites located at transfer stations across Australia. The scheme funds the collection and treatment and safer disposal of more than 9,000 tonnes of unwanted paint and packaging a year.
Paintback Chief Executive Karen Gomez said Paintback was excited to begin the process of setting up a pilot plant and take trials from the laboratory to larger, commercial-scaled applications.
"We are thrilled to take up tenancy within Deakin's ManuFutures hub, to partner with world-class researchers and have access to advanced equipment and technical expertise for the assessment of trial products," she said.
"The design of the ManuFutures facility is suited to our needs, enabling us to build pilot-scale facilities close to Deakin's research capabilities.
"We believe we can do more with people's unwanted paint, and our presence at ManuFutures is a great opportunity to undertake testing and validation of our lab-scale work, leading towards repurposing the materials in unwanted paint for new applications."
"Research and development activities are at the heart of our purpose to deliver a net environmental benefit through our product stewardship of used paint. The future looks bright as we progress our research and development to create a circular economy for paint. Our presence at ManuFutures is a crucial step in testing and verifying our research outcomes," said Ms Gomez.
Learn more about Paintback:
www.paintback.com.au

This project includes co-contributions from the Victorian Higher Education State Investment Fund (VHESIF).
For further information on our other VHESIF funded projects please visit the links below.
ManuFutures
Deakin University
Building NP, Pigdons Road, Waurn Ponds
Victoria, Australia
To find out how you can partner with us contact ManuFutures.