Get work-ready
Our MBA has a wide range of specialisations to help you progress your career in all areas of business – from administration to business strategy. Our teaching staff integrate theory and professional practice, ensuring your learning experiences reflect today's workplace. The MBA isn't just about knowledge and skills, but also about networking, career enhancement and professional development.
Postgraduate
Postgraduate (further study)
A postgraduate qualification can be undertaken by students who have already completed an undergraduate degree or possess significant, demonstrable work experience. Postgraduate courses include graduate certificates, graduate diplomas, master's and PhDs, as well as specialist programs for industry professionals.
Non-award
Other/non-award courses
Non-award courses are generally single units of study that don't add up to a university qualification. They're a great way to explore an area of study before committing to a full degree, and can often be used as credit towards a degree course. Short courses and stand-alone study abroad programs also fall under this category.
Flexible study options
We know you're busy and not always able to make it to class. The Deakin MBA is available on campus, online, in intensive or residential modes, or can be completed by participating in Australian and local study programs.
Masterclasses
A new study option for completing your MBA electives, the MBA masterclasses focus on new trends and issues with industry leaders in a short and engaging format. You'll also benefit from the diverse experience and unique perspective each student brings to the classroom.
Career development program
Our MBA career development program has been designed to provide you with structured, dedicated career support as you progress through your MBA. From refining your career goals to navigating the recruitment process, we will empower you to manage and achieve your career advancement goals.
Intensive units
Deakin Business School's intensive units involve six consecutive days of intensive study. You'll immerse yourself in focused business study, undertake innovative and experiential learning activities and build your professional networks.
Start Anytime
We understand that juggling work, life and study can be complicated. Start Anytime offers you the flexibility to begin some units at any time of the year and complete them online at your own pace.
Our Deakin MBA is industry-focused and has a practical approach to learning with customisable options for both online and face-to-face learning such as masterclasses, intensive units and study tours.
Dr Andrea North-Samardzic
MBA Director
Be rewarded for the work you've already put in
Recognition of prior learning (RPL) is our way of recognising the hard work you've already put into your studies or career. Through RPL you may be able to have your work and study experience recognised with course credit points, reducing your course duration and tuition costs. RPL for the Master of Business Administration may be granted to students who have successfully completed appropriate postgraduate studies in management. We also have credit for prior learning arrangements for CPA and IPA members where you can receive up to 6 credit points of RPL in to Deakin's MBA.
Career opportunities
As a graduate you may find employment in areas such as consulting, strategy and planning, human resource management and marketing. The Deakin MBA produces global leaders, senior executives and successful entrepreneurs.
Accreditation
Deakin Business School (DBS) is in the top 1% of business schools globally by holding both AACSB and EQUIS accreditations. These prestigious accreditations are awarded to business schools that meet strict standards of quality, academic and professional excellence, and demonstrate a commitment to ongoing improvement and innovation in their courses, ensuring our graduates are employable worldwide.
The Deakin MBA (Healthcare Management) is only one of three Victorian universities to receive accreditation from the Australasian College of Health Service Management (ACHSM). ACHSM professional recognition offers candidates access to ACHSM resources and networks.
Institute of Managers and Leaders Membership
Our valued Pathway Partnership with the Institute of Managers and Leaders Australia and New Zealand (IML ANZ) means that as a Deakin MBA student, you'll automatically receive IML ANZ membership for the duration of your study, plus an additional year after graduation, boosting your employment prospects.

IML ANZ supports you through your MBA studies with a range of activities and resources, including one-on-one mentoring, personalised professional development, industry engagement and access to Australia's largest network of management and leadership professionals.

Thanks to an exclusive, long-term collaboration with the Chartered Management Institute (CMI) in the UK, our IML ANZ partnership gives you the opportunity to graduate with the Chartered Manager (CMgr) designation, the highest professional status that can be achieved as a manager or leader globally.
Top 3

online MBA in Australia
Our online MBA program is ranked in the top 3 in Australia, among the top 30 in the world – and the best in Victoria – by the prestigious university rankings organisation, QS*.
The Deakin MBA difference
How the Deakin MBA enhances your career opportunities
Two MBA graduates share how the Deakin MBA helped take their careers to the next level. Hear from Ford Davis, Manager, Strategy & Operations, Deloitte, and Katherine Boiciuc, Executive of Operations, Telstra.
Deakin MBA Residentials
Learn from three students as they discuss what they gained from their MBA residential experience at Deakin.
Discover the most flexible online MBA in Australia
Deakin's Master of Business Administration (MBA) is one of the most highly regarded MBAs in Australia. Renowned for its flexibility and industry connections, it's designed for busy professionals seeking career development while balancing work and lifestyle commitments.
Latest articles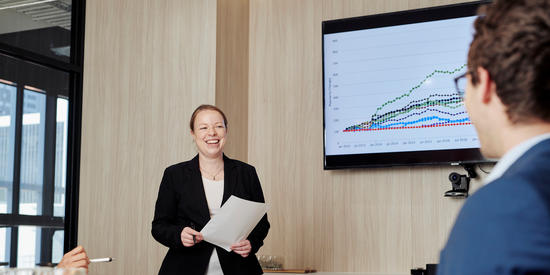 Use your MBA before you graduate: two graduates on how they put their learnings into practice
The practical nature of Deakin's MBA means you can implement what you learn straight away, leading to tangible career shifts.
Unexpected pathways to an MBA
Hear from three students who arrived in the Deakin MBA via three very different paths.
The WHU European MBA Summer Institute
Our MBA students are eligible to participate in a short-term partner program,The WHU European MBA Summer Institute: The Changing Environment for International Business. Travelling to Vallendar, Germany, you'll have the option to visit the European Central Bank or the German Central Bank, depending on which internship dates are selected. Study topics include European integration and marketing, business in Eastern Europe, restructuring companies in transition economies and innovation strategies of European companies. Contact us to find out more.
Deakin MBA Alumni community
Since our MBA was first offered in 1981, the Deakin MBA Alumni Chapter has grown to over 6000 members across 130 countries. Our alumni connect through professional development and networking events, and a variety of social media platforms.
World-class staff
Our staff are internationally recognised experts in their fields. They're supported by real managers who work in real businesses every day. They specialise in accounting, business process management, economics, finance, leadership, management, people managements, marketing and strategy.
Deakin alumni – get a head start with your postgraduate fees
If you're a Deakin alumni commencing a postgraduate course, you may be eligible to receive a 10% reduction per unit on your enrolment fees through our Deakin alumni postgraduate bursary. Your spouse and members of your immediate family may also be eligible to apply.
Browse other disciplines within business
Choose an area that you're interested in and learn how Deakin's extensive range of study options and experiences can help turn your dreams into reality.