Get work-ready
Take a real industry brief and learn how to bring it to life as you master the art of producing and directing for film, television and animation. You'll have access to industry experts and experienced academics as well as opportunities to build your portfolio through broadcast experience with Fox Sports programs and learning the live process of virtual screen production with Dreamscreen.
Undergraduate
Undergraduate (your first degree)
An undergraduate degree is generally completed between two to four years, depending on the pattern of study and any recognition of prior learning you may have. Associate degrees, bachelor and bachelor with honours are all undergraduate degrees.
Postgraduate
Postgraduate (further study)
A postgraduate qualification can be undertaken by students who have already completed an undergraduate degree or possess significant, demonstrable work experience. Postgraduate courses include graduate certificates, graduate diplomas, masters and PhDs, as well as specialist programs for industry professionals.
Research
Higher Degrees by Research (supervised research)
Research degrees are research based master's or PhD programs that focus on a single area of expertise. They provide students the opportunity to carry out highly specialised research under expert supervision.
Realise your purpose with Deakin's new suite of courses
Explore Deakin's inspiring and dynamic new course offerings from our School of Communication and Creative Arts in 2023. Whether you want to address global challenges with a Bachelor of Arts, craft content that makes a difference with a Bachelor of Communication, immerse yourself in your creative practice with a Bachelor of Creative Arts, or harness your design potential with a Bachelor of Design – our new courses are the right next step towards building a sustained career doing what you love.
Career opportunities
Deakin film, television and animation graduates find employment in fictional and factual production, broadcast, exhibition and distribution across the screen and media landscapes and creative industries around the world. Or, you have the flexibility to create your own path as a freelance artist, maker and creative.
Careers include:
animators
character artists
cinema and festival programmers
corporate content producers
editors and colourists
environmental artists
film critics
motion designers
post-production coordinators
production managers
screen production crew
sound designers
television broadcast technicians
television presenters
videographers
writers, directors and producers.
Get a world class education at Deakin. Our media and communications discipline is ranked among the top 1% of universities worldwide – so you can be assured that what you learn is relevant to the industry and your future career.*
Cutting edge equipment and facilities
Discover new ways to tell stories every day with access to industry-standard facilities and equipment – including a high-definition television broadcast studio, digital cinema RED, Arri and Ursa cameras, sound studio, editing and colour grading suites and stop motion animation stations. You'll hone your skills and build a portfolio of professional work in facilities including our:
camera motion control rig
grading and editing rooms
green screen studio
light boxes for hand-drawn animation
television broadcast studio
Virtual production requires the close collaboration of many different filmmaking disciplines, both traditional and new, working closely together on stage to deliver breathtaking real-time effects.
Clayton Jacobson
Founder and Chief Executive of Dreamscreen Australia
Work experience opportunities
Work experience plays a critical role in developing your employability; students who undertake placements and internships are highly sought-after by employers. Students of film, television and animation have many work experience and networking opportunities prior to graduation, including broadcasting the Women's National Basketball League competition through a live stream on Fox Sports and learning the live process of virtual screen production with Dreamscreen.
Animation student Andrew talks about his one-year paid internship at GM Holden.
Latest articles
If you're dreaming of an exciting and rewarding career in film, television and animation, we'll help get you there.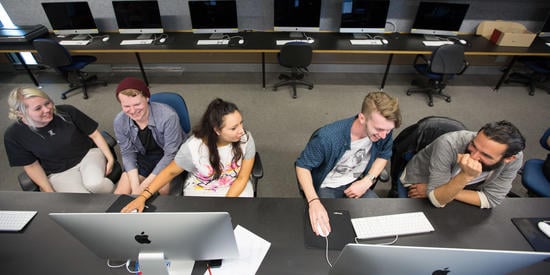 What does it take to create an animation career?
Lydia and Riley are animators, teachers and long-time collaborators. Their recipe for building a career in animation? Hone your talent.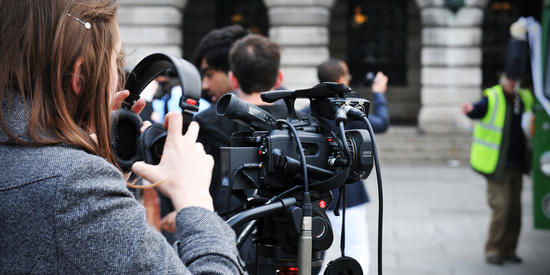 Festivals to live footy: film, television and animation is all action
Working in film, television or animation can be highly competitive. Deakin can give you the tools to succeed and stand out in the industry.
Film, television and animation at Deakin
Film festivals
Students have the opportunity to take part in film festivals, and learn about their impact, while studying at Deakin. Lecturer in film, television and animation and festival director of the Melbourne Women in Film Festival, Dr Sian Mitchell, talks about the importance of festivals in providing students a platform to share their work with audiences around the world.
Deakin Live - Sports broadcasts
Dr Simon Wilmot talks about the industry program 'Deakin Live' that students from film, television and animation can work on.
The video essay
Professor Sean Redmond talks about the Bachelor of Film, Television and Animation course and assessment formats such as the video essay.
Research with us
Got an interesting take on new or traditional media in film, television and animation? Take your big idea further with a higher degree by research.
Browse other disciplines within media, communication and creative arts
Choose an area that you're interested in and learn how Deakin's extensive range of study options and experiences can help turn your dreams into reality.
*QS World University Rankings by Subject 2020