Get work-ready
Problem-based learning is a key theme of medicine at Deakin. This means that while you're at university, you'll solve the kinds of problems that you'll encounter when you're working in industry. Our course also includes placements in a range of medical environments, from hospitals and general practices to community healthcare settings in the Geelong region. You'll be well placed for a range of careers, from general practice and geriatric medicine through to pathology, pediatrics and surgery.
Postgraduate
Postgraduate (further study)
A postgraduate qualification can be undertaken by students who have already completed an undergraduate degree or possess significant, demonstrable work experience. Postgraduate courses include graduate certificates, graduate diplomas, masters and PhDs, as well as specialist programs for industry professionals.
Research
Higher Degrees by Research (supervised research)
Research degrees are research based master's or PhD programs that focus on a single area of expertise. They provide students the opportunity to carry out highly specialised research under expert supervision.
Career opportunities
As a graduate, you'll be equipped to work as an intern at regional, metropolitan and overseas hospitals. A career can lead anywhere, including:
academia
anaesthetics
emergency medicine
general practice
geriatric medicine
hospital and government medical administration
medical research
obstetrics and gynaecology
occupational and rehabilitation medicine
paediatrics
pathology
public health medicine
radiology
surgery.
Deakin's Doctor of Medicine
Deakin doctors graduate with a focus on rural and regional health.
Indigenous education in medicine
Deakin School of Medicine's Professor Colin Bell and Candice McKenzie discuss the importance of Indigenous education in medicine.
Doctor of Medicine course information webinar
Do you want to study medicine and enhance community health and wellbeing? Now is your opportunity to learn more about Deakin's Doctor of Medicine program and our diverse entry pathways in our on-demand course information webinar.
Who we work with
We've established a wealth of partnerships that will help your work integrated learning as well as your career beyond university. Our strategic research centres and partners include:
Centre for Rural Emergency Medicine
CSIRO Australian Animal Health Laboratory
Geelong Centre for Emerging Infectious Diseases
The Kardinia Health GP Superclinic
Metabolic Research Unit (MRU)
The Molecular and Medical Research Strategic Research Centre (MMR)
Psychiatric Health and Epi-Centre for Healthy Ageing Strategic Research Centre
National Centre for Farmer Health
The Western Alliance Academic Health Science Centre
University Hospital Geelong.
Research with us
Are you curious about the future of medicine? Perhaps you'll be part of it. Deakin's School of Medicine has established a reputation for research excellence, backed by success with the National Health and Medical Research Council (NHMRC).
We're here to help
If you're dreaming of an exciting and rewarding career in medicine and surgery, we'll help get you there.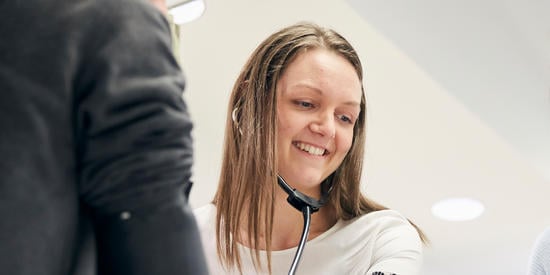 How Deakin's Indigenous Entry Stream opens up a world of opportunity
The Indigenous Entry Stream offers places to study the Bachelor of Vision Science/Master of Optometry, Bachelor of Medical Imaging or Doctor of Medicine.
Browse other disciplines within medicine
Choose an area that you're interested in and learn how Deakin's extensive range of study options and experiences can help turn your dreams into reality.