If you've missed out on Deakin's popular double degree, the Bachelor of Nursing/Bachelor of Midwifery, or just want to explore another pathway to midwifery, you're in luck. There's more than one way to study midwifery at Deakin's respected nursing school, and it's worth weighing up which of the two options will best suit your lifestyle, finances and career goals.
Pathways to midwifery
Option 1: the double degree
In the double degree, you'll tackle a Bachelor of Nursing and a Bachelor of Midwifery in one hit. This course has a comparatively small number of places, so not everyone will be lucky enough to be accepted. Many students see this as a way to fast-track their studies, and potentially their career – by graduating with two degrees after just four years.
Option 2: taking it in stages
In the second option, you'll start with a three-year Bachelor of Nursing, in which you'll graduate as a Registered Nurse and probably spend some time in the workforce. Then, if you're still interested in becoming a midwife, you can enrol in Deakin's 18-month postgraduate course, the Graduate Diploma of Midwifery, which includes on-the-job training with your employer.
How long does it take to become a midwife?
The difference between the two options is mostly just in the timing of your studies. Would you prefer to do four years at once? Or would you prefer to try general nursing first before deciding whether to go down the path of becoming a midwife later?
There's also your finances to consider. If you start with a Bachelor of Nursing, you can land a nursing job a year earlier and get some experience under your belt. Then if you decide to undertake a Graduate Diploma of Midwifery, you can earn while you study.
Jane Walker, a lecturer in Deakin's School of Nursing and Midwifery, says neither option is better or worse.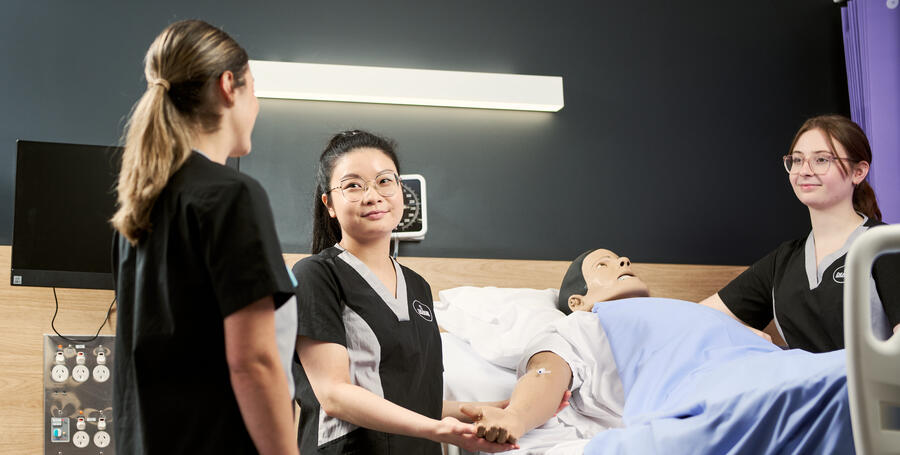 Victoria Pratley's pathway to becoming a midwife
Deakin student Victoria Pratley was initially interested in going down the double degree route.
However, after speaking to current students, she decided she'd be better off studying nursing first and completing midwifery as a postgraduate degree. 'I liked the idea that I could start working sooner and have some experience first,' she says.
Pratley completed her Bachelor of Nursing at Deakin in 2016, and worked as a nurse for two years. She then studied the Graduate Diploma of Midwifery, while working two paid shifts per week on a hospital postnatal ward and picking up casual shifts as a theatre nurse. She graduated in mid-2020.
There were plenty of positives in completing her nursing and midwifery degrees separately, including more flexibility, Pratley says.
'The double degree is a lot of placement and makes it difficult to do paid work during the degree,' she says. 'Completing the Bachelor of Nursing degree first meant that I was able to maintain a good part-time job to support myself and gave me time to save some money before going back to study.'
It also allowed her to consolidate her general nursing knowledge and skills before entering midwifery – and she feels better equipped as a midwife, as a result.
Other things to consider when studying midwifery
Jane Walker says another advantage of studying a Bachelor of Nursing first is that it gives you the opportunity to test out your interests.
'With nursing, there are so many different career paths that people can go down. I think a lot of 17 and 18-year-olds coming directly from year 12 may be unaware of all the options ahead of them and they may change their opinion throughout their undergraduate learning and clinical experience.'
Perhaps those three years will further inspire students to study midwifery later.
'Or maybe they've changed their mind and they want to do critical care or peri-operative nursing, or one the other many of things that they can do as a nurse,' Walker says.
Another thing to factor in is the number of clinical hours involved.
'If you were completing your single nursing degree, it consists of 800 hours of clinical placement. However, if you're completing nursing and midwifery, the placement hours are higher at 1600 hours,' Walker says.
While you'll still eventually be doing the same number of hours, the postgraduate option allows you to space out those hours – and get paid along the way.
Opportunities in midwifery
No matter which study path you end up taking, you'll likely reach a similar destination. And there are plenty of opportunities for Deakin midwifery graduates, ranging from positions in hospitals all the way through to community clinics.
Now a qualified midwife, Victoria is excited about the future.
'It is such a privilege to be able to support women through their journey into parenthood and I honestly could not think of a more rewarding or fulfilling career.'