Discover the law course for you
Whether you want to qualify for legal practice or use law as your springboard to a world of rewarding careers, a law course at Deakin will help you reach your goal.
Undergraduate
Undergraduate (your first degree)
An undergraduate degree is generally completed between two to four years, depending on the pattern of study and any recognition of prior learning you may have. Associate degrees, bachelor and bachelor with honours are all undergraduate degrees.
Postgraduate
Postgraduate (further study)
A postgraduate qualification can be undertaken by students who have already completed an undergraduate degree or possess significant, demonstrable work experience. Postgraduate courses include graduate certificates, graduate diplomas, masters and PhDs, as well as specialist programs for industry professionals.
Research
Higher Degrees by Research (supervised research)
Research degrees are research based master's or PhD programs that focus on a single area of expertise. They provide students the opportunity to carry out highly specialised research under expert supervision.
Join the #1 Victorian university for course satisfaction
Whatever stage you're at in your career, you can study law via our undergraduate or postgraduate degrees. You'll join a cohort of passionate, aspiring legal professionals, learning from our highly regarded lecturers. Flexible study options let you fit study in to suit your schedule.
Choose a law degree that will get you work ready
With a unique focus in experiential learning, and ranked as one of Victoria's best by the prestigious ShanghaiRanking's Global Rankings, Deakin Law School will set you up for your dream career.
Work with real clients
Get hands-on legal work experience at Deakin Law Clinic, our community legal service. Apply your academic training analysing complex legal problems, working with real clients and cementing the skills that will underpin your career in law.
Get global experience
Take a study tour or trimester abroad in the UK or Europe and gain a global perspective by studying international law, human rights law or international commercial law.
Argue a case before a judge
Mooting competitions let you experience what it's like to act as a barrister making legal arguments before a judge. You'll network and compete with law students from around the world, developing research skills and legal knowledge.
Top professional roles in law
Demand for legal, social and welfare professionals is projected to increase by 18.1% by 2026 according to Australian Government employment projections, including:
20,449 new jobs for solicitors
23,873 new jobs for legal professionals
2033 new jobs for barristers.
Get ahead with Deakin – we'll help you build your network within the community and industry.
Professional recognition
Deakin's Juris Doctor is designed to satisfy the academic qualifications necessary for admission to the legal profession. In Victoria these have been set by the Victorian Legal Admissions Board (VLAB). In addition to satisfying the academic qualifications, if you are seeking admission to the legal profession in Victoria, it is required you have satisfactorily completed certain practical legal training requirements and are considered a fit and proper person to be admitted to the legal profession.
If you are seeking admission in a jurisdiction outside Australia, you may be required to satisfy additional requirements. Please check the relevant jurisdiction's legal admissions authority to confirm the required academic qualifications criteria, including any restrictions on online study or distance education.
Graduate with an employment advantage
Deakin law graduates are recognised industry-wide for their practical legal skills and work-readiness, honed through experiences gained in the Deakin Law Clinic and on law internships.
Deakin's work-integrated learning opportunities give you industry experience and course credit. I volunteer as a paralegal for my local community legal centre, a Deakin industry connection. I also completed a virtual abroad experience with Masaryk University in the Czech Republic studying International Human Rights Law.
Jess Toomey
Bachelor of Commerce/Bachelor of Laws, Paralegal/Legal Assistant Geldard Sherrington Lawyers
World-class teaching experiences
Deakin's industry-shaped courses and practical, real-world approach to learning will prepare you to be adaptable. Study at a law school that embraces the future and prepare yourself for practise in areas like environmental law, data law privacy and cybercrime, and health law.
Explore pressing legal challenges
Work with recognised experts and practitioners investigating thorny domestic and international legal issues, including modern slavery and human trafficking or human rights and deforestation.
Change the law
You can make a difference while you're still studying. Students undertaking the Policy Advocacy Clinic made a submission to the Australian Law Reform Commission that was cited 25 times in its final report on judicial impartiality and the law on bias.
Enjoy state-of-the-art facilities
Deakin Law School's spectacular new building features a dedicated Moot Court where we host competitions and students can practice for international moots in an authentic environment.
What our students say
Deakin Law Clinic students share how they have applied their legal knowledge, helped clients who cannot afford legal advice and cemented their plans for a legal career. Based in the Melbourne CBD, the Deakin Law Clinic is a law firm that gives students the chance to practise law with real clients.
Want to explore more?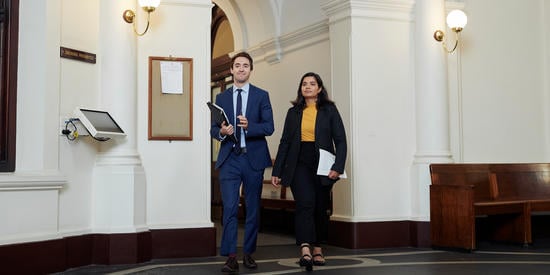 What it's like to study law with the 2020 Australian Barrister of Year
In 2020, Felicity Gerry QC was chosen as the Australian Barrister of the Year for her extensive contribution to the court room and legal profession.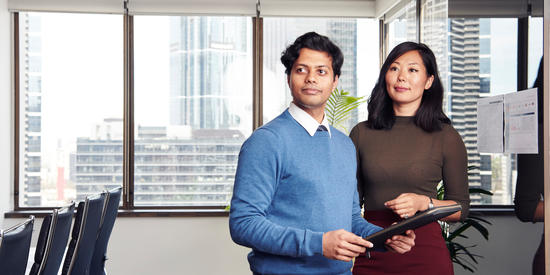 Deakin Law School graduates take on more than the law: what a law degree does for you
Considering what to study? You might be surprised to learn that a law degree can be the foundation to many successful careers, without actually practising law.
Footnotes
Deakin references data from a range of government, higher education and reputable media sources. For more information, visit our list of sources.
Got a question about our law courses? Our course advisers are available to speak to you about your study options and how we can help you further your career.