Discover the science course for you and tackle the planet's biggest challenges
A career in science is a career for the future – improve the world around you for generations to come. You'll gain more than a degree when you study science at Deakin. With hands-on learning, industry collaboration and expert teaching staff, you'll be ready for an exciting career.
Undergraduate
Undergraduate (your first degree)
An undergraduate degree is generally completed between two to four years, depending on the pattern of study and any recognition of prior learning you may have. Associate degrees, bachelor and bachelor with honours are all undergraduate degrees.
Postgraduate
Postgraduate (further study)
A postgraduate qualification can be undertaken by students who have already completed an undergraduate degree or possess significant, demonstrable work experience. Postgraduate courses include graduate certificates, graduate diplomas, masters and PhDs, as well as specialist programs for industry professionals.
Research
Higher Degrees by Research (supervised research)
Research degrees are research based master's or PhD programs that focus on a single area of expertise. They provide students the opportunity to carry out highly specialised research under expert supervision.
Join the #1 Victorian university for course satisfaction
Our wide range of disciplines allow you to tailor your studies towards your passion and unique career aspirations. Explore what's possible for your future.
Do you want a science degree that will make you work-ready?
You'll gain more than a degree when you study science at Deakin. Our hands-on, practical and flexible approach – along with industry collaboration and expert teaching staff – prepares you for an exciting and rewarding career.
Design your own degree
Our Bachelor of Science offers you flexibility. Choose a major from biology and chemistry through to mathematical modelling and environmental science. Want to expand your career path further? Combine your science studies with arts, commerce, law or teaching.
More than just a qualification
Get real-world experience through innovative and practical programs, and develop the skills employers want. Our work-integrated learning program can help you incorporate a full or part-time industry placement that's credited towards your degree.
Top professional roles in science
There are projected to be 121,000 roles for science professionals by 2026 according to Australian Government employment projections. Get ahead and build your professional network while studying at Deakin.
28,600 jobs for medical laboratory scientists.
23,600 jobs for environmental scientists.
15,000 jobs for chemists, and food and wine scientists.
12,100 jobs for life scientists.
Professional recognition
Deakin is the first university in the Asia-Pacific region and the only university in Australia to offer professionally accredited forensic sciences courses. The Bachelor of Forensic Science is accredited by the Chartered Society of Forensic Sciences in the UK. Our Bachelor of Science chemistry major has also been professionally accredited by the Royal Australian Chemical Institute (RACI).
Top 1% worldwide for life sciences and medicine
Study with the best. Deakin is ranked in the top 1% globally for life sciences and medicine. This rating highlights our world-class facilities, academic reputation, employer reputation and research impact.
We work collaboratively with industry partners to help us inform our learning activities and outcomes to ensure we're meeting the demands and expectations of the sector, particularly in regard to the rapid development of technology.
Dr Prue Francis
Senior Lecturer, Marine Science
World-class teaching experiences
Our state-of-the-art facilities and expert teaching staff means that you are well prepared for an exciting future career.
Research and teaching excellence
Our teaching and research staff are experts in their fields, with broad international links and experiences. Much of our science research is conducted in partnership with government departments, industry and leading international scientists.
First-class facilities
Deakin is continuously improving its teaching laboratories and spaces to ensure we provide high-quality practical experiences befitting the needs of the modern scientist. Our science students have access to industry-standard facilities and equipment.
Want to explore more?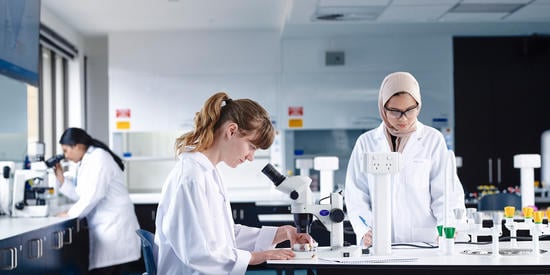 Kickstart your science career with Deakin's Bachelor of Science
Love science but unsure about committing to a specialist degree like chemistry or marine science? Deakin's Bachelor of Science might be your perfect fit.
Footnotes
Deakin references data from a range of government, higher education and reputable media sources. For more information, visit our list of sources.
Got a question about our science courses? Our course advisers are available to speak to you about your study options and how we can help you further your career.