Looking for a fully immersive learning experience? In the final year of your IT degree, you'll get to leave your textbooks aside to put theory and technical skills to practice.
As part of Deakin's industry capstone project, you'll also have industry come to you on campus, where you'll work on a project that benefits the sector. That's in addition to the opportunity you'll get to go out to industry through a six-week to three-month work integrated learning (WIL) internship.
You'll carry out this industry-based project in Deakin's new DISCovery Lab, created as a design thinking and ideation space for students. Offering the synergy of a co-working or startup space, the Lab's also an oasis of greenery – the perfect setup for a professional workplace environment.
The DISCovery Lab, which opened in T1 2019, is designed to help you apply what you've learnt through your IT course. Jesse McMeikan, Manager of Industry Projects at the School of IT, says you'll also develop an enviable portfolio and collaborate in a professional setting. 'Students are working on real-world challenges and problems in industry and there's a lot of industry engagement too.'
In the Lab, you'll adopt the same skills and techniques championed by major corporates like ANZ, to solve interesting and complex problems facing industry and our communities.
Experiencing industry on campus
Working in multidisciplinary teams known as squads, made up of eight to 12 students, you'll be part of a larger tribe working collaboratively in an agile environment on a specific product. Squads all work on separate enhancements and deliverables as part of a long-term, continuous delivery product. Examples of projects you'll work on might include:
an independent video game
a smart home
a solar car
a student cyber security consultancy.
By replicating real-world work environments, the Lab sets you up to graduate with a solid understanding of industry practices. 'Students almost play the role of a 12-week contractor, working to a certain deliverable in one trimester, and coming back in the subsequent trimester to work on the next set of sprints for another deliverable,' McMeikan explains.
Most importantly, the DISCovery Lab helps you graduate career-ready. 'Students get better, more relevant project work experience,' he explains. 'Rather than being tied to a single project or single industry partner, this model affords us the opportunity to bring in industry professionals from various industry sectors rather than from just one company – working with students in workshops so that they get a much more varied and interesting experience.'
Discovering agile methodology
Widely used in IT and engineering sectors, agile methodology is favoured by companies with a competitive edge in their industries.
'It's a global world. If you can't prototype and deliver a product sprint in under eight to 12 weeks, the competition's moved on and someone else has stepped in and filled the gap,' McMeikan says.
That's why businesses are looking for staff well-versed in working agile, who can hit the ground running.
'We searched high and low for the best agile methodology companies are using these days, and settled on Spotify engineering culture as that's also used by ANZ and a lot of other major companies.'
Embracing an agile workspace, the Lab's layout fosters squad collaboration. Every wall is a whiteboard, window panes are made to write on, and both smart boards and rolls of butcher's paper are to hand. There's a dedicated troubleshooting lounge where students help each other overcome challenges, and large open spaces are springboards for scrum meetings. 'The whole place is designed to really encourage face-to-face,' McMeikan says.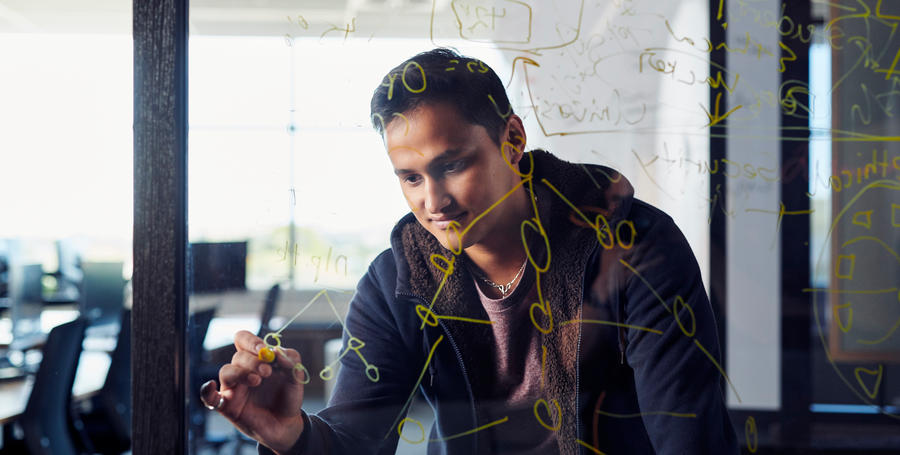 Deakin's new DISCovery Lab
Exploring industry-relevant issues
Through the School of IT's various partnerships, you'll get hands-on experience with novel and exciting projects that are particularly relevant to industry. Here are a few example projects our tribes have worked on in the past:
Partnering with the AFL and AFLW to develop a version of Fantasy Footy for boys and girls, building engagement with five-to-15-year-olds.
Examining blockchain and its potential to enhance the security and efficiency of personal health records.
Partnering with Liminal VR to develop three-to-10 minute virtual reality experiences to elicit calmness (such as lying on a beach and looking out at beautiful waters), based on psychological research around how VR can be used to change moods.
In the DISCovery Lab, not only is teamwork made easy, but the high-end facilities mean technical work runs smoothly. High-end graphics processing unit (GPU) workstations for data crunching, room-scale VR facilities and state-of-the-art video conferencing are all on-hand for students to innovate with.
Transforming from student to professional
Alongside technical skills specific to your degree, the industry capstone project emphasises learning highly-regarded 'soft' skills and professional skills. 'You'll collaborate with people from different backgrounds, with different skillsets and often different cultural backgrounds,' McMeikan says.
Assigning team roles, time management and using project management software are just a few of the skills students take from the Lab to professional life.
The Lab also helps you carve out autonomy and responsibility in the workplace. While working in your tribe, 'you have a weekly meeting with your supervisor and there's technical support staff on hand but you're essentially a self-guided organisation,' McMeikan says. 'It's especially important that students learn how to work in an agile environment, be accountable to each other, flag issues and set their work strategy.' Just as you would in a real-life work environment.
The Lab is the perfect bridge between traditional study and the workplace. Be inspired, collaborate and create – building the skills to set you up for an exciting career in an ever-evolving industry.