Deakin reveals most popular 2020 courses for school-leavers
Media release
10 January 2020
Deakin has revealed its most popular courses chosen by more than 5500 school-leavers from Victoria and Queensland as part of the Victorian Tertiary Admission Centre's (VTAC) 2019 December round of offers.
Early indications show Deakin University's 10 most popular courses for 2020 remain the same as last year, while a list of the most in-demand new courses reveals an insight into the future of work.
The internationally recognised Bachelor of Exercise and Sports Science is now in top spot overall, pushing past Nursing, with Business moving into third.
Student preferences have led to a sharp rise in offers for Criminology/Psychological Science, moving from sixth to fourth; and for Science, moving from ninth to seventh. The Bachelor of Arts remains in the most popular list, sitting in fifth position.
"Across the board, we see a mix of humanities, business and science courses in our top 10 most popular list. It is dominated by STEM-based courses, particularly those in the health and science fields, reinforcing our reputation for innovation in these areas," Vice-Chancellor Professor Iain Martin said.
"As Deakin continues to grow, now with more than 63,000 students across our Geelong, Warrnambool, Burwood and Cloud campuses, we continue to offer courses that are not just popular but ensure students are ready for the jobs of the future.
"The list of most popular new courses commencing in 2020 reveals the future of work and how we are responding to industry change. Courses in Artificial Intelligence and a double degree in Law and Cyber Security are among Deakin's most popular new courses in 2020.
The good news for people interested in studying this new wave of learning is that there is still time to apply and commence this year.
"Our new students will arrive in a highly supportive, progressive and personalised learning environment, which has been ranked first in Victoria for overall student satisfaction for 10 consecutive years. Deakin is at the forefront of ideas and innovation that matter to Victoria and Australia – and we are doing a remarkable job of this through both our education and research.
"Over the next decade we will be focussed on making major contributions to many of the things that matter to our community – healthcare, new industries and technologies, sustainable energy and water resources, environmental management, artificial intelligence and cybersecurity among many others. I look forward to welcoming our new students to Deakin and wish our continuing students and staff the very best for the year ahead."
Further offers for applicants including school-leavers, mature-aged students and those coming from other non-school environments will be made in January and February, followed by opportunities to apply directly to study at Deakin. Deakin made a total of 5533 offers to school-leavers from Victoria and Queensland as part of VTAC's December round.
School leavers' overall most popular 2020 courses:
Exercise and Sport Science
Nursing
Business
Criminology/Psychological Science
Arts
Biomedical Science
Science
Criminology
Commerce
Health Sciences
Most popular new courses commencing in 2020:
Business/Arts
Marine Science (Waurn Ponds)
Nutrition Science (Dietetics Pathway)
Marketing (Psychology)
Business/Arts
Human Resource Management (Psychology)
Artificial Intelligence
Dance
Law/Cyber Security
Business/Arts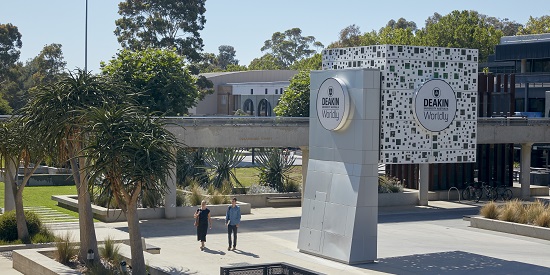 More like this
Media release
School of Exercise and Nutrition Sciences, School of Psychology, School of Nursing and Midwifery, Deakin Business School, School of Health and Social Development, School of Life and Environmental Sciences, School of Humanities and Social Sciences
---