Deakin students push pedal power on Geelong to Perth charity cycle
Media release
27 November 2019
A group of Deakin University students have set off from Geelong today aiming to cycle the 3,500 kilometres to Perth, as part of a mammoth fundraising effort for mental health research.
Led by Deakin medical student David 'Joey' Coote, the riders hope to raise awareness of mental health issues and start conversations to reduce the stigma, as well as raise money for Black Dog Institute, which leads programs to improve the diagnosis, treatment and prevention of mood disorders.
Joey said that many of those taking part in the cycling team had been affected in some way by mental health issues and suicide.
"I lost two of my uncles to suicide within a decade of each other, and the hardest part was that no one saw it coming," he said.
"Mental illness is known to be strongly linked within families, but very little is known about the specific genetic components that contribute to depression and other diseases.
"The first step in producing tangible improvements in screening and management of any disease is having a strong understanding of what causes it in the first place.
"To do this, we need strong funding for targeted medical research. So we want to help contribute to this growing body of research and help make a difference."
The team has already raised $33,000 of their $40,000 target but Joey said even more important was starting conversations in the community.
"There's a damaging stigma attached to mental illness," he said.
"Almost one in two Australians will suffer from mental illness in their lifetime and only a third of those people will seek help. No other chronic diseases are like that - it is unique to mental illness and we need that to change.
"We want people to feel more comfortable having conversations with their friends and family. We want more people asking their loved ones if they're okay, and being prepared to listen carefully to the response. Following up with them is really important too."
The team will travel from Deakin University in Geelong to north of Adelaide before crossing the Nullabor and cycling up through southern Western Australia to arrive in Fremantle by 12 December.
To find out more about the ride, or to donate, visit https://teamblackdog.everydayhero.com/au/crossin-the-bor.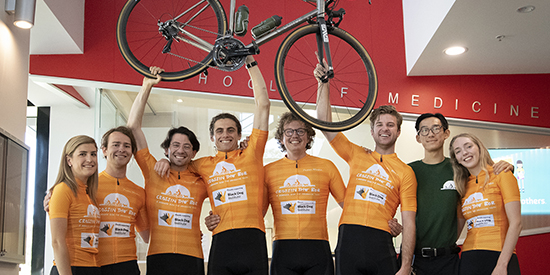 More like this
Media release
Faculty of Health, School of Medicine
---