Deakin's first Indigenous doctor included in December graduations
Media release
13 December 2018
The first doctor from Deakin University Medical School's Indigenous entry scheme will graduate this week.
Laura English, a proud Yamatji woman with strong ties to the Wathaurong community in her hometown of Geelong, will be among 1100 students graduating from Deakin at the University's Geelong Waterfront Campus on Thursday and Friday.
"I want to use what I've learnt at Deakin to give back to my community, whether that's my community here in Geelong, or the wider community," Laura said.
"Indigenous health and closing the gap is such a huge area, and we desperately need more doctors, nurses and health professionals from our community."
Deakin Vice-Chancellor Professor Jane den Hollander AO said nurturing and encouraging students to make a difference in their communities was a fundamental goal of the University.
"We especially recognise that as places of learning, universities are powerful agents for social change and have a key role to play in promoting social justice and human rights for Aboriginal and Torres Strait Islander Peoples," Professor den Hollander said.
"Currently there are fewer than 300 Aboriginal and Torres Strait Islander doctors working in Australia. That means medical schools like ours must meet the challenge of building greater representation, by recruiting and retaining more Indigenous students.
"Our alumni are our most effective ambassadors and the best evidence of our success, making an ongoing contribution to the intellectual, social and economic life of the communities we serve."
Three graduation ceremonies are scheduled this week, two to be held on Thursday 13 December at 12pm and 6pm, and one on Friday 14 December at 12pm.
Thursday will also mark the graduation of Deakin's first cohort of students from its medical imaging program, and School of Medicine Professor Wei Duan will be bestowed the University's highest honour, officially named as an Alfred Deakin Professor.
Laura, who will graduate at Thursday afternoon's ceremony, said it was a surreal feeling to be Deakin's first Indigenous doctor.
"I always wanted to work in health and had medicine in the back of my mind, but never thought I could get there," she said.
Laura first studied nursing at Deakin's Institute of Koorie Education, graduating in 2012. She worked as nurse for two years before her parents encouraged her to apply for the medical school's Indigenous entry scheme.
The scheme began in 2015, setting aside five per cent of domestic places in Deakin's Doctor of Medicine course for Indigenous Australian applicants, with a special application and interview process and extra support available throughout the course. There are now nine students studying at Deakin as part of this group.
"It's the hardest thing I've ever done in my life, it's been an absolute emotional rollercoaster, but it was definitely worth it standing here and looking back," Laura said.
One high point was meeting her now husband Terrance, a fellow Deakin medical student, on their first day of class. The pair married last year, will graduate together and both start their internships at University Hospital Geelong in the New Year.
Laura and Terrance were also the first Deakin students to travel to the remote arctic on a research trip to Greenland this year.
"The Inuit people of Greenland have similar health issues to Indigenous people in Australia, so I was keen to learn from doctors over there," Laura said.
"Like our Indigenous populations, many people are living remotely, so experience challenges accessing health services, and there's also a similarity of the life expectancy gap compared to both countries' non-Indigenous populations."
As part of her studies Laura also completed a six-week placement with the Wathaurong Aboriginal Co-Operative, working with the doctors and health practitioners there, developing a particular interest in women's health.
And if all that didn't keep her busy enough, Laura helped to tutor Indigenous students in the years below as well, helping to show them "the light at the end of the tunnel".
"I really want to show Indigenous students that becoming a doctor is something that is reachable if they want it," she said.
"I'm not from a traditional medical background, so I think it's important to have different kinds of role models."
The Deakin University December graduation ceremonies will be available to stream live at www.deakin.edu.au/life-at-deakin/graduations.
Ceremony details:
12pm, Thursday 13 December - About 357 students will graduate from the Faculty of Health and the School of Education. The Occasional Address will be from Professor of Health Informatics Management Nilmini Wickramasinghe.
6pm, Thursday 13 December - This ceremony includes approximately 386 students from the Faculty of Arts and Education, and the Faculty of Science, Engineering and the Built Environment. The Occasional Address will be from Alfred Deakin Professor Saeid Nahavandi, Director of Deakin's Institute for Intelligent Systems Research and Innovation.
12pm, Friday 14 December - Around 386 students will graduate from the Faculty of Business and Law. The Occasional Address will be from Professor Ed Lin, Head of the Deakin Business School's Department of Finance.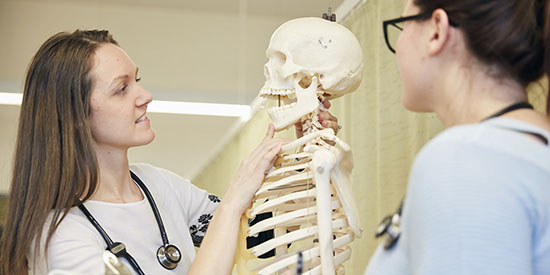 More like this
Media release
School of Medicine, Faculty of Health
---