Evidence shows netball's 'Super Shot' currently a risk worth taking
Media release
30 July 2020
On the eve of the new season, Deakin sport scientists have been crunching the numbers for the new two-point scoring rule in Suncorp Super Netball to develop a shooting and defensive playbook that could give teams a winning edge.
The season starts this Saturday with the controversial 'Super Shot' coming into play during the last five minutes of each quarter, giving goal attacks and goal shooters two points for every successful shot from a 1.9m zone within the goal circle. Currently, all successful shots from the goal circle are worth one point.
Researchers Dr Lyndell Bruce and Dr Aaron Fox, from Deakin's Centre for Sport Research, have been analysing shooting data from each game of the 2018 Suncorp Super Netball and recent Fast5 Netball World Series seasons. They have calculated the probabilities of shot success according to distance from goal, and an evidence-based 'risk-reward' trade off.
Dr Fox said while the new rule is generating passionate discussion among fans, the research team was keen to focus on the nuts and bolts of the rule change and the supporting evidence they have amassed.
"Is the Super Shot worth taking? How many Super Shots should teams be taking during the five-minute period? And what impact will it have on tactics and game strategy?" Dr Fox asked.
"Our research team examined 7,487 shots for goal from 56 matches in the 2018 Suncorp Super Netball season and found players were between 1.98-2.48 times more likely to miss from the Super Shot versus closer range, meaning that the two points on offer represented a relatively balanced risk-reward trade-off.
"To understand how many Super Shots a team should take, we simulated 100,000 five-minute periods considering the typical number and success rates of shots from different distances," Dr Fox said. "While the Super Shot was a riskier option, we found on average the more shots teams took from this range the more points they could score; up to a potential three to four extra points per quarter. Essentially, the chances of gaining an extra point from successful Super Shots more often than not outweighed the risk of missing. An example is making three of five two-point shots, generating six points; versus making four to five of five one-point shots, which would only generate four to five points. Given that netball matches are often decided by a few points or less, teams who make the most of the Super Shot period could find themselves in a winning position."
"The findings from this study suggest that teams will need to adjust both their attacking and defensive strategies during the Super Shot period. While it seems obvious that teams will adapt their attacking strategy to take advantage of the two-point shots, teams will also need to consider how they defend these," Dr Fox said.
"Currently, defenders might position themselves for a rebound or defend the other shooter closer to the post when their direct opponent was taking a long-range shot. When Super shots arrive, a more active or aggressive approach to defending these long-range shots is probably necessary to minimise their opponents scoring. How well defences adapt could determine if Super Shots are even more statistically sensible to take, or less, and we will be keeping a close eye on that."
For Dr Bruce, the new rule will highlight how important it is for elite athletes and teams collectively, to adapt quickly and develop flexible game plans.
"As the season goes on, I think we're going see the better teams really take advantage and change their defensive positions once they figure out which teams will take every Super Shot and which will stick with a traditional style of play," Dr Bruce said.
"I'm also looking forward to seeing the impact of the new rolling substitution rule in conjunction with the two-point rule. It'll be interesting to see if teams make changes to their shooting line ups in those final five minutes, possibly replacing a tall goal shooter or a 'cold' shooter in an attempt to land more Super shots in those important minutes."
Image HERE: Swift's star Sam Wallace takes a Super Shot during the Bushfire Relief Match, March 2020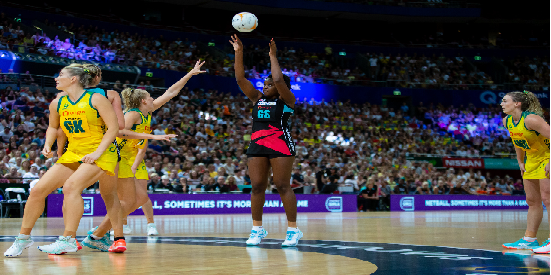 More like this
Media release
School of Exercise and Nutrition Sciences
---