Geelong Cats nurture Deakin's next generation of Sport Scientists
Media release
03 July 2020
As Australians absorb the athleticism and elite performance of the Geelong Cats and other AFL teams in action, the next generation of Sport Scientists is gaining unique insights into what it takes to train for and sustain success amid social distancing.
In partnership with the Geelong Cats, students from Deakin's Exercise and Sport Science courses recently workshopped high performance and training techniques deployed by the Cats playing squad during COVID-19 isolation.
The workshop was organised by Dr Lyndell Bruce, Course Director of the Master of Applied Sport Science in Deakin's School of Exercise and Nutrition Sciences - part of the Deakin Sport Network - voted in the top three sports science schools in the world and Australia's best according to the respected (and latest) 2018 Shanghai rankings of sport science departments.
Geelong Cats Physical Performance Manager Scott Murphy 'Zoom' workshopped with four Undergraduate and Master's students whose careers could see them leading evidence-based performance and training regimes for elite sports people and teams in the years ahead.
Mr Murphy explained to the students that the COVID-19 lockdown presented both challenges and opportunities, with the team opting to treat the 'break' as a competition preparation phase rather than a 'mini pre-season'.
"Like many other workplaces, some of our staff were stood down during the lockdown so we really relied on the athletes to hold each other accountable when it came to maintaining strength and fitness," Mr Murphy said.
"Social distancing requirements also meant a lot of small group work. This had the unexpected benefit of allowing a greater focus on technical skill development for all players, which can sometimes get lost in training sessions with the whole squad.
"It was great to talk to the students about how to make themselves stand out after graduation."

For Bachelor of Exercise and Sport Science student Merryn Hall, and Master of Applied Sport Science student Oliver Heywood, the workshop highlighted the important role Sport Scientists play in helping elite athletes adapt and perform at their best in any environment.
"It's great to see what we are learning being applied in an elite workplace," Ms Hall said.
"Sport Science is so multi-faceted and after speaking with Scott, there is a lot to think about when structuring programs in times where there is so much external restriction interfering with the full-contact and social nature of AFL."
Mr Heywood said: "The workshop allowed us to get a snapshot into the world of high performance sport and how a high performance manager is able to work through an ever changing environment."
Dr Bruce congratulated the students for taking advantage of the unique opportunity.
"We were very fortunate to be able to tap into the expertise of someone like Scott, who has worked with not only the Geelong Cats, but also the Wallabies, Brisbane Lions and the Australian Olympic track and field team in a career spanning some 25 years," she said.
"His insights were invaluable and will definitely help our students, from undergraduates to Master's level, jump right in from day one. The Master of Applied Sport Science course is about more than just skills development - we pride ourselves on our links to industry that give our students a real glimpse into their future work environments."
Deakin's proud tradition of sporting endeavour is well known, not just in the University's support and practice of sport, but in the way the University is pioneering sport science, and pushing the boundaries of sport education and training.
Deakin's School of Exercise and Nutrition Science is the number one ranked sport science school in Australia and third in the world, according to the latest ARWU Global Ranking of Sport Science Schools and Departments.
Deakin's Sport science and sport management courses are also world class, with these courses breaking into the Top 10 this March in the prestigious 2020 QS World University Rankings by Subject.
The Deakin Sport Network aims to progress Deakin experts' and graduates' impact as a world leader in exercise and sport science research and education.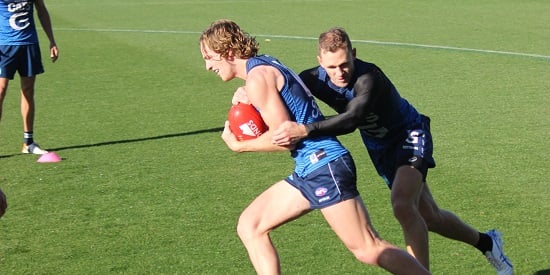 More like this
Media release
Faculty of Health, School of Exercise and Nutrition Sciences
Centre for Sports Research (CSR)
Sport
---
Related News
New Deakin tracking study captures pro netball performance
Deakin sports experts are using local positioning technology to track and evaluate elite netballers on the court, producing new information and position-by-position breakdowns to assist coaches and optimise players' physical preparation.
Deakin welcomes Labor's $10m pledge for new indoor stadium
Deakin will partner with Federal Labor to build a new state-of-the-art four-court indoor sports stadium at the Waurn Ponds campus, with a $10 million election pledge announced by The Hon. Tanya Plibersek MP, Deputy Opposition Leader and Shadow Minister for Education and Training, and for Women.