Stronger Chinese air pollution targets can save 100,000+ lives a year
Media release
28 April 2020
A study into the impact of China's Air Pollution Prevention and Control Action Plan (APPCAP) has found that it saved tens of thousands of lives but hundreds of thousands more could be saved annually, if China meets World Health Organisation (WHO) recommended air quality targets.
School of Life and Environmental Sciences researchers Huanbi Yue and Professor Brett Bryan led the study examining the health benefits of the APPCAP - a policy that ran from 2013 to 2017 - focussing on how many deaths were prevented as a result.
The researchers say their findings show that China must now set significantly more ambitious targets in any succeeding policy, if it is to substantially reduce pollution-related deaths and meet its commitment to the UN 2030 Sustainable Development Goals.
"In China, over one million people die annually as a result of PM2.5 air pollution - fine particles less than 2.5 microns in size. Heart and pulmonary disease, lung cancer, stroke and diabetes are just some of the diseases exacerbated by poor air quality," Professor Bryan said.
"While active, the APPCAP set a target of 35 micrograms of PM2.5 pollution per cubic metre and prevented 64,000 deaths over five years - but that's at the limit of what the plan could achieve. Undoubtedly, APPCAP had a positive impact on air-quality however continuing with similar targets will not provide much more health benefits for the Chinese people.
"The Chinese Government needs to raise the bar by meeting the World Health Organisation's recommended target of 10 micrograms of PM2.5 air pollution per cubic metre of air. If this happens, air pollution related death rates would reduce by 53% - resulting in 511,000 fewer preventable deaths annually by 2030."
Professor Bryan believes the reduction is achievable if China's energy producers, heavy industry and transport sectors drastically cut their pollutant emissions.
"This can be done in a way that doesn't hurt the economy and that has co-benefits, including reducing climate change. In particular, emissions from China's power-plants should be addressed. Switching to renewables instead of coal, putting limits on factory emissions, and accelerating the modernisation and cleaning-up of heavy industry are key," he said.
"Switching to high-efficiency heating in the Northern areas can reduce emissions from coal-burning in rural China markedly too, as would pollution-related taxes to help ensure adherence to targets."
Lead author of the research Huanbi Yue said that better public awareness would also help to reduce the air-pollution related death toll, along with moving factories further from heavily populated areas.
"Individuals can also play a role in reducing deaths through changing their behaviours to have less exposure to pollution. If the public is aware of the role air pollution plays in their health they can reduced their outdoor physical activity during times of heavy pollution, for example," he said.
'Stronger policy required to substantially reduce deaths from PM2.5 pollution in China' was recently published in the journal Nature Communications.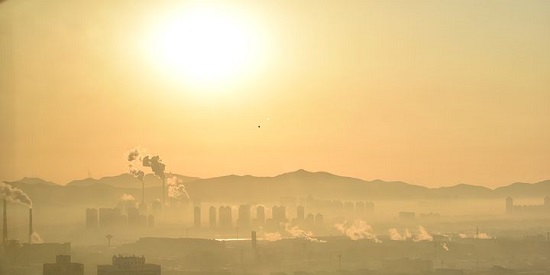 More like this
Media release
School of Life and Environmental Sciences
---